The inside story of eyewitness Meaghan Vass, 'the homeless girl' at the centre of the Sue Neill-Fraser drama, told by the woman who became her friend, her supporter and her champion – ANDREA 'ANDY' BROWN. 
In the beginning I was just a person who was interested in the nuts and bolts of Sue's case, way more interested than anyone else I know anyway.
I remember the case all over the news and I went with my partner to the State cinema to see a documentary 'Shadow of Doubt' which went over the case I think with a non bias approach. I left there thinking 'how on earth is this poor woman locked up?'
I've been friends with Sharkie for twenty odd years. Yes he was in a bike club but he's the most polite, open minded person I know. My best friend. One day he said "I've met the girl to do with the case you're obsessed with". I'd already thought over the years why did they discount the homeless chick with little or no investigation. I had blinkers on to the level of corruption in Tasmania, in fact it was the first time I'd ever been involved with anything to see it first hand.
My first year knowing Meaghan Vass I feel regret at how I was to her. On a few occasions even lashing out "how can you sleep at night knowing a lady is in jail that shouldn't be".
She was ill mannered with constant temper tantrums and she ran to Sharkie for everything yet her behaviour was less than stellar.
He lost everything he knew through this. He promised Meaghan he wouldn't let anything happen to her. His then bike club didn't want the bad publicity as she was already banned from their clubhouse and so he left. He wasn't booted out, he left. After forty eight years.
As I got to know Meaghan I soon began to see she was scared, of literally everyone and everything. The dummy spits got her what she wanted quickly. Money for food or a taxi fare. It was how she survived.  When Sharkie was mentioned by TasPol I contacted (Detective Sergeant) Shane Sinnett who came to my house for an interview. My intention was to set them straight. Meaghan was never Sharkie's girlfriend. He was the only one she trusted. I also said they should interview her again as she isn't a drug addled moron, she's traumatised.  They weren't interested in anything relating to Meaghan.
The DNA. Meaghan knows she spewed on deck. She also wiped her mouth with the elusive blue rag (missing evidence, of course).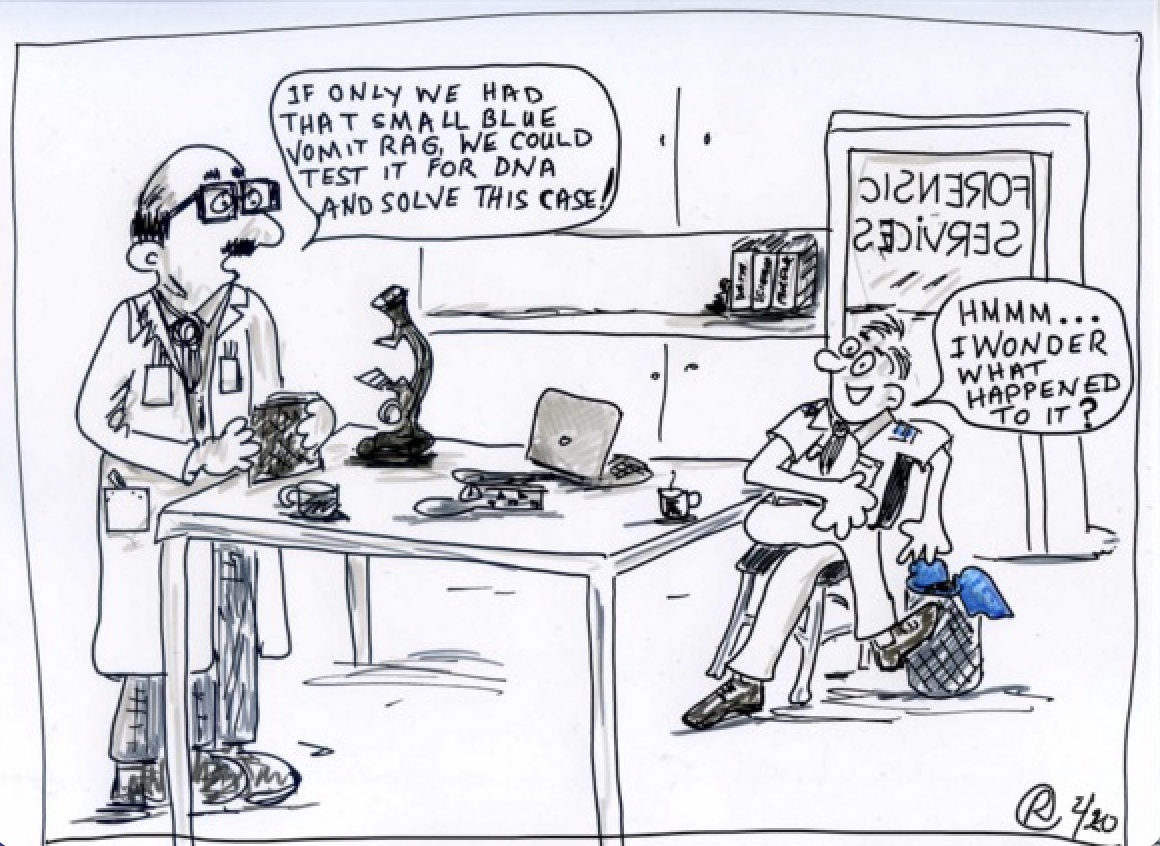 That blue rag would have sealed Tas Pol's fate with their underhand secondary transfer theory as it would've shown evidence to back up that she was there…. unless the blue rag got stomped on as well!
From the day that policeman sat in my lounge and discounted all I was saying was the day I could fully grasp the lengths they were willing to go to for their own self preservation.
Meaghan put her trust in very few due to the fact that she had trusted others that had in fact had their own agendas. It was indeed true that she was going to be harmed if she didn't remember the story she had been told to say. Personally, I think the individual (an inmate at Risdon) that was charged and later had those charges dismissed caused irreparable damage to the whole appeals case. The public started to have their opinion implying she says one thing then another yet to me the crux of her story never quavered. She was on the boat.
Charlie Bezzina, Colin McLaren, Robin Bowles all had good intention to find the truth yet a personal vested interest whether it be notoriety or book sales. Meaghan felt cornered and pressured so she acted out. The anxiety just takes over and she panics. Police let her know clearly "if we let Sue out you will go in".
This was enough to stop her getting a house and living normally. She was never homeless because she loved it. She was homeless as an address made her vulnerable.
As I got to know the inner workings of Meaghan I started to see that Tas Police have a lot to answer for. I promised Meaghan I'd stick by her side on the subject of "The Boat" yet if she was being a rude, hard to deal with so and so I'd let her know in no uncertain terms. We grew a close bond and I never let her down. Went to her lawyer appointments and when they couldn't reach her I would.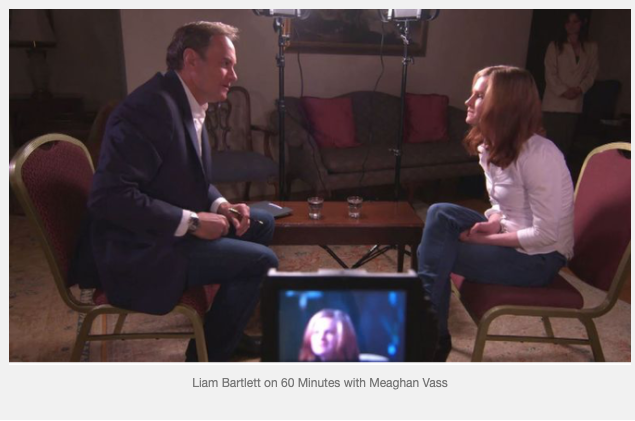 60 Minutes she did for ZERO dollars except for vouchers for food, her accommodation and airfares. End of story.
All the people who had a dig about how much she was paid make me furious to say the least.
I ask them to answer this. Who do you go to when every police involved in this case in Tasmania are refusing to take a statement and are telling her she wasn't on the boat?
What lawyer isn't on the side of TasPol?
60 Minutes was the only way she could voice her story.  When she arrived back and it was aired in every state except Tasmania, you could watch on the tv app or Youtube. This left her vulnerable and unsafe so she was in different hotels for the next six weeks. Didn't stop TasPol though. They tracked her down and searched her outside a hotel. She had a tiny bud of marijuana and was taken to Glenorchy Police Station. Whilst there was told to tell the truth and go against what was said on sixty minutes. She told them she already had told the truth and declined to speak any further. Having to sign in at the police station three times a week is all that arose from this. Over one measly bud.
Things always settled down for a while and then came back hard and fast especially when Sue had a court date coming up.
After the hotel/police incident one of the producers from 60 minutes got Meaghan into a rehab facility called the Hader Institute. It was a great idea as her safety was paramount and what harm could  some trauma and substance abuse counselling do anyway, not like she had been offered any kind of support from any of the justice or government departments. She didn't really grasp how unsafe she was. Not like she reads the paper or watches tv so after just over a month there she wanted to come home as Meaghan doesn't need many in her life but a different state, rehab, cops, lawyers and she's on her own away from her securities…. I would've ditched also.
Home she came.
It was back to Sharkie and I plus a few others keeping her safe and out of harm's way…
Then news of an appeal that Meaghan needed to give evidence at. I was scared for her as her ability to handle emotional things was miniscule. Then she comes off looking just as police want. A DRUGGIE.
Meaghan was appointed Stuart Wright (as her court lawyer) and she assumed he had her best interests in mind. Yet again we were wrong. Weeks before the appeal it was understood I was Meaghan's support person for court. It was not even thought about again as it was all ok according to (lawyer) Greg Barns and Stuart Wright. Then last minute change of mind. It had to be a professional support person. I was told that I wasn't to hold Meaghan's hand for encouragement and strength and that I had to sit behind her. How on earth is any of that emotional support? So I get the bum steer, Meaghan has a melt down. All she thinks is they are going to lock her up as thats what she's always been told. I had to promise not to leave, even left my bag with her and promised that I'd scream if they tried to make me go from the chair outside the door. The new court appointed support person arrived fast. Too fast in my opinion. Well done TasPol as you won that round and made her the more anxious than ever. By the way the professional support person sat beside Meaghan held onto her arm the whole time and also told Meaghan and I we weren't to speak of the case even with each other.  Stuart Wright also promised 100% to Meaghan that any names or info given from two affidavits would not be given to media etc. Another low act in my opinion, as we get back to Sharkie's that afternoon and have a cup of tea when Meaghan looks online.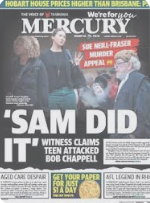 What does she see on the Mercury website? 'Meaghan Vass' says "Sam did it". Well to say she went into an emotional state would be downplaying it. She cried and sobbed and cried and sobbed for hours. Until nearly 10 pm.
I called Stuart. Conveniently, no answer.
Greg Barns said she should 'think herself lucky she has indemnity' and 'don't worry about the non suppression order'. She didn't need indemnity, she didn't kill him so the suppression order on the first day would have changed things on the second day 100%. I even have an email from the Mercury saying why wasn't there suppression as there alway is and then it was put in place the arvo of the first day and scrapped mid morning on the second day. Why bother at that stage? On our way to court in a cab on the second day I called Stuart Wright and said we will be a few minutes late as we were in traffic. He was all nice as pie. He then calls Meaghan who's in the cab next to me and states that if she's not there in a few minutes he will issue a warrant. Another trick to unhinge. So we get there and by mid morning we sack him and tell him a few truths. Fabiano Cangalosi was walking past us as I was reading Stuart the riot act so I asked if he could be Meaghan's court lawyer. He accepted. For a famous QC Robert Richter whom I was looking forward to hearing speak with conviction and strength as he had on 60 Minutes re the biggest miscarriage of justice in Australia's history was lucky to now string a sentence without umming or aaarring or just being plain useless on the part of Meaghan. Even asked why we didn't ask for the  suppression order before court.
Newsflash.  He's the lawyer and we didn't know anything about how to do things like that. Daryl Coates of the DPP isn't good at his job. He was up against a weak legal team and that's being polite. They allowed Meaghan to be grilled and put to a point of an emotional wreck. So perfect for TasPol when her evidence couldn't be used.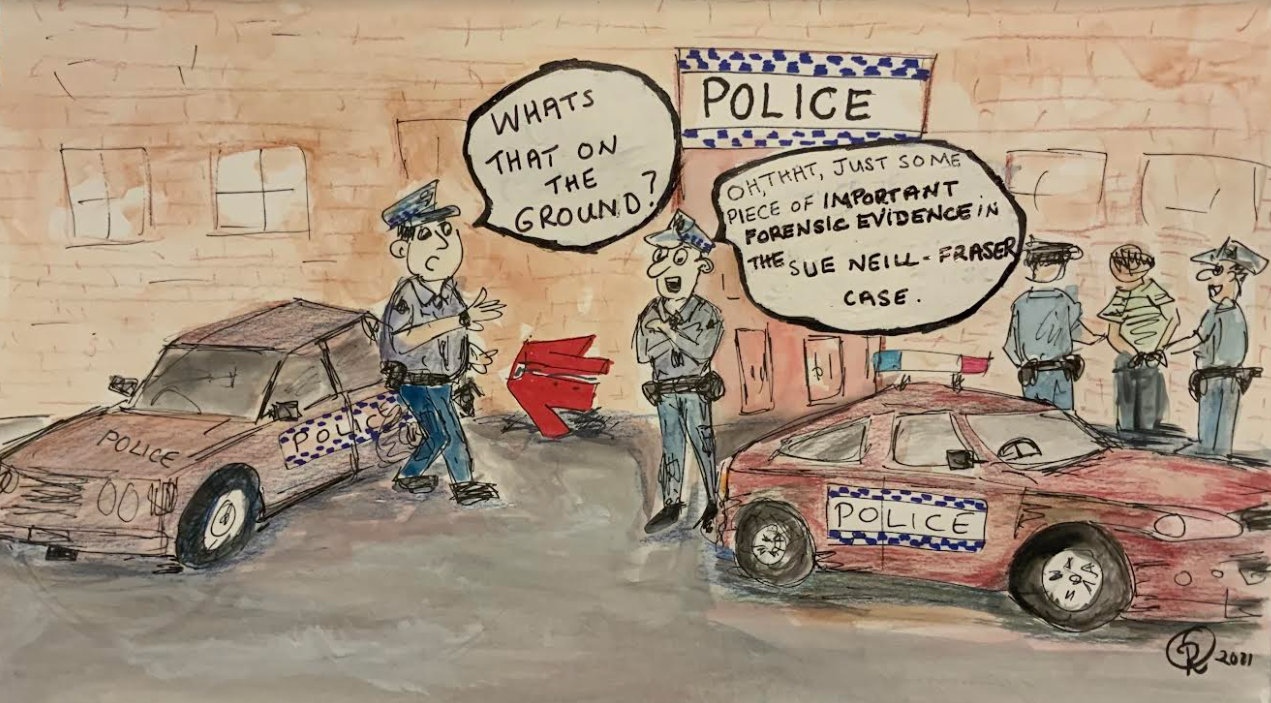 From the DNA to the blue rag and the red jacket the list goes on and on of things police refuse to answer for. The red jacket would have Sue's DNA on it…. it was hers. Looking further, Meaghan's will be there too but police probably already know this.
They have ruined two lives in this and have made many unnecessary casualties.
Well I'll scream what I know from the rooftops as it's what I know not what I think or hope for.
I'm friends with Meaghan, yes, have never met Sue in my life and she probably doesn't know I exist but I just want justice. Fairness. If the ones in power think the community are this gullible then we are in big trouble.
Begs my question: Where do you go and who do you yell to when everyone that you had faith in has been skewed or got to.
Legal Practitioners Board needs to be closed down indefinitely. The fact that Meaghan's complaint (re Wright) was dismissed screams volumes.
* Meaghan left home at 13. "She left," says Andy, "she kept leaving, but there was a bit of an issue with her being sexually assaulted. Family didn't believe her, she was called a liar and she left. So her relationship with her mother's always been superficial. I'll say that."
* Andy Brown is the carer for her bright and smiling 22 year old wheelchair bound daughter Lily.