A buzz of conversation swirled on our comments thread since the March 10, 2021 publication of our story, Sue Neill-Fraser – conviction rests on dark fantasy, raising a red flag about the blue rag from the crime scene on Four Winds, evidence that went missing … 
When physical evidence goes missing in a police investigation, like the blue rag/face towel on the deck, the matter will spark speculation. Judging by the comments thread, some see it as a red flag, possibly a tampering with evidence. Why is it missing? Where is it? If there is an innocent explanation, why is it not recorded in the reports? As for example – crime scene contamination included DNA samples being linked back to an attending officer (Forensic Biology Report dated 1 July 2009 Item No. 8), a DPEM staff member (Item No. 59) and an FSST staff member (Item No. 35); the shoe impression on the knife found on the floor of the yacht belonging to a Marine Police officer; the black and yellow torch found on the boat which had been inadvertently left by police or others attending the crime scene.
Small blue towel on deck of Four Winds
On forensic officer Deborah McHoul's hand-written notes made while collecting evidence on 29-30 Jan 2009, her report mentions Item 9, a "small blue towel/face washer from the starboard side of the walkway, just forward from the cockpit." It was seized at 17:53 on 29/01/09 and given a Barcode (14431-669-2). It can be seen in crime scene photos; below is one taken at Constitution Dock on Jan.27, 2009.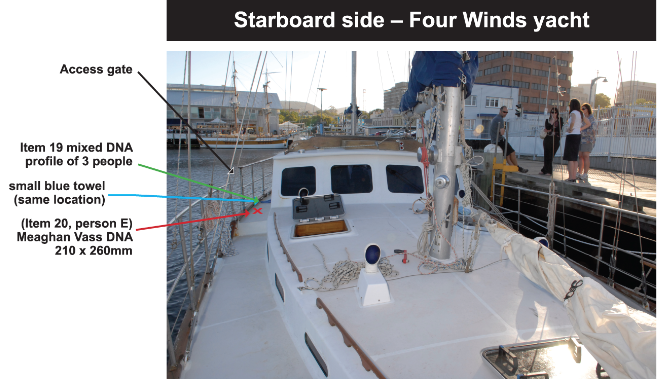 The next mention is in the McHoul 'Forensic Biology Scene Examination Report' 5 months later, on 12 June, 2009, page 3 of 8, in a list of items seized.
This blue towel (Item 9) is in very close proximity to two items collected at the same time:
Item 19, Area 10, 11.37 m from the forward end, 220 mm from the starboard rail walkway, luminol positive area 80 x 280mm. Barcode 1443-679-3. In 2009 this swab showed a weak positive for blood, and a mixed DNA profile of at least 3 contributors, with one inconclusive female, and Bob Chappell not excluded.
Item 20, Area 11, 9.45 m from forward end, 250 mm in from starboard railing, large luminol positive area, measuring 210 x 260mm. Barcode 14431-680-4. This is an area near to the only gate on the starboard side walkway of the yacht. (Person E, DNA profile matched to Meaghan Vass on 15 March 2010.)
Then, Item 9, the blue rag/face towel, vanishes from the Forensic report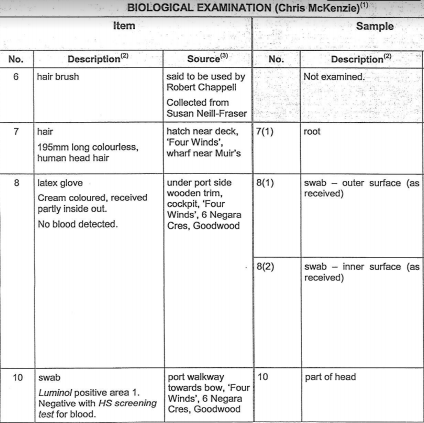 The 46 page 'Forensic Biology Report' dated 1 July, 2009 contains 'a summary of the biological examination and DNA profiling results' for the SNF case. The report omits Item 9 with no explanation. Deborah McHoul is no longer listed as the forensic scientist. Forensic scientists Chris McKenzie and Carl Grosser sign off this report.
McHoul was added as a co author of the FBR at trial.