As the judges of the Tasmanian Court of Criminal Appeal consider their decision in the case of Sue Neill-Fraser, we publish ANDREW L. URBAN's review of the Eve Ash documentary, Shadow of Doubt, published on the film's July 2013 release. The movie alerted the public to the egregious miscarriage of justice that was perpetrated against Neill-Fraser by the Tasmanian criminal justice system. 
Shadow of Doubt was the catalyst to bring together an informal but outspoken coalition of citizens, lawyers, journalists, TV broadcasters, print media, authors, former detectives and legal academics to challenge Neill-Fraser's conviction. Selected extracts from the script (below) confirm how in this case, mistakes by investigators and the prosecution result in the accused having to try and prove her innocence. Just as Sue Neill-Fraser herself is heard saying.
SYNOPSIS
In 2010 Susan Neill-Fraser, a Tasmanian grandmother was jailed for 26 years for killing her partner Bob Chappell on Australia Day 2009, on board their yacht, Four Winds. There were no witnesses, no weapon, no forensic evidence linking her to the scene, no confession and Chappell's body has never been found. The police focused on one suspect – Neill-Fraser. Why was a jury convinced beyond reasonable doubt? Her family tries to 'prove' she is innocent. The more they investigate the more they uncover – mistakes, lies and misrepresentation. Set in Hobart, this documentary follows one of the most intriguing and alarming legal cases in recent Australian history.
REVIEW
If this doco doesn't lead to an urgent, independent investigation of the Susan Neill-Fraser conviction of 2010, it will be yet another miscarriage of justice. Watch it and weep.
Australia's collective conscience, also known as Fair Go, should take Tasmania's justice system to court on charges of criminal levels of incompetence and/or malicious prosecution. I would argue for both. Eve Ash has made a forensic case (better than Tasmanian police ever did in this matter) for such an investigation, although the doco doesn't call for one – that's left to us Australians who view it with indignation and fear. Fear that such a catastrophic error can be made – and reconfirmed through appeal – in upending the most basic principles of our legal system.
The most appalling aspects of this case are reminiscent of the Lindy Chamberlain case, in that there is no body, no witnesses, no murder weapon, no motive and not even forensic evidence to prove Sue killed her partner, yet she was convicted. Shadow of Doubt indeed. I would have thought that even if the police and the prosecution managed to get it into court (which is scary enough) the judge should have had the wisdom to provide wise counsel to the jury warning them that finding Sue guilty of murder would be most unsafe. The risk of an innocent person going to jail – for 26 years no less – was too great under the circumstances.
Eve Ash has done Australia a favour with her cool, clinically precise doco; let's hope the screenings in Hobart and on Ci Channel will trigger a wave – nay a tsunami – of unrest and urgent calls for action to right this wrong.
Superbly crafted in all departments, Shadow of Doubt shows the power of filmmaking as a lever for making a difference.
RELEASE: July 31, 2013 – State Cinema, Hobart; FOXTEL Ci, 7.30pm, repeated through August and beyond
SHADOW OF DOUBT (PG)
Producer – Eve Ash
Director – Eve Ash
Script – Eve Ash, Cindy Clarkson
Cinematographer – Cesar Salmeron
Editor – Cindy Clarkson
Run time – 80 minutes
• AFI AACTA 2014 Awards Best Feature Length Documentary – Nominee
• CINE AWARD 2013 Winner Gold Eagle Award (Malaysia)
• Southampton International Film Festival 2013 Best Documentary, Best Sound in a Documentary, Nominee
• Santa Monica Independent Film Festival 2013 Honourable Mention
• Lorne Film 2015 Official Selection
• New Haven International Film Festival 2015 Official Selection
• Legends of Hollywood 2015 Official Selection
• Miami Independent Film Festival 2015 Official Selection
• Sydney World Film Festival 2015 Official Selection
• Los Angeles Womens International Film Festival Official Selection
• New York Chain Film Festival 2013 Official Selection
• Southampton International Film Fest 2013 Best Documentary & Best Sound in a Documentary – Nominee
***
KEY PARTICIPANTS IN SHADOW OF DOUBT (Source: shadowofdoubt.tv)
EVE ASH is a psychologist, author and successful filmmaker and the founder of Seven Dimensions (7d-tv.com), a world leader in the production of communication and business films. Eve has been a national Business Owner winner at the Telstra Businesswomen's Awards, and was included in the 2000 Australian Businesswomen's Hall of Fame. Eve has created a library of business and educational films that sell worldwide and have won over 150 awards. Eve created the highly commended CUTTING EDGE COMMUNICATION COMEDY series with US comedienne Erin Brown, in USA. She has produced 700+ programs. As a psychologist Eve likes to stimulate change, impact behaviours and ensure human rights and integrity are upheld. In 2010 Eve 'transformed' Olympic gold medallist Cathy Freeman into a cartoon character in Finding My Magic – a series sold to NITV/SBS and winning 8 US awards. Eve co-wrote two books with Rob Gerrand, published by Penguin Books: Rewrite Your Life! and Rewrite Your Relationships! Eve recently completed the feature documentary Man on the Bus, about her own family – and finding her biological father.
SUE BLYTH NEILL-FRASER was born in Scotland in 1954, and spent the first few years of her life in Edinburgh. She has a younger brother Patrick. She always had a deep passion for animals, often rescuing 'homeless' animals. Sue loved horses, and became an exceptionally talented horsewoman winning many competitions. Sue eventually settled in Tasmania buying a farm with her mother, in Bagdad, and starting a riding school.
In 1981 Sue married Brett Meeker and had two daughters Emma and Sarah. Brett, now her ex-husband, says 'Sue was an extremely loving mother who worked hard in order to give our daughters the best opportunity in life – the kids are a credit to her, she is an exceptional mother'.
Sue and Bob met in 1989. They had a strong relationship – a profound understanding of each other's unique personalities, intellectual respect, companionship, and a deep love.
Sue and Bob spent the last few years searching for a special yacht that would become their retirement 'shack'. They finally found Four Winds at Scarborough Marina, Queensland and had only had the boat in Hobart one month before Bob disappeared.
Sue has been in Risdon Women's prison since her arrest for Bob's murder on August 20 2009. Her sentence has since been reduced to 23 years. Sue vehemently denies any involvement in Bob's disappearance.
SARAH & MARK BOWLES are the daughter and son in law of Sue Neill-Fraser.
BOB ADRIAN CHAPPELL was born in England in 1943 and came to Melbourne, Australia as a child in 1950. Bob excelled in science and eventually moved to Hobart, where he worked for many years as a radiation physicist at the Holman Clinic, Royal Hobart Hospital. Bob had two daughters and a son, and some time after splitting up from his wife met Susan (Sue) Neill-Fraser. They started living together when Sue's two girls, Emma and Sarah, were very young – and they lived as a happy family unit in West Hobart. Bob had a dry sense of humour and was appreciated for his great cooking skills and his extensive knowledge of politics, history and literature. Bob was last seen on Australia Day, January 26, 2009
BARBARA ETTER APM had 30 years of distinguished police service and in 2008 was awarded the Australian Police Medal (APM) in the Australia Day Honours List. Barbara has been very involved in Corruption Prevention and Investigation. Her work includes: CEO of the Tasmanian Integrity Commission 2010—2011, NSW Police, NT Police, WA Police, Director of the then Australasian Centre for Policing Research in Adelaide, NSW Ombudsman's Office, NT Attorney-General's Department and WA Assistant Commissioner – Corruption Prevention and Investigation (including specialist support such as Forensic, Communications, Prosecutions). She won the WA Telstra Businesswoman of the Year.
Barbara holds a Pharmacy degree, an Honours law degree, an MBA, a Master of Laws and the AICD Company Directors Course Diploma. She is a Fellow of the Australian Institute of Company Directors (FAICD) and barrister and solicitor. She is an Adjunct Professor within the School of Law and Justice at Edith Cowan University, a Fellow of the Australasian College of Biomedical Scientists (FACBS) and an Honorary Fellow of the Australasian Institute of Policing (FAIPOL).
Following the 2010 trial and 2011 appeal, Etter became Neill-Fraser's lawyer.
DETECTIVE INSPECTOR PETER POWELL (now retired) was in charge of Hobart Criminal Investigation Branch in 2009. He headed up the police investigation although he never testified (so not cross examined) in court during the trial.
*******
SELECTED EXTRACTS FROM THE SCRIPT
ABC REPORTER (ABC NEWS VO ONLY): "Today Neil-Fraser has been grilled by the director of Public Prosecutions Tim Ellis
SUPER: Tim Ellis
Director of Public Prosecutions
who suggested she struck Mr Chappell from behind with a wrench. She then left the boat, returning that night to winch Mr Chappell's body into a dinghy – before dumping it in a deep channel of the River Derwent."
EXTERIOR Supreme Court of Tasmania
MARK BOWLES: There were no eye witnesses to the crime, but the Prosecutor  described in great detail
SUPER: Mark Bowles
Sue's Son-in-law
… the crime, saying Sue came up from behind, and hit Bob once possibly twice. (VO Under image of Supreme Court, followed by highlighted transcript of Court Proceedings) It was a wrench, wasn't it, or a similar sort of tool with which you struck
Vision of transcript highlighted :
It was a wrench, wasn't it, or a similar sort of tool with which you struck Mr Chappell from behind and killed him…
Mr Chappell from behind and killed him…Sue 'Mr Ellis I have never struck anybody, let alone someone I loved dearly.' (VO under Image of newspaper column Oct 13, 2010) So with a wrench being posited for the very first time as the murder weapon at the very end of the trial out of pure speculation by the Director of Public Prosecutions, the Judge, (VO –Image of Justice Alan Blow – Newspix) Justice Blow picked up on the wrench as a murder weapon in his final sentencing.
*
BOB MARTYN: If she'd got to the point
SUPER: Bob Martyn
Family Friend
… where she had to get out of the relationship she'd have gone to a lawyer. There's no way (VO over photo of Bob and Sue together) she'd have killed anybody.
POWELL: It's very easy for the family to portray, that why would she want Bob's money. Well she didn't have any real source of income. She was living off an allowance Bob gave her at the time he died.
Vision of farmhouse at Bagdad, and the property with A frame house.
SARAH: Mum had assets in terms of she has this property and those houses were rented out so Mum had an income source from these houses that we're probably talking just a few hundred dollars per week. Bob didn't want Mum to take on a job where she'd be tied down to something because it would then mean that when he had holidays , um Mum wouldn't necessarily be able to take them together, and they did, (Vision of Sue in India in scarf) they had these wonderful holidays where every couple of years they would go overseas.
Sarah as young child with cat, Emma in uniform outside house. Sarah in school uniform with white dog.
BOB MARTYN: Don't forget that she put her kids through private school as well. She worked her backside off and sacrificed to get her daughters both through private school,  and so there was no history of, of Sue needing to find a man who could provide all this stuff for her.
*
POWELL: (VO) Even if you are wealthy,  I still think the motive of gaining you know, nearly $900,000 in benefits from someone's death is still, still a fairly big financial motive.
*
BEC: Now P36 describes how one of her colleagues noticed (VO over Vision of Four Winds) that the boat was lying very low in the water. And she also describes tied up to the Four Winds a large grey dinghy at 5pm and she pinpoints a time very precisely. She saw no one on the boat. This would have been a whole ripe area for potential new information. (VO over Vision through venetian blinds of Four Winds) The boat was full of witnesses who saw the Four Winds who may have noticed something critical. It was just  like the whole thing was ignored.
POWELL: Oh I don't think that's true at all.
SUPER: Detective Inspector Peter Powell, Tasmania Police
…We certainly spoke to everyone at the Yacht Club. Um, we certainly had lots of publicity, about, about anyone seeing anything, ah suspicious in the area (VO over exterior front door of the Royal Yacht Club of Tasmania) or other vessels.
Vision of interior of Royal Yacht Club, Visitors book, men gathered at event, no faces.
BEC: (VO) The Royal Hobart Yacht Club has a visitors book which would have had a record of people that were there that day. (Vision through window at RYCT) Sue tied her dinghy up at the Yacht Club.  There would have been people who saw her that might have also seen anything else that was happening that day. It was never followed up.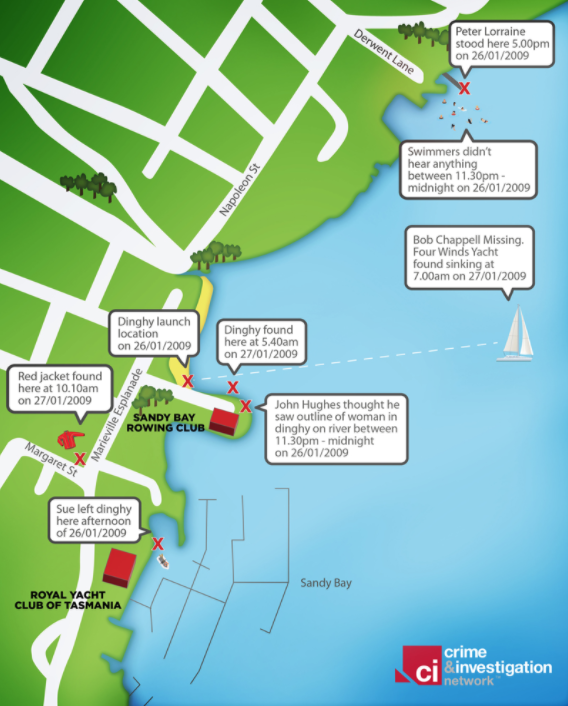 BARBARA: (VO over Four Winds, the CU on deck of Four Winds) They found a long colourless hair on the deck of the yacht, on the morning of the 27th, which was identified belonging to a female (Forensic report, pans across to relevant section highlighted in pink)
Hair
195mm long colourless,
human head hair
… and they have nominated that person as being person D,
Full DNA profile.
(female)
Does not match any individual
currently on the Tasmanian DNA
database, Person D
…and Person D has not been matched to anybody at this stage. There were
a number of potential persons …
SUPER: Barbara Etter APM
Lawyer & Justice Consultant
… of interest whose DNA has not been taken, or compared to the samples that have been left at the crime scene.
Exterior Holman Clinic
BEC: (VO) One of Bob's colleagues at the hospital who he was really fond of. She was a friend suicided not long after Bob's disappearance. Was there a connection with Bob's disappearance? We don't know.
POWELL: No I don't think that ah … there was nothing in Bob's background that concerned us whatsoever. So whether that lady you know, had some other issues in her life. Um, or you know Bob going missing triggered off some sort of emotional response, who knows.
Exterior Police station.
BRETT: (VO) No one's talked to me. No one's asked my opinion. No one's said anything…
SUPER: Brett Meeker
Sue's Ex-husband
…And I'd have thought I should have been on the list. And I've been sitting here the last few months going 'Well come on in'. And no one turns up. And I found out just recently from gossip, I'm at university, and in the last 3 weeks, maybe 7 people have told me that my ex-wife murdered me.
*
BEC: Sue was portrayed by the police and in the media as a really cool, aloof, unemotional, cold blooded, manipulative sort of person. But that was really really wrong. I've known Sue (Photo of Sue, Bec and kids at the farm; Bec and kids on beach) for over 35 years, and she was nothing like that. (Bec and Sue with baby Sophie). She was warm, she was funny, caring supportive wonderful friend.
POWELL:  Down the track we obviously did some background checks on her. (VO over three older photos of Sue at farm). And there were all sorts of stories about Susan's past. She was the last person to see a young guy alive before he went missing several years ago.  And I don't think she was involved in any of those things.
*
BARBARA ETTER: There was a potentially critical witness who had not testified at court. She lives in a street in Battery Point which has a bird's eye view of the location where Four Winds was moored. She indicated that (Four Winds moored on Derwent) between 7.45pm and 8.30pm on Australia Day she had seen a male (100%) in his 40s or 50s with short reddish hair, a wether beaten man, (Vision of Four Winds at dusk) in a dinghy powered by an outboard in the vicinity of where Four Winds was located. (Vision of Four Winds on Derwent). And surprisingly, police indicate that they believed that the weather-beaten man was actually Sue Neill-Fraser.
*
SARAH (VO): When we eventually were allowed onto the yacht, we were walking (vision of toilet area, dusted for finger prints) all over the boat, all in different directions. (Toilet with forensic sticker) I was trying to stuff the pipe with a piece of foam. (Photo of cut pipe, then gloves stuffed into it, with finger print dust around). Tim got involved. (Photo of cut pipe) And we ended up plugging (Photo of inlet valve stuffed with rubber gloves) that inlet valve with latex gloves. But we had the box of them with us and we were just pushing them in. We were never ever told (Family talking to police) not to touch things. We were not told to wear gloves. (Sarah talking to Mark at farm) The reason we weren't told to do these things was because they said (VO over yacht footage interior) they had finished with the boat. (Interior of yacht with finger print dust) And so when we get the forensic result (Cut to forensic report with sections highlighted- pan across page)
Latex glove
Cream coloured, received
partly inside out
Major profile: Timothy Edward CHAPPELL (1 in 100 million)
… of Tim Chappell's DNA being on the inside of a latex glove found in (Photo of box of gloves in galley area) the kitchen galley area it does not add up.
Photo of Richard King and Tim Chappell – zoom in to Tim.
BEC (VO): The glove had Tim Chappell's DNA on the inside
SUPER: Tim Chappell
Bob's Son
…not hers. I was appalled because I had heard Tim Ellis, the prosecutor using those gloves against Sue in his summing up to the jury. (Image of Tim Ellis)
SUPER: Tim Ellis
Director of Publlic Prosecutions
…This was not challenged in the court.
*
LARGE CAPS TITLE: PAST PLOTS
Title dissolves through to image of Supreme Court.
SARAH: (VO) The Crown relied heavily on a man named Phillip Triffett. (News image of Phillip Triffet – Newspix) He came forward with a story about mum (NEWSPAPER HEADLINE: Court told of past plots) and her alleged desire to kill her (Photo of Sue and her brother Patrick) brother over 15 years ago.
SUPER: Patrick Neill-Fraser
Sue's Brother
PATRICK CARUANA: And then revised that plan with Phillip Triffet replacing her brother for Bob. Despatching him in a way not dissimilar to what apparently happened to Bob Chappell.
SUPER: Patrick Caruana
AAP Journalist
Exterior farmhouse, Bagdad, Sarah and Mark on verandah
SARAH: Mum laughed when she first heard that.
MARK: Well so did Patrick.
*
BARBARA: (VO) It was only one day after Bob went missing. Phillip Triffett came forward to police and indicated that he had certain information that may be of value. But him coming forward (100%) at such an early stage may well …
SUPER: Barbara Etter APM
Lawyer & Justice Consultant
… have skewed the investigation to the point that police began to focus on Sue as their primary suspect.
POWELL: Maria Hanson and Phillip said that they'd been friends with Bob and Sue, they'd been to their house for dinner parties. They'd been away with them. Phillip had done some work on a (VO over photo of Sue's old yacht, Granada) yacht Sue used to own.
SUPER OVER PHOTO:
"No one was present. Sue then started talking about Patrick again and how she wanted to get rid of him. I realised then that she was actually serious about it."
Phillip Triffett
Vision continues of the old yacht photo
BOB MARTYN: He used this venue of being on the (Photo of Sue with young girls on the old boat deck) boat with Sue because he needed a credible place where he could be with Sue and have a private conversation. (Old photo of Bob and kids on the old boat) Phillip Triffett made a statement that he had worked on that engine. He described the motor as being a twin cylinder Perkins, and I knew it wasn't a twin cylinder engine at all it was a single cylinder engine. (Photo of old yacht) … I made repairs to the engine and he'd never had his hands on it!
*
SARAH: What happened was over and over again, it was alleged that mum had lied.  So it gets to this point where you almost have to prove your innocence beyond reasonable doubt and you have to build your own defence by disproving everything that the police say.
*
SARAH: Mum and Bob had a falling out with Maria and Phillip years ago and, you know, they became fearful of, of Triffett particularly.
Photos of Phillip Triffett as younger man.
KATE: (VO) Phillip Triffett is a very dangerous person. I've been assaulted by him on many occasions. He was an incredibly violent (NEWSPAPER Image of Phillip Triffet and caption: BACK IN COURT: Witness Phillip Triffett.) and horrible person. And the police said that Phillip Triffett is
SUPER: Kate Hanson
Family Friend
an upstanding citizen of the community. And I nearly choked. I couldn't believe it.
Photo of Phillip Triffett
RHODA: Bob told me, as did Sue, that their lives were threatened by Phillip and Maria.
BOB MARTYN: Sue had decided to terminate the friendship and the result of that was a confrontation between Sue and Maria and Phillip and (VO over photo of Phillip and Maria, Sue and Bob and kids) death threats were made. The other thing was that Sue's kids were going to be included in this act, and that was what really frightened Sue.
*
KATE: Many years ago, it would have been in 1997, Philip went off his head and hit Mum with a power saw in the head and she was (VO over photo of Maria) left unconscious and bleeding in the bush. When she came to she managed to crawl out to the main road and a neighbour found her and rang an ambulance. The next day Mum turned up at my house in a police van to take me away to a safe house and we had to get a restraining order because he had a hit list, and apparently he'd gone off his rocker and was going to get rid of everyone. And apparently Sue was on that hit list. (VO over old photo of Kate, Sue and Bob) I was concerned and I had to go away for a couple of weeks. We had to go into hiding. (VO over farm exterior) I rang Sue and let her know, and she actually then said to me (VO over Sue and Bob photo) if anything ever happens to Bob and I, or if any of us ever disappear I have a letter (News image of Phillip Triffet) saying the Phillip Triffett is to be investigated. And that is actually what I tried to tell the police but they did not want to know about it. (VO over Photo of Maria and Phillip with Bob and Sue and family) They actually cut me off and did not want to know about it.
BARBARA: I now have formal documentary evidence of Phillip Triffett allegedly threatening Sue and her family. That Sue made a formal complaint to police in 2001. (VO over vision of police station) There's a transcript of a discussion that (VO and vision of police exterior) police had available to them, that Phillip Triffit allegedly was making threats, that there was a hit list and police denied the existence of that and the whole issue, that history was just sidelined in the case, in the investigation and, and in court.
POWELL: He has got some minor, and very minor criminal history … um but that doesn't mean that someone who's told lies or has got some minor criminal history in the past, doesn't tell the truth about, you know, particular issues … particularly serious issues. (VO Photo of young Phillip Triffett) Having seen him give evidence, he was quite impressive.  He wasn't trying to avoid the fact that, you know, that they were trying to infer he wanted to do some deal with the police. Um and at the end of the day, I think his response was 'I can only tell the truth about what happened'.
SARAH: Triffett had tried to negotiate his was out of criminal charges by bringing forward information about mum.
MARK: (VO over vision of Supreme Court) At the trial it came out that Phillip Triffett had been busted by the police only a coupe of weeks prior to Bob going missing for possession of ammunition that he didn't have a licence for, and possession of stolen goods.
BARBARA: They found hidden in a fuel tank a crate containing 1080 rounds of ammunition.
PATRICK CARUANA: And then had asked police once his statement had been finished whether his statement would help him (VO over Vision of Magistrate's Court). And police testified that they were convinced that that wasn't his motivation (Exterior Police station) for giving evidence, but it certainly raised a cloud.
*
SUE (VO): I believe in this country now you are considered to be guilty if the police say you are until (Wedding photo – Mark, Sarah, Sue, Bob) you can prove your innocence. You have to proactively take action. It is not (Photo of Bob on overseas travels) enough anymore, (Bec, Sue and baby) to simply rely on the fact that your innocence is assumed.