Andrew L. Urban.
What's with the taboo? Every Tasmanian I've spoken to agrees: people feel intimidated talking openly about the Sue Neill-Fraser case, the long-running miscarriage of justice that is a weeping sore on Tasmania's legal system*. Perhaps that's why there are no mass protests in the streets? Or maybe Tasmania's media, also feeling intimidated, haven't reported the malpractice, incompetence and lies that led to her conviction, as have some of their mainland peers?
The producers and crew of the 6-part tv doco series about the Sue Neill-Fraser case, Undercurrent, report having felt intimidated in the process. Perhaps that was triggered by police raiding their Sydney offices and seizing raw footage.
"Did our phones have to be tapped, our bank accounts seized and scrutinised, thousands of our phone calls transcribed, my documentary film footage seized, listening devices installed, our lives made into hell? Why, because we sought the truth? This intense campaign to shut us down has cost the Tasmanian public millions of dollars – and not one politician is questioning that. WHY NOT?" asked co-producer Eve Ash in a statement about the police raid.
Two Tasmanian opinion survey companies declined to accept a job from us here at wrongfulconvictionsreport earlier this year to sample public opinions about Sue Neill-Fraser's guilt or innocence. Is the subject that taboo?
Most people don't want to talk about the case – even in private. One life partner of a senior State Government official, for example, told a friend of his that he didn't want to discuss the case at all. Friends are reluctant to raise the subject with each other and public displays of Sue's image on a placard will sometimes even attract abuse, as if she were a vicious serial killer.
The Hobart Mercury has reported throughout the long history of the case, quite dramatically in recent times once the latest appeal was in train. Did it change minds?
Has intimidation subdued the public's demand for integrity in the legal system? In public office?
What generated this intimidation among the public? My theory: the ruling orthodoxy in Tasmania insists that Sue Neill-Fraser is guilty. This is not a rational, evidence based understanding, but some groupthink deferring to the legal system; "the system convicted her, she must be guilty".
But in some cases, it is perhaps just embarrassment, a defence mechanism to protect an underlying uncertainty and doubt about the police & legal system's credibility. (And many reputations…) Imagine if Neill-Fraser's murder conviction was based on malpractice, incompetence and lies. It cannot be confronted. That defensiveness might explain the antagonism with which the subject has been greeted by some. Having long invested in the conviction, it is confronting to be asked to question it. (Echoes of the Lindy Chamberlain experience…)
I submit my theory in the context that wherever the political establishment is aligned with the legal system in a protective embrace, the symbiosis develops an impenetrable shield, able to repel the rule of law and the requirements of justice. The legal system is self policing; the political system is self serving.
My view is based on observable facts: Robert Richter QC (with others) has twice (2013 and 2017) presented well documented arguments requesting the Tasmanian Government to establish an independent commission of inquiry into the case, headed by an interstate Judge and the use of seconded respected interstate homicide police investigators. Both requests were rejected.
On August 1, 2021, the first of several papers were sent to the Attorney-General, by Neill-Fraser's former lawyer Barbara Etter APM and Canberra barrister Hugh Selby, revealing details of previously unseen information. The documents, examined by wrongfulconvictionsreport, show evidence withheld, misleading conduct by police and prosecutors, and evidence of witness testimony that contradicts what the jury heard. The Etter/Selby submission urges the Attorney-General seek leave to reopen the appeal. There has been no indication yet that Tasmania's First Law Officer plans to do anything about it.
Those who feel intimidated by the ruling orthodoxy should resolve to let the evidence dictate their opinion on this case.
In recent days we have published some new and disturbing evidence (thanks to the Etter/Shelby papers) that not only reveals wrongdoing, but underscores the stark contrast between the case against Sue Neill-Fraser and the reasonable alternative hypothesis – which in such a circumstantial case requires a verdict of not guilty:
SUE NEILL-FRASER
No criminal record
No murder weapon/s found
No eye witnesses
No credible motive
No evidence placing accused at crime scene at relevant time
No forensic evidence linking accused to crime scene
… AND a reasonable alternative hypothesis consistent with the innocence of the accused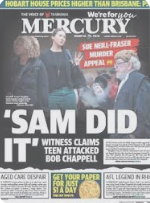 ALTERNATIVE HYPOTHESIS
Young male known to police
Eye witness identified perpetrator
DNA of eye witness at crime scene
Credible motive
****
Standing out for speaking out are the determined members of the Sue Neill-Fraser Support Group, comprising some three dozen 'core' members with some 220 or so currently on the full email list. They do protest in the streets …. Their most notable achievement – other than providing visible emotional and psychological support to Sue Neill-Fraser – has been keeping the case in the public spotlight (rallies, vigils) with the basic proposition that "SUE IS INNOCENT". (One of the founding members provided me with copious detailed notes taken during the trial, for example.) They attend all relevant court hearings, and they network. They meet regularly and keep records. They are the only ones to take to the streets.
They are especially proud of their direct work: "We arranged for Bob Moles, the Adelaide based legal academic and expert in miscarriages of justice, to visit Hobart and began lobbying the State Attorney-General, Dr Vanessa Goodwin, to bring in legislation that would allow for further appeals. We got nearly 2,000 signatures on a petition and about twenty supporters went to Parliament House to listen to the debates on the proposed bill. Eventually it was passed unanimously through both House of Parliament in 2015."
* Her partner Bob Chappell was missing from their yacht, Four Winds, on the morning after Australia Day 2009. His body has never been found. She was charged and convicted of his murder. (Decision on her second appeal, heard March 1 – 3, 2021, is pending.)