Doing the honourable thing by accepting responsibility for mistakes within the criminal justice system stands out as a novelty, it sometimes seems to us. So we want to recognise some of those who have done the honourable thing, apologising for mistakes and/or malpractice that sent people to prison. That's a start – but The System must reduce the need to apologise. Reforms to The System would help, but The System is not reforming itself.
Apologies for wrongful convictions are valuable. "In a variety of contexts, the offering of an apology to victims for past wrongdoings has been critical to their healing. Like the wrongfully convicted, many groups have suffered wrongful detention, abuse, or other offenses at the hands of a large group whether it is a government, a religious or medical institution, or some other organization." So argues an attorney at Bear Sterns, Abigail Penzell, in her paper "Apology in the context of wrongful conviction: why the system should say it's sorry"
"When evidence proves that a wrongfully convicted individual is actually innocent, state actors have a choice of whether to apologize or not. An apology has the capacity to aid victims as well as the state actors themselves, to improve the system through a recognition of its flaws, and to give the community the security of knowing that the state's commitment to justice will ensure that the right people are imprisoned and that the innocent are free." Optimistic but valid …
Here are a few Honourables we found who represent The System.
The Honourable NZ Justice Minister Andrew Little
New Zealand Justice Minister Andrew Little says he decided to offer a personal apology to a wrongfully convicted man after he read about his traumatic experience of prison.
The Government will pay Tyson Redman $551,000 in compensation for his assault conviction and imprisonment for two and a half years. The compensation included a written apology. But Little said he decided to take the unusual step of ringing Redman himself to apologise.
"I was aware from [QC] Donald Stevens' report that Tyson's time in prison for something he clearly didn't do was traumatic and I was pleased to be able to say I hope he could put these events behind him and build a good life for himself."
Little also said that he felt his response to a previous wrongful conviction case, that of Teina Pora, had been too impersonal. Pora received $3.5m in November for his 20 years in jail on wrongful rape and murder charges.
Redman was convicted in 2007, aged 17, in relation to a group assault at a 21st birthday party in Mt Roskill. His conviction was not quashed until 2013 – long after he had served a full prison sentence – when it was proven that he was not at the party at the time.
The Honourable attorney A.M. "Marty" Stroud III
SHREVEPORT, La. — Saying the words "I apologize" seems so inadequate at times. And this is one of them for attorney A.M. "Marty" Stroud III.
But he feels it must be said to Glenn Ford, the man who spent almost 30 years behind bars for a murder he didn't commit.
Stroud, 63, was the lead prosecutor in Ford's 1984 murder trial. Even though it was a jury of 12 people who unanimously voted to convict Ford of the Nov. 5, 1983, shooting death of Shreveport, La., jeweller Isadore Rozeman then chose the death penalty as his punishment, Stroud takes responsibility for the decision — one he now admits was flawed with inaction on his part and coupled with the admitted "arrogant, judgmental, narcissistic and very full of myself" attitude of the attorney he was then.
In perhaps an unprecedented move by a former prosecutor, Stroud is offering a public apology to Ford in a three-page letter to The (Shreveport, La.) Times in response to the newspaper's coverage of Ford's plight.
He doesn't stop there. Stroud takes the state to task for fighting Ford's effort to gain compensation for his wrongful incarceration. And he calls for the abolishment of the "barbaric" death penalty — a stance he says changed over his 38 years as an attorney, but even more so now realizing his role in asking a jury to consider putting to death a man innocent of a crime.
"I'm relieved because he was released from death row and did not get the death penalty," Stroud said. "On the other hand, I'm shocked and devastated that I had, albeit unwillingly, sent a man to a hell hole who had no business being there in the first place."
It's too easy to take the position of "Oh, I didn't know," he said. But when a person's life is at stake, an "attitude like that doesn't cut it."
The Honourable ADA Patricia Cummings & Judge Gwendolyn N. Bright
Chester Hollman spent 28 years behind bars, knowing every single day that he served that he is innocent.
"We believe it was near-impossible Chester Hollman was the perpetrator of the crime," Assistant District Attorney Patricia Cummings, head of the Conviction Integrity Unit, said in court, according to the newspaper.
"I apologize to Chester Hollman," Cumming said. "I apologize because he was failed, and in failing him, we failed the victim, and we failed the community of the city of Philadelphia."
She wasn't the only one to apologize on behalf of a major institution, as the judge who oversaw Tuesday's motion hearing to dismiss the charges against Hollman also apologized on behalf of the court.
"This is one of those bittersweet moments where [there is] joy in the fact that justice has been served, but sadness in the fact that it has taken so long," said Common Pleas Court Judge Gwendolyn N. Bright, according to The Inquirer.
The Honourable judge Steven L. Barrett
Huwe Burton served nearly 20 years in prison before being paroled in 2009.
Judge, Steven L. Barrett, ruled after lawyers for the Innocence Project and the Bronx district attorney's office brought forward new evidence that suggested someone else killed Ms. Burton, and that detectives had used psychologically coercive interrogation techniques to get Mr. Burton to give a false confession.
Justice Barrett expressed remorse. "Certainly it is a tragedy that Mr. Burton spent some 20 years in jail for a crime he did not commit," Justice Barrett said. "For this I apologize on behalf of a system that failed him."
Justice Barrett said he had presided over another homicide case in 1988 in which the same detectives who had elicited a false confession from Mr. Burton had coerced phony statements from two men, who implicated a third man in the murder. It later came out the third man was in jail at the time of the killing and could not have been involved.
Justice Barrett said he dismissed the idea at the time that the confessions were erroneous. The case went to trial and a jury acquitted the men in an hour. He acknowledged his mistake in that case, and apologized for what Mr. Burton had experienced.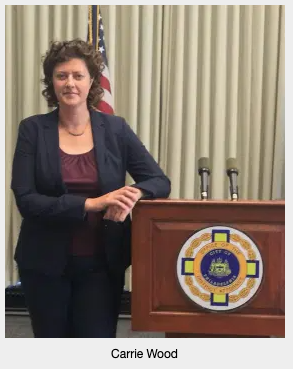 The Honourable prosecutor Carrie Wood
A man who spent nearly three decades behind bars, most of them on death row, after he was convicted at his second trial of killing a 4-year-old girl in Philadelphia, was released after prosecutors concluded he very likely did not do it.
Walter Ogrod left death row and the State Correctional Institution-Phoenix hours after his charges were reduced and he was granted bail in the 1988 death of Barbara Jean Horn.
His lawyer, James Rollins, said Ogrod's first stop would be a relative's backyard barbecue. "He was very pleased and relieved to be out of prison," Rollins said. "He is very tired."
A prosecutor apologized to Ogrod, who still faces a small chance of a third trial.
"I'm sorry it took 28 years for us to listen to what Barbara Jean was trying to tell us: that you are innocent, and that the words of your statement of confession came from Philadelphia Police detectives and not you," told Ogrod, according to a news release from Wood's office.
Ogrod's lawyers say police coerced a false confession from him in the death of Barbara Jean, who his defense lawyers say may have died of asphyxiation and not blows to the head, as prosecutors argued at trial.
Sources:
NZ Herald / USA Today / ABC News (US) / The New York Times / The Spokesman Review
FOOTNOTE: We have tried but not found any instance of similar examples of apologies in Australia; readers are welcome to point us to any that exist.
* Over zealous police conduct (not to mention illegal behaviour) is recognised as a major contributing factor in leading to miscarriages of justice. This reflects badly on the good cops so one would think there would be support for reforms from them. The first step would be to ensure existing procedural rules and guidelines are followed.
* Forensic experts should be viewed and heard with caution by juries and judges. Prosecutors should ensure that their experts are qualified to give evidence in their field and deliver accurate, independent and accessible evidence.
* Prosecutors impermissibly pursuing convictions irrespective of the facts are a disgrace to the profession and a menace to the interests of justice – they should be hounded out. Those found to have broken the rules should face severe consequences.
* Defence lawyers must ensure they diligently present all exculpatory evidence to the court.
* Judges must be more alert to prosecutorial misconduct and use wisdom and caution in directions to juries. They must not resist criticisms of other lawyers and judges nor allow such criticisms to influence their judgements.
WHAT HAVE THEY DONE TO HELP INTRODUCE REFORMS OF THE SYSTEM? 
The Australian Law Reform Commission is an independent Australian Government agency that provides recommendations for law reform to Government on issues referred to it by the Attorney-General of Australia.
Law societies & institutes around Australia have a regulatory role including the right to supervise the training, qualifications and conduct of lawyers.
The Law Enforcement Conduct Commission was established in 2017 as a permanent independent investigative commission to provide oversight of the NSW Police Force and NSW Crime Commission.
The Tasmanian Integrity Commission is tasked with preventing and investigating public sector misconduct. For one example of its failure to execute this task, see our report in which the Commission sought to argue that a police officer's public statement that is contrary to the facts is not in breach of the Integrity Commission Act.