Andrew L. Urban
There is a new sheriff in Hobart town: Attorney-General Guy Barnett was appointed (in turbulent circumstances) to succeed Elise Archer in October 2023. But after years of stonewalling on calls for an inquiry into the murder conviction of Sue Neill-Fraser by lawyers, barristers, media and the public,* it's the same old cover up.
Following in the shame-stained footsteps of former Attorney-General Elise Archer, Guy Barnett has refused to answer three questions we put to him (on October 31, 2023, with two reminders to follow) concerning the calls for a Commission of Inquiry into the case of Sue Neill-Fraser. Refusing to investigate what so many have identified as a miscarriage of justice amounts, arguably, to dereliction of duty – and an officially sanctioned cover up, in this writer's opinion.
Ironically enough, one of the first decisions of the newly appointed Tasmanian Attorney-General was to make a request to the Tasmania Law Reform Institute to review the statutory framework applying to Commissions of Inquiry. The review follows the Commission of Inquiry into the Tasmanian Government's Responses to Child Sexual Abuse in Institutional Settings.
He has also asked his Department to establish an independent review into whether Public Officers who received a grant of legal assistance during the CoI acted in good faith, and if not, whether they should be required to reimburse the Crown for expenses incurred. "A suitably qualified and independent person will be appointed to undertake the review," Barnett said.
So who is Guy Barnett? Barnett was appointed to the position by Liberal Premier Jeremy Rockcliff, on October 2, 2023, following the tumultuous September 28 resignation of Elise Archer, who had been Attorney-General since March 2018. Notorious for refusing to establish a Commission of Inquiry into the controversial case of Sue Neill-Fraser, Archer put up several excuses to avoid an inquiry, each of which was debunked on this blog and in the author's book, The Exoneration Papers – Sue Neill-Fraser (Wilkinson).
Just three months earlier, in July 2023, Barnett was appointed Minister for Health. His appointment met with mixed reactions from Labor and the Greens. "Minister Barnett has a track record of failing as the Energy Minister and as the Housing Minister – and now following the Premier dropping health, he's been given the key to the largest portfolio in Health," sneered the Labour media release.
The Greens went at 'im, too: "Look at the location of Guy Barnett's first press conference in his new role – the Royal Hobart Hospital. Nearly half of all patients arriving by ambulance to the Royal are now ramped, and half of emergency department patients aren't seen within clinically safe timeframes.
"To turn the terrible situation in health around we need a new, more ambitious approach. The new Health Minister needs to start his new job by admitting the state of the health system is simply unacceptable, and by committing to doing things differently." Likewise with the legal system we might add.
Barnett's official bio:
Born and raised on a farm at Hagley in northern Tasmania, Guy Barnett gained a law degree and Master of Laws at the University of Tasmania.  Working then in a Melbourne and Washington DC law firm, Guy went on to establish and manage his award winning government and public affairs business based in Hobart and Canberra.
After almost a decade representing Tasmania in the Senate, Guy was elected to the Tasmanian State Parliament in 2014 and now serves as Attorney-General, Minister for Justice, Health and Veterans Affairs.
Guy is also a Diabetes Australia Ambassador and an author of several books including, 'Our Heroes, Tasmania's Victoria Cross Recipients' and 'Make a difference – a practical guide to lobbying'.
Guy is married with 3 children, 3 grandchildren and enjoys cycling, tennis, squash and fishing.
Missing from this official bio is Barnett's highly commendable key role in recognising the late Teddy Sheean:
Teddy Sheean was just 18 when he died on board HMAS Armidale in 1942. He refused the chance to board a lifeboat while his ship was sinking, returned to his Oerlikon gun and went down with the ship while defending his shipmates from enemy attack.
Barnett as the original applicant was given the opportunity to present the case in support of a Victoria Cross for Teddy Sheean to an Expert Panel chaired by Brendan Nelson, a former Defence Minister and Director of the Australian War Memorial in Canberra.
Based on evidence presented by Barnett and others, the independent Defence Honours and Awards Appeals Tribunal unanimously recommended that Teddy be awarded a Victoria Cross for Australia.
His official bio is also silent on his opposition to same sex marriage.
As one Tasmanian parliamentarian notes, "I often don't agree with him politically, but he is a decent guy…"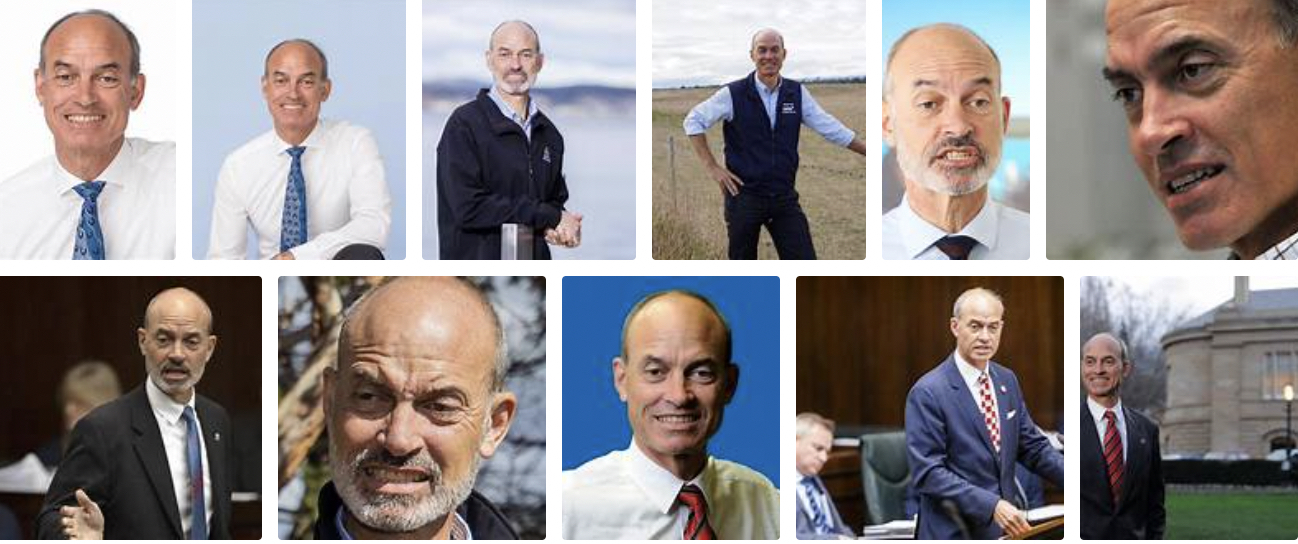 The questions put to A-G Barnett on October 31, 2023:
Q1: Since your appointment as Attorney-General, are you aware of the various grounds for disputing the murder conviction (see examples below) that have never been considered by any court of appeal:
Identified by Flinders University legal academic Dr Bob Moles:
1 Luminol test results are not admissible
2 Luminol test results in photograph in the dinghy are seriously prejudicial
3 Pathology evidence inadmissible
4 Submissions by prosecutor (speculation) and judge inadmissible
5  Jury misinformed concerning drug smuggling operations
6 Judge – circumstantial case wrongful summing up to jury
 Identified by former prosecutor Tony Jacobs :
Evidence not disclosed re electropherogram (of Vass DNA), destroying prosecutor's claim of transferred deposit;
Evidence not disclosed about the false Mt Nelson address (given by Vass);
Failure to object to inadmissible hearsay evidence from Detective Sinnitt re Vass possibly hanging around Goodwood;
Evidence not disclosed that Mr Gosser in conversation with Detective Sinnitt re DNA unlikely to have been walked on;
flagrant incompetence by defence counsel, the late David Gunson (citing 16 grounds);
the failure of the solicitors lodging her 2011 appeal to raise these issues,
the failure of the solicitor lodging her 2012 High Court appeal
the failure of the Tasmanian Appeal Court in 2012 to, of its own motion, raise these issues.
Q2: Justice Estcourt's Dissenting Conclusion
Neill-Fraser's second appeal was refused by two of the three judges, but Justice Estcourt's Dissenting Conclusion (summary below) argues in favour of upholding the appeal. Do you consider his reasons add weight to the other elements that point to a wrongful conviction (see above)?
459 Having regard to the evidence at the accused's trial and the closing addresses of counsel and the learned trial judge's summing up, I am of the view, after taking into account the fresh and compelling evidence of Mr Jones, that there has been a substantial miscarriage of justice.
 461 Had Mr Jones's evidence been before the jury, the Crown case could not have been left to the jury with the reasonable hypothesis raised by the defence as to Ms Vass being present on the yacht trivialised as it was, as a "red herring". Had the jury been exposed to expert evidence that secondary transfer of Ms Vass's DNA on the sole of someone's shoe would have been a "very rare occurrence" requiring a very specific and immediate concatenation of steps …
 463 In my view, on an objective assessment of the record, and recognising the limitations in doing so, after taking into account the fresh and compelling evidence of Mr Jones, there is a significant possibility that the jury, acting reasonably, might have acquitted the appellant had the fresh evidence been before it at the trial.
465 I would uphold the appeal and quash the appellant's conviction for murder.
Q3: Are you aware of any reason that a Commission of Inquiry into the case should not be established?  
NOTE: Your predecessor cited a number of reasons why she would not do so, reasons which I argued have no merit. Please see
https://wrongfulconvictionsreport.org/2023/08/27/open-letter-to-the-hon-elise-archer-attorney-general-of-tasmania/
* public: a petition with over 38,000 signatories and letters to media
Guy Barnett
ATTORNEY-GENERAL
MINISTER FOR JUSTICE
MINISTER FOR HEALTH
MINISTER FOR VETERANS' AFFAIRS
Hobart Office
Level 5, 4 Salamanca Place
HOBART, TAS 7000
Electorate Office
75 Emu Bay Road
Deloraine 7304
Phone: 6701 2170