Andrew L. Urban.
Arrested 12 years ago today, on August 20, 2009, for the murder of her partner Bob Chappell, Sue Neill-Fraser is still in Risdon Prison (awaiting the outcome of her last appeal, heard over five months ago), thanks in large part to the unsavoury Phillip Triffett, who gave false and damning evidence against her; here's why. 
A malicious witness, Phillip Triffett, and his then partner Maria Hanson, were instrumental in compromising the police investigation into the disappearance of Bob Chappell on Australia Day 2009 – and poisoning it. It is ironic that those who want to protect Sue Neill-Fraser's murder conviction should refer to her 'many lies' as if that proved her guilt (even if it were true), considering it was Triffett who did all the lying. (In a sworn affidavit, old family friend Bob Martyn writes: "I don't believe that Sue told police that she had been to Bunnings to hide where she had really been. It was common for Sue to get confused and mistake the day that she went and so this was consistent with her normal behaviour.")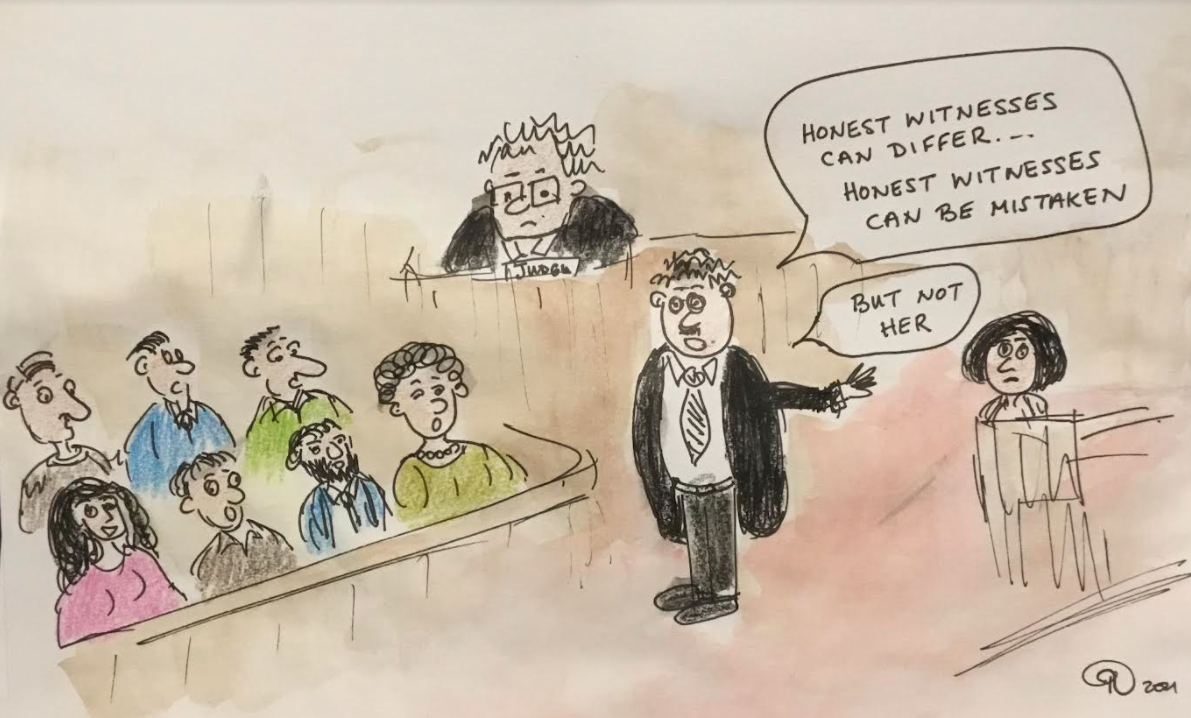 At trial in 2010, the prosecutor, then DPP Tim Ellis SC, referred to Triffett's evidence as the 'sealer' of the case. The police did not disclose before the trial that Triffett had approached them asking if his evidence against Neill-Fraser would be helpful in his own matters due to go to court. That only became known during the trial through an anonymous caller who alerted defence counsel. This 'sealer' evidence consisted of Triffett's fanciful claim that a decade earlier when they were still on friendly terms, Sue talked to him about murdering her brother and Bob, too. It's not as though mild mannered Sue moved in criminal circles, but the police took it seriously. As did the prosecution.
The story of the Triffett/Hanson relationship with Sue and Bob forms a crucial background to this case. It starts in the 70s, when Sue and her mother bought a large property at Bagdad (lower Midlands, Tasmania) and started a residential horse riding school. That's where her neighbour, Maria Hanson, started to work for Sue.
In 1991, Hanson started a relationship with Phillip Triffett, who subsequently did some paid work on Sue's farm as well and also on a subdivision that she owned with her business partner and eventual good friend, Robert Martyn.
"When I arrived in Hobart in the days following Bob's disappearance," he writes in an affidavit, "Sue and I went on a number of walks including walks along the Sandy Bay foreshore. This was the best way I could help Sue as she was devastated and in a terrible way. We borrowed a tin dinghy and went around the wharfs and the foreshore etc.to see if there was anything that had got stuck up on a wharf or a jetty. Unfortunately we did not find anything."
Considering that Martyn was readily available to the investigation and had known Bob since the mid 70s, he was surprised that they never wanted to talk to him – or to provide any testimony at trial. At one stage police even ran into him in Sue's house and he was introduced as an old family friend.
The day after Bob went missing Phillip Triffett contacted police with a fabricated story that Sue had had a previous plan to murder Bob. It was absurd, but it was their insurance against suspicions falling on them. The relationship had soured a decade earlier, in the wake of threats of violence by Triffett.
Bob and Sue had earlier noticed Triffett's fascination with guns, and in the wake of the Port Arthur massacre in 1996, they became uneasy after overhearing Triffett and Hanson discussing the illegal purchase and stockpiling of firearms. (Triffett's pending matter at the time was related to illegal possession of ammunition; he had previous matters on his record.)
When a converted shed on Maria Hanson's property at Old Beach burned down, Hanson admitted to Sue that the fire had been lit by Triffett for the insurance. That was in 1997 and it caused Bob and Sue to sever all relations with Hanson and Triffett.
Bob and Sue even wrote a letter outlining what they knew of the couple's criminal behaviour and the threats made against them and ensured they were aware of its existence by explaining the situation to Tammy, Maria's daughter and that it would automatically be sent to police if either Bob or Sue were harmed.
Sue has always denied that she had plans to murder her brother and Bob or that she sought Triffett's help. It was his word against hers …
Triffett and Hanson had been inventing and spreading malicious rumours about Sue in the community, ever since they were estranged.
But old friend Bob Martyn already knew how dishonest Triffett was, and had he been called as a witness, he would have destroyed Triffett's evidence and his character. His sworn affidavit gives an indication of what might have been:
"Phillip Triffett's claim that he worked on the engine of (Sue's previous boat) La Bacquet was a total fabrication. More specifically, the statement provided by Phillip that Sue had asked him to sink La Bacquet by reversing the electric bilge pump mechanism could in no way be true as the yacht was not fitted with an electric bilge pump. Similarly, Phillip did not complete any work on the injectors, as outlined in his statement of 10/02/2009. l am quite certain that Phillip did not remove or even inspect the injector. l undertook work on Sue's old yacht, La Bacquet during the latter half of 1992. I carried out repairs to the engine, which involved many visits to La Bacquet before finally restoring the engine to operation. During the time I spent carrying out the work, I became familiar with the engine as well as its controls and other associated equipment."
Bob Martyn also swore that:
"I am aware that many years ago Bob and Sue severed their relationship with Phillip and Maria, as I was present at Allison Street a lot due to being Sue's business partner. The first awareness of this was when Maria and Phillip began spending a lot of time at Bob and Sue's house due to a fire occurring on their property. Sue subsequently told me she had to sever their relationship as she had found out that the fire had been deliberately lit and Phillip and Maria had made a false insurance claim. Sue then told me that she had received a warning from Phillip that if she went to the police with this information he would kill her, Bob and the children. Sue and Bob appeared to be very afraid of Maria and Phillip and nervous about what might happen to them. Subsequently Sue told me that this fear caused them to write a letter about their dealings with Phillip and Maria."
This was the same Phillip Triffett whose testimony was the 'sealer' for the prosecution case …. which goes to show how flimsy the case was.
The direst consequence of Triffett's prejudicial interference was the failure of detectives to properly investigate crucial leads that emerged within hours of Bob's disappearance. For example, a member of the public living near the Battery Point waterfront, Stephen Catchpool, rang police on January 27, 2009, with vital information. Catchpool later said that following his call, Detective Shane Sinnitt had attended their residence at 6:42 pm and was informed that there was illegal boating activity going on in the area. His own dinghy had been stolen, used, and then returned a few days prior to Bob's disappearance.
Stephen Catchpool had observed "suspicious behaviour of dodgy characters living in their cars at the rowing sheds," including seeing them "going out to yachts and different dinghies and one running a yacht aground" on Marieville Esplanade Beach. The Four Winds' dinghy had been found abandoned, floating against the rocks at the same spot where the homeless people congregated. After Sue's arrest, Catchpool rang her barrister and relayed the information saying he hadn't heard back from the police.
The DPP was contacted and asked for an explanation. He in turn contacted Sinnitt, whose response was to deny that Catchpool had ever told him about them. During the trial, the jury were told the homeless men weren't at the Rowing Sheds that night and Justice Blow told them to "disregard all mention of homeless people."
On March 3, 2009, a listening device was placed in Sue's family home, the warrant signed by Justice Shan Tennent. The next day Sue voluntarily took part in an uncautioned interview at Hobart CIB headquarters. She was informed that two people had come forward accusing her of having previously planned a murder. Immediately thinking of Triffett and Hanson, Sue asked if the informants were reliable. Detective Conroy's response was misleading: "Yes, they are. Well liked and respected in the community and one has an academic background." It was so wide of the mark as an apt description of them, that Sue was unable to identify them. (That misleading description was later deleted from the official records.)
On March 9, Detectives Conroy and Puurand visited Sue's brother, Patrick, at his home. They said they had information that Sue had previously "plotted to have him murdered" and could be very dangerous. He refuted the proposition, telling detectives, he thought it was "just malicious gossip" and naming Triffett and Hanson as the likely source. He then rang and warned Sue that "Maria and Phillip are at it again."
Shortly after, Tim Chappell (Bob's son) was at Sue's house and overheard part of the conversation between Sue and her daughters about Triffett and Hanson – whether they could be the "murder plan" informants. Tim then approached Detective Conroy regarding his concerns "regarding a conversation he had had with the accused re Hanson and Triffett."
A day later, Conroy obtained a search warrant and a group of detectives searched Sue's family home in West Hobart. DI Powell was present so Sue tried to speak with him about the yacht, but received an aggressive response. The computer and family car were seized. The mood was darkening.
Sue continued to behave normally. For example, Bob had inherited a valuable oil painting (approximate value, $100,000) from his grandfather and had previously mentioned that it would eventually go to his son. There was no mention of it in his will and knowing it could be years before anything was settled, Sue decided to give it to Tim. On March 22, Sue and Bob Martyn took it to Tim Chappell's house – but received an unexpectedly negative response. Tim was discourteous and the door was shut in their faces.
Rumours and gossip about Sue – some bizarre – circulated in Hobart, thanks largely to Triffett and Hanson. In April 2001, several concerned local people approached Bob, saying that Hanson was spreading a rumour that Sue had been involved in the disappearance of Dennis O'Day. That rumour persisted for years and had a reprehensible echo near the end of Sue's trial in 2010, during the prosecutor's closing address to the jury: " …with her involvement with the disappearing young Mr O'Day and what had happened to him, no one knew, disappeared, no body."
In fact, Dennis O'Day's car was found abandoned near the Tasman Bridge and the Coroner's report concluded that he most likely committed suicide, distressed by the end of his relationship with Lexi Stocks. This was the rather tenuous link connecting Sue to the young man. Stocks had worked at Sue's riding school at Bagdad in June 1980. Bit by bit, the jury's mind was poisoned with lies and smears, starting with Triffett.
After Bob's disappearance, complete strangers spoke with authority at social gatherings. "She murdered her first husband. There wasn't enough evidence to charge her. And she's also responsible for the disappearance of a young man back in the 1980s." See above.
Brett Meeker, her first husband, was regularly forced to defend her. "Sue's never been violent" and pointing out that he was "still alive."
Bob Martyn provides a valuable insight into Bob and Sue's relationship, formed over decades: "Bob and Sue had a loving but unusual relationship. They were never physically expressive in public, and didn't express any kind of affection towards each other in public such as cuddling. I found their relationship to be based more so on their love of having intellectual conversations. Sue never said anything to me to give me any indication that Bob and her had ended their relationship and I never saw anything to suggest that their relationship was over. Sue would have told me if she intended to end her relationship with Bob."
****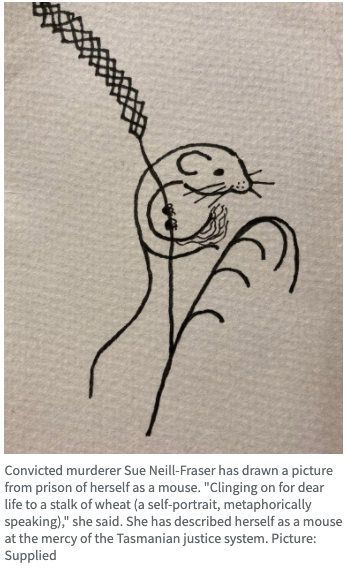 NOTE:
A series of papers by former Neill-Fraser lawyer Barbara Etter APM and Canberra barrister Hugh Selby provided to Tasmanian Attorney-General Elise Archer bring to light evidence not previously presented in court, and underline a need to have the current (still undecided) appeal reopened.
Our reports of those dossiers.
PETITION:
The petition for an inquiry into the Sue Neill-Fraser case continues to gather signatures