Andrew L. Urban
After 13 years in jail, 45 year old Scott Austic has finally regained his freedom and his official innocence last week, when a WA jury acquitted him after two hours of deliberations. As we reported in May this year, Austic had lost his first appeal against his conviction for the murder of his pregnant girlfriend, Stacey Thorne, 35, who was 22 weeks pregnant when she was stabbed 21 times at her Boddington home, about 120 kilometres south-east of Perth.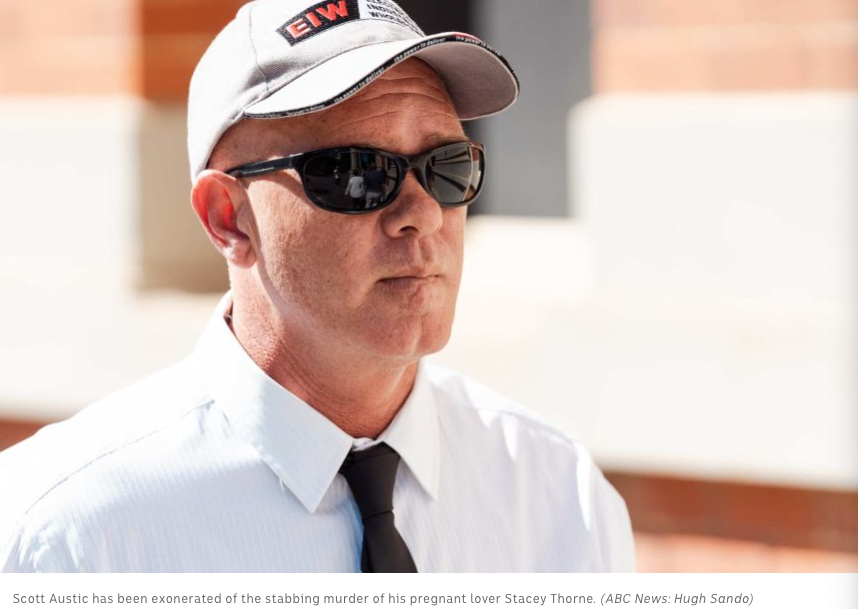 However at the retrial, unlike the initial case, the defence was based on allegations "a small but corrupt" group of police officers, who had decided early on that Austic was the culprit, planted crucial evidence against him.
David Edwardson QC said that included the Jim Beam can and the knife that was alleged to be the murder weapon.
The defence called an expert, who testified the knife "miraculously" found by detectives in a paddock that already been thoroughly searched by State Emergency Service volunteers, was not long enough to have inflicted the deep wounds suffered by Thorne.
Trying to protect the conviction, prosecutor Justin Whalley SC outlined "11 strands of circumstantial evidence" that he claimed proved Austic was Thorne's killer, including:
*Mr Austic "lying" to police in an interview about what he was wearing on the night of the stabbing, because CCTV from the local hotel showed him in different clothing
*the discovery of a Jim Beam can with Mr Austic's DNA on a verge outside Ms Thorne's home
*the discovery of a knife with Ms Thorne's blood on it in a paddock near Mr Austic's home
*the finding of a bloodstained cigarette packet on a table at Mr Austic's house; and importantly
*a motive, because Mr Austic did not want Ms Thorne to have his child
FOOTNOTE:
As for what happens to the "small but corrupt" group of police officers … probably nothing.