Andrew L. Urban.
In her emotional 60 Minutes  interview last night (Sunday, March 10, 2019, Channel 9), Meaghan Vass told the truth – 'the objective evidence backs it up' as Robert Richter QC put it: she witnessed Bob Chappell scuffle with two men on board Four Winds on Australia Day 2009 and Sue Neill-Fraser, who is serving a 23 year sentence for Chappell's murder,was not there.
Vass, understandably distraught, gave interviewer Liam Bartlett the answers that not only exonerate Neill-Fraser of the murder but identify the killer/s – whose names she knows but doesn't reveal. There was one especially telling answer: when Bartlett asked if she would now tell the police what she knew, she said 'no'. But she said she would testify in court.
The 60 Minutes interview (1.035 million average viewers nationally) ended a week in which the final episode of Undercurrent (7 Network – 6 part series produced over more than 2 years) also presented Vass as a witness to Chappell's murder, exonerating Neill-Fraser.  In Tasmania, Channel 9 programs are carried by WIN (some regions) and SCA (other regions); WIN took the Vass segments, SCA did not, broadcasting an older story instead, according to a 60 Minutes spokesman, who also confirmed that Vass was not paid a fee. The program is available online at 9now.com.au
Well groomed in a crisp white shirt over a T shirt and jeans, with neat, long dark blonde hair, her face often crunched by emotion and wet with tears, Vass (now 25 and still homeless, vulnerable) was heart wrenching. Scared "of the man who killed Bob?" as Bartlett put it, "Yeah," she replied – and guilt-ridden about Neill-Fraser. So Neill-Fraser, an innocent woman, has been sitting in jail for nine years? "Yes," she whispered tearfully.
Bartlett didn't have the heart, perhaps, to ask Vass how she felt about that man's 10 year silence in the face of an innocent woman languishing in prison for his crime, and the position his silence has put her. Nor if she ever sees him these days.
Nor did the program delve into what might happen next in this tortured case. Justice Brett is due any day to announce his decision whether to grant Neill-Fraser leave to appeal her conviction. How hollow and cruel that now seems.
As for the lack of her reliability after her previous lies about it – which she admits – Robert Richter QC says "she is a woman who is very, very troubled but she is telling the truth, I don't have the slightest doubt about it – because the objective evidence backs it up."
The evidence includes the large DNA deposit matched to her, which is consistent with her statement that she vomited, which is also consistent with the blue rag found near the DNA deposit stained with vomit – and which mysteriously disappeared from the evidence log, as former detective Colin McLaren demonstrates to Bartlett with documents obtained under freedom of information.
Richter describes the case as "a forensic disaster … no-one had any idea of how to investigate this kind of homicide in Tasmania." And by pursuing Sue Neill-Fraser so vigorously, the police didn't give enough weight to other evidence or leads, he says.
The DNA match with Vass (in March 2010) "would have set off alarm bells, but by then Neill-Fraser had already been charged. It would have been pretty horrible for them (police) to come round and say, by God we've charged the wrong person." Richter says he wants to see a Royal Commission into the case.
The main reason that Vass claims she now wants to admit what she knows is to see Neill-Fraser go home to her family – she repeats this like a mantra.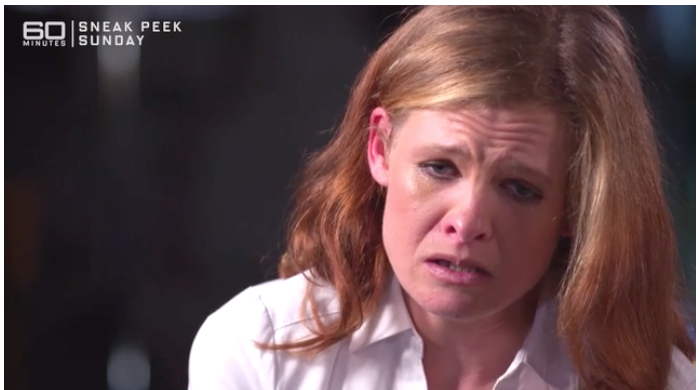 She breaks down when she adds "I don't have a family…" But she can't really explain why it has taken her this long to confirm she was there.
Vass was a vulnerable, homeless 15 year old mixing with the wrong crowd and taking drugs at the time of the murder. She is still a bit fuzzy about some of the details, and not just because it's been 10 years since the event.
When she took the stand in Sue Neill-Fraser's murder trial near the end of 2010, it was to answer one big question: was she on the Four Windsyacht in January 2009 when Bob Chappell was murdered, as her DNA – found on the deck – suggested? She said no. The court simply accepted her denial. New information that she had lied about where she really was prompted a request to recall her for another cross examination. Prosecutor Tim Ellis SC objected to her being recalled and presiding Justice Blow denied the request.
During and since the trial, the DNA evidence which placed Vass on the yacht has been minimised and dismissed by the prosecution, through every court hearing about the case. The circumstantial case effectively demanded that Neill-Fraser prove her innocence, subtly reversing the onus of proof. Did the jury get it wrong? Did they hear the truth, the whole truth and nothing but the truth?
NEXT:
How to proceed? We will explore this subject tomorrow, while Neill-Fraser's legal team (all working pro bono) is considering their options.
COMMENT:
Incompetence the mother of malice
It is inconceivable that the 60 Minutes interview will have no effect on the runout of the case. The admissions will energize public opinion, and put pressure on the legal system.
Words like 'consequences' and 'accountability' will be in frequent use in the wake of Vass' admissions. And whose duty now to look after the safety of Meaghan Vass?
The obstinate refusal by Tasmania's DPP and TasPol to acknowledge the egregious errors in their case against Sue Neill-Fraser – even after years of agitation by lawyers and media – made it seem a deliberate attack on her innocence and freedom. It showed a willful blind eye to the obvious truth, made possible by a brazen abuse of power. Incompetence became the mother of malice.