Andrew L. Urban.
Are the gatekeepers of reader comments on The Australian – the moderators –  in ideological conflict with the editors? 
How can it be that a reader comment echoing the paper's editorial as well as its front page story, is rejected?
In the Weekend Australian (June 17/18, 2023), the Editorial rightly stated how "NSW District Court Acting Judge Paul Conlon has provided a timely and welcome wake-up call for a criminal justice system that risks losing its way when dealing with claims of sexual assault. The call to arms to defend the integrity of the system from vexatious and unwinnable claims sends an important message. That message is that the law stands above fashion and contemporary mores. It is there to serve both the accuser and the accused, and prosecutors have a big responsibility in deciding whether allegations should be taken to trial.
"As recent events in Canberra demonstrate, there can be no winners when politics intrudes on proper legal process. Mob justice, where an accused person can be judged guilty before they are properly tried, is unconscionable. Real victims suffer when false claims are allowed to clog up the justice process."
"Leaders have a responsibility not to profit politically from pandering to public viewpoints that weaken the rule of law. Reforms that make it easier for victims to pursue justice must continue to be made. This includes the right for victims to give evidence to court via video link and for their identity to be kept confidential. But it must not extend to compromising the workings of justice."
I posted the following comment:
" Reforms that make it easier for victims to pursue justice must continue to be made. This includes the right for victims to give evidence to court via video link and for their identity to be kept confidential."  and we could start by not referring to claimants as victims. Look what happens when prime ministers believe all complainants and ignore the presumption of innocence – in Parliament!" It was rejected. Breaches commenting guidelines…hmmmm.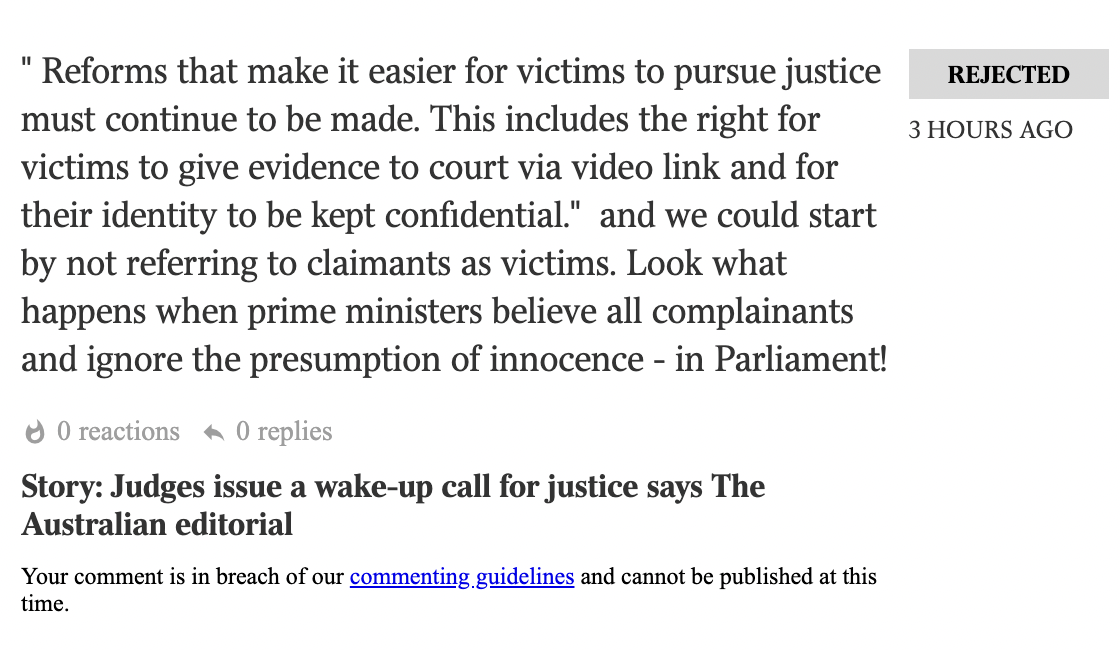 In the front page story titled "Public prosecutors pushing 'doomed to fail' rape cases, say District Court judges" Acting Judge Paul Conlon … has added his voice to concerns, telling The Weekend Australian judges have "unfortunately in recent times seen many examples of cases being pursued with no reasonable prospect of conviction with the inevitable result of an acquittal."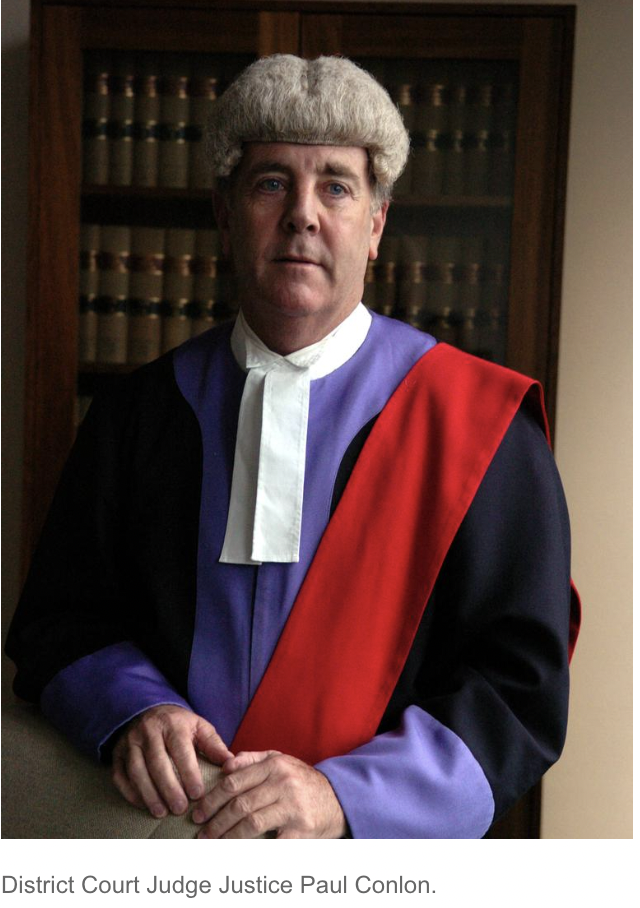 "Judge Conlon also slammed the handling of former Liberal staffer Brittany Higgins's rape ­allegations against Bruce Lehrmann, saying the case was "doomed" because the claims had been made public before it reached court, and he ­attacked Anthony Albanese's and Scott Morrison's "incredible naivety" in apologising to her in parliament."
So it seems that my point about complainants being referred to as victims somehow breached comments policy. I suggest it only did so if viewed through the filter of a biased moderator, who would be a supporter of the 'victim-centric' guidelines to which ACT police referred in the Sofronoff inquiry.
"He condemned Mr Morrison and the Prime Minister for apologising for a crime which had not been proven, saying the option to stop proceedings before it went to trial due to the huge publicity of the matter was valid.
"In the Lehrmann/Higgins case, that was doomed to failure as soon as it was thought appropriate to ventilate the issues in the public domain and attempt to influence public opinion," he said.
"The role played by some sections of the media in that process was breathtaking in its stupidity. As was the incredible naivety of the two leaders of our country (Mr Morrison and Mr Albanese) in issuing apologies on the floor of parliament before one word was spoken in evidence. The fundamental and important principle of an accused person's presumption of innocence was simply ignored and cast aside."
Sadly, this was not an isolated instance of such apparently biased decision by moderators at The Australian. I have raised the matter of conflicting moderations with both the Editor in Chief and the Engagement Editor. I have been a contributor one way or another to the paper since the mid 80s, and hold it in high esteem. That is why I am particularly concerned about how such decisions by faceless and nameless moderators might confuse readers and undermine trust.