Andrew L. Urban.
The High Court adjourned for just four minutes before resuming at 2.45pm on Wednesday, September 11, 2019, with a unanimous decision that Steven Fennell's appeal against his murder conviction should be upheld. A verdict of acquittal was entered. "I was in my cell about to eat my yoghurt when prison officers came to the door and said, `you're going'," he told The Courier-Mail. 
Steven Fennell, 60, returned home for the first time in more than six years, following the ruling that a jury's guilty verdict was unreasonable. Fennell had been sentenced to life in 2016 for the murder of 85-year-old Liselotte Watson on Macleay Island in Moreton Bay. Wrongfully.
What do Fennell, Scott Austic, Lindy Chamberlain, Robert Farquharson, Sue Neill-Fraser, Henry Keogh, Joby Rowe, Gordon Wood and Robert Xie have in common? They are all law-abiding Australians without a prior criminal record who were (all of them wrongfully, we maintain) convicted of murder. Some are still in jail, some have appealed successfully after years in jail and some will never leave jail. You could be next. All it takes to launch such a miscarriage of justice is an overreaching police investigation characterised by tunnel vision, and the Crown not prosecuting the case as a model litigant should. Sometimes, judicial error adds to the misery.
In five of these cases the deaths were not caused by a human killer; in the other four, the victims were murdered by persons never pursued, charged, convicted….
In all but one of the above-mentioned cases (Fennell), the murder victims were beloved children, partners or treasured family members of the accused. They all protested their innocence, they all expected their innocence to protect them from the System. For example, Sue Neill-Fraser underwent her first extensive police interview without a lawyer, thinking that as she had nothing to hide, why would she need a lawyer. The prosecution found inconsistencies they would characterise as damning lies. She was convicted of murdering Bob Chappell, her partner of 18 years, who, she told the court, she 'loved dearly'.
Henry Keogh was engaged and about to marry his 29-year-old fiancée Anna-Jane Cheney. She died in her bath. The State's forensic pathologist, Dr Colin Manock, who was known to be unqualified and incompetent by the State, gave evidence that Keogh's fingers and thumb left bruising on Anna-Jane's leg that proved Keogh grabbed her leg and drowned her. Keogh spent 20 years in jail before Manock's evidence was trashed and Keogh was released.
The accident reconstruction work in the Robert Farquharson case was done within this environment that was inherently compromised, an incubator of bias…. no evidence that the car needed to be steered
Chris Brook's book, Road to Damnation, is the result of a two-year investigation into the case of Robert Farquharson, and the science of the evidence that convinced two sets of juries that he murdered his three children by drowning them in the family car in a dam, contrary to his claim of having blacked out and losing control of the vehicle. He loved his children. Brook shows how and why the scientific evidence against him is wrong. Farquharson remains in jail.
Robert Xie, convicted of murdering five of his wife's family, including his two much loved nephews, declared his innocence to the court when sentenced to life without parole. Not even the prosecution could argue to the jury (nor is it required to) why he would have committed the mass murder of his family by marriage.
Never assume your innocence will protect you. Flinders University legal academic Dr Bob Moles has the following words of advice to law abiding citizens:
"It is common that when people are first approached by the police – without even thinking that they may be a 'suspect' their first inclination may be to help the police in any way they can – explain where they were, what they were doing, how they know the people involved.
"However, the police may well regard the person they are talking to as a possible suspect, and will review whatever they have said with some degree of suspicion.
"If the interviewee is in a situation of panic or distress, the information which they provide to the police may well be incomplete, contain inconsistencies or subsequently turn out to contain inaccuracies. All of which is perfectly understandable in the context of where they are coming from – but to the police, coming from a different perspective, each of those things may be interpreted as resulting from an intention to mislead.
"Henry Keogh mentioned insurance policies – but only mentioned three of them in his first interview – within a week he brought two more policies to the attention of the police. They interpreted his first explanation as self-serving to deflect suspicion from him.
"Neill-Fraser famously mentioned being at Bunnings at a certain time. It appears that she may not have been there then. Instead of the police allowing for the fact that in shock she may have been confused about time dates and places, they said that she was trying to establish a false alibi. The problem with the police explanation is that if a person was in fact trying to mislead the police to cover for the fact that they had committed a murder, you can rest assured that they would get their 'facts' straight.
"Regrettably, and contrary to one's inclinations, whenever anyone is about to be asked questions by the police in situations where a criminal or unexplained event might have occurred, the only sensible advice to give to them is to refrain from answering questions or engaging in discussions without being given prior notice of the questions – so that one can first check the accuracy of any potential answers – or to refuse to answer questions without a legal advisor being present.
"A while ago some friends of mine had an older relative who had been involved in a two-car collision in which a person had been killed. I immediately suggested to my friends that they should advise her not to speak to the police as they might approach her whilst in shock or suffering from the effects of medication (which they did). I also said that she could be charged with a serious offence (which she was). It took some considerable effort to persuade her to act contrary to her inclinations (to assist the police) and to not speak to them before carefully considering how best she might assist them, without putting herself in unnecessary jeopardy."
We all want criminals behind bars. And that includes those responsible for crimes for which an innocent person has been put behind bars.
NB One of the earliest attributions of the saying 'There but for the grace of God go I' is to John Bradford, an English Reformer, who supposedly said it as he watched people led to execution for their crimes. In a more secular use, it can mean, "I'm glad that didn't happen to me." 
Not only in Australia ….
Police have refused to apologise to a man wrongly jailed for 25 years because officers lied at his trial, even after the now-retired appeal court judge who quashed the conviction told the Guardian that the force should say sorry.
Cheshire police said that while they were "concerned" at the wrongful jailing of Paul Blackburn, who was convicted as a teenager in 1978 for the attempted murder and sexual assault of a young boy, no apology was needed as procedures at the time of the investigation were "very different".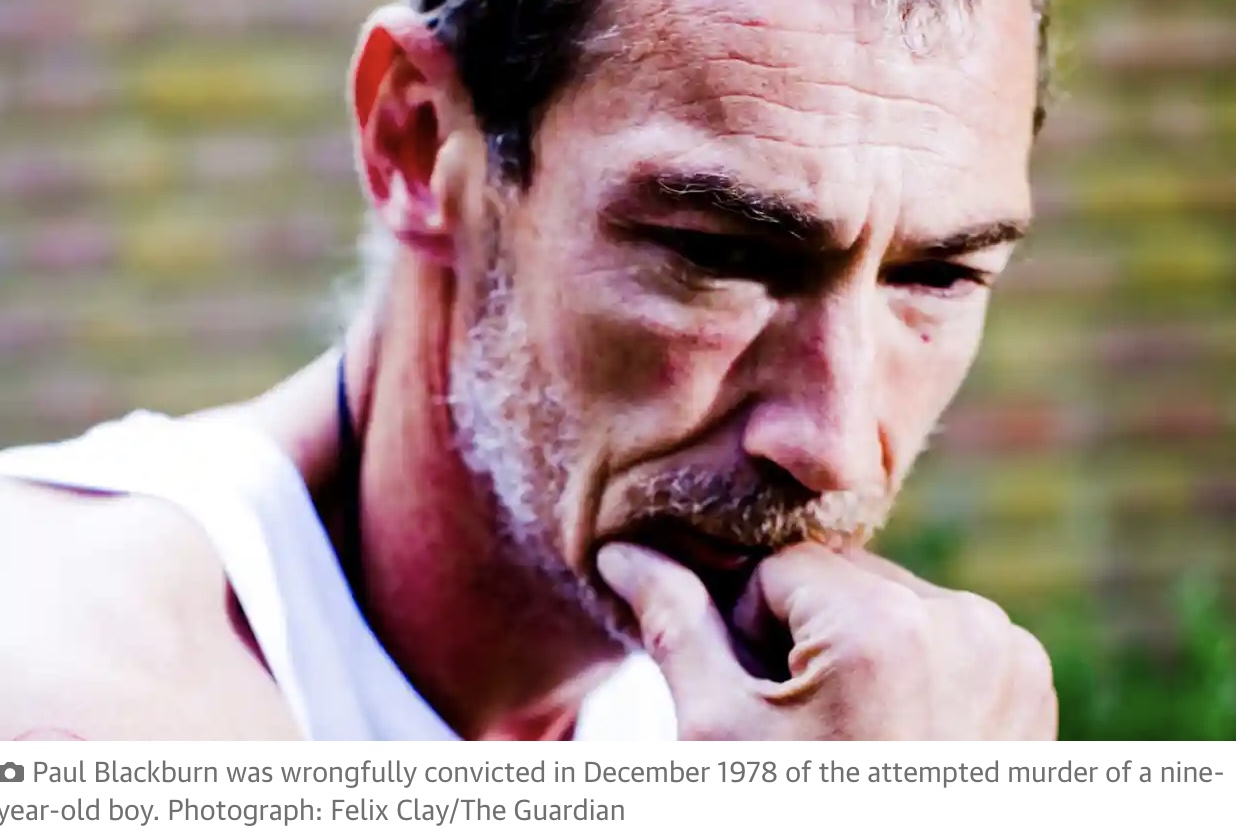 Blackburn, then in a reform school in Warrington, Cheshire, was arrested shortly after he turned 15. The only notable evidence against him was a confession he signed after four hours of questioning by two senior officers, with no parent or lawyer present.
Reported by Peter Walker, The Guardian, January 2020