After his book, Southern Justice, exposed police failures and corruption investigating the disappearance of Bob Chappell, failures which led to the wrongful murder conviction of Sue Neill-Fraser, former detective Colin McLaren who infiltrated the Melbourne Mafia – twice – has now published mafioso; "the book he was meant to write" say his publishers.
Officialdom's tendency to cover up, follows a long tradition of cover up & corruption at government level, as McLaren points out in his new book, mafioso (Hachette), which shows how government corruption contributed to the beginnings of the Mafia.
"Since McLaren's 2019 book, Southern Justice, on the Neill-Fraser case, her appeal against her 2010 murder conviction was dismissed on November 30, 2021 and has not been before a court ever since," says Andrew L. Urban. "Yet Tasmania's Attorney-General has continued to refuse urgings for an undertaking to examine new evidence or even make a comment 'while it is before the courts'. We wrote to the A-G on February 24, 2022, asking if she would respond to the legally founded evidence-revealing and highly embarrassing Etter/Selby documents lodged last year in Parliament, reminding her that it is NOT before the courts and has not been since November 30, 2021. As at March 14, we have not received a reply. Neill-Fraser is seeking leave to appeal to the High Court, but that court will not be engaged until it accepts the application. You may think that amounts to a potential cover up by the Tasmanian Government."
mafioso, perhaps the definitive answer as to how the Mafia came about, reveals the "undeniable proof that government cover ups have existed as far back as 1860," he says in an email from his secret location somewhere in Europe, secure from the many death threats he has had to endure.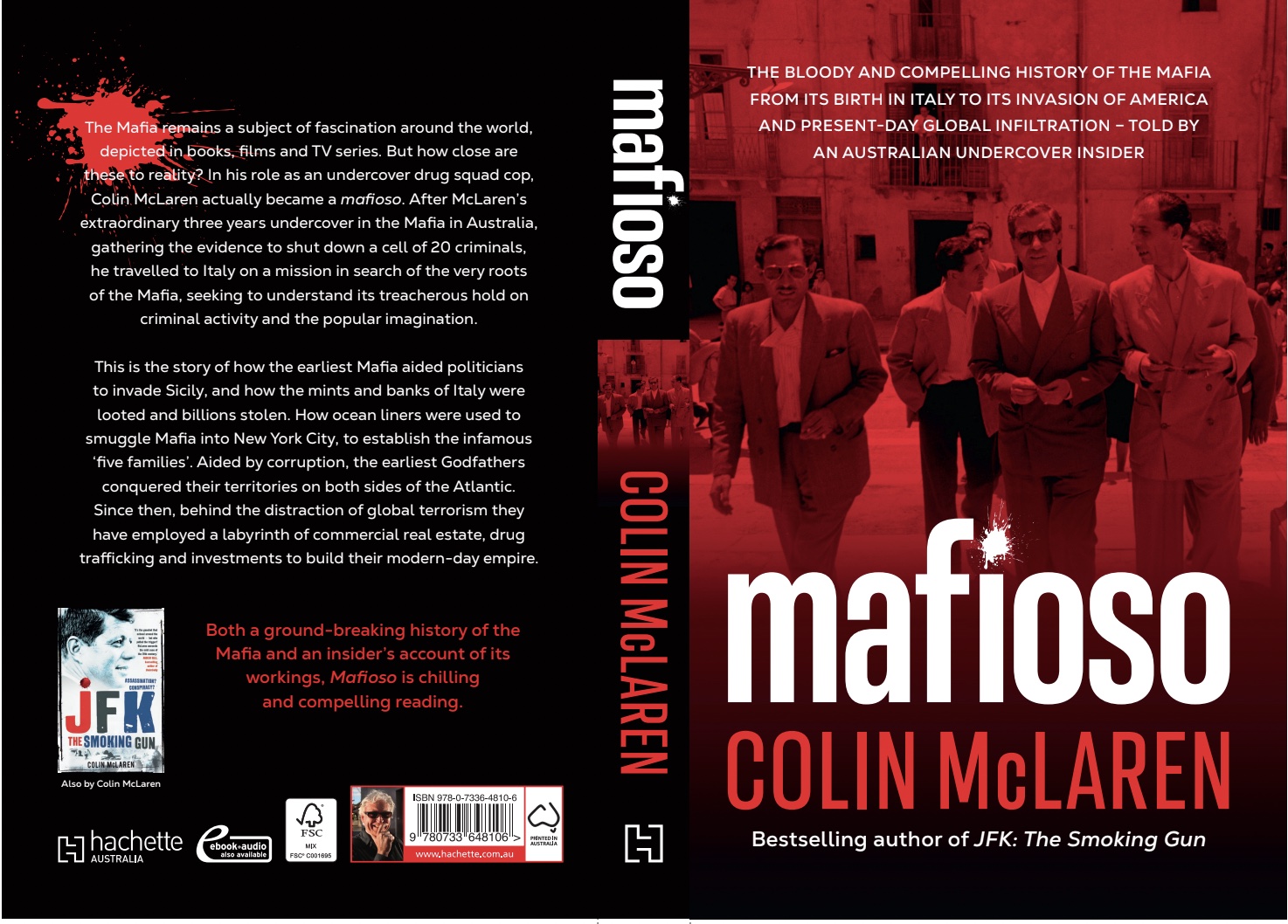 According to the  synopsis, "The story starts off recapping Colin's extraordinary years in the Mafia: pure cocaine, tons of cannabis, conspiracy to murders, gathering evidence to shut down a Mafia cell of 20 criminals. Then the same Mafia blow up his Police headquarters – murder and mayhem – and Colin goes back undercover to successfully expose a vendetta and the mafioso who instigated murder. Soon after, Colin retires and starts writing.
"Through the pages we see how the earliest Mafia aided selfish politicians to invade Sicily in 1860, how the mints and banks of Italy were looted, billions stolen, thousands killed. We reveal England's complicity in supplying Enfield firearms and ships to aid the emerging crime gangs, soon after called Mafia. In simple terms the earliest Mafia teamed up with the legendary General Giuseppe Garibaldi to unify Italy, only to rape and pillage along the way. Trouble was, once unification was achieved, the Mafia refused to budge, so the complicit politicians refused to honour their promise for a slice of land to each criminal who aided the coup. Only to have the same thugs murder by the 1000s and stamp Mafia on the global landscape. These undeniable facts fly in the face of the fairy-tale history books of unification. Each fact is heavily supported by aged documents discovered by the author."
Like earlier McLaren books, the gripping exposé, JFK – The Smoking Gun (Hachette) or Southern Justice (Hachette), Mafioso is characterised by its deep research; four years' worth.
"In a world where there's more than a million police, there are only two undercover cops who can boast of infiltrating the Mafia, and bringing down feared Mafia bosses and their murderous gangs. Our author is one of them (the other is Donnie Brasco, of Al Pacino movie fame)," says the Hachette brochure.
In the Preface, Dr Anna Sergi, Associate Professor, Senior Lecturer Criminology & Mafia Studies, University of Essex, England, writes:
Historical critical revisions lead to questioning a lot about Sicily and its earlier inner workings, including the Mafia. But what is Mafia? And how, when and why was it born? This book starts precisely from these questions. One of the fascinations about McLaren's book is his long journey: a fearless undercover agent in Australia who embedded himself into the Mafia with a view to not only stop them but also understand them. His journey takes him beyond Australia to get an even deeper understanding.
Chasing the myth of what the Mafia is takes him far away – further even than Calabria, the region where most mafiosi in Australia come from – directly to the seat of the myth, Sicily. McLaren encounters the unification's half-baked truths and lies and brings them to his reader unapologetically. McLaren confirms some of the academic thinking on the Mafia, such as the Americanisation of the phenomenon and the creation of the legend around the words Godfather and Mafia. He adds to it with archival research and his 'cop-intellect'.
His narrative is compelling, with stories that few Italians know, and many mob-watchers would not like. Eventually, in between Sicilian trips and real gems found in archives for the first time, this book asks the reader to question the very core of its own initial question. Does it matter what Mafia is? Does it matter to know when and how it originated?
Now that the myth is fully formed and enduring, what matters is that we take away its power. It's not the Mafia as much as it is the Mafia method, of intimidation, fear, violence, usurpation. It's not Sicily or Calabria, nor New York as much as it can be the entire world. Through McLaren's text we find the real value of grounded research: to go far beyond it and find new purpose and definition in knowledge itself.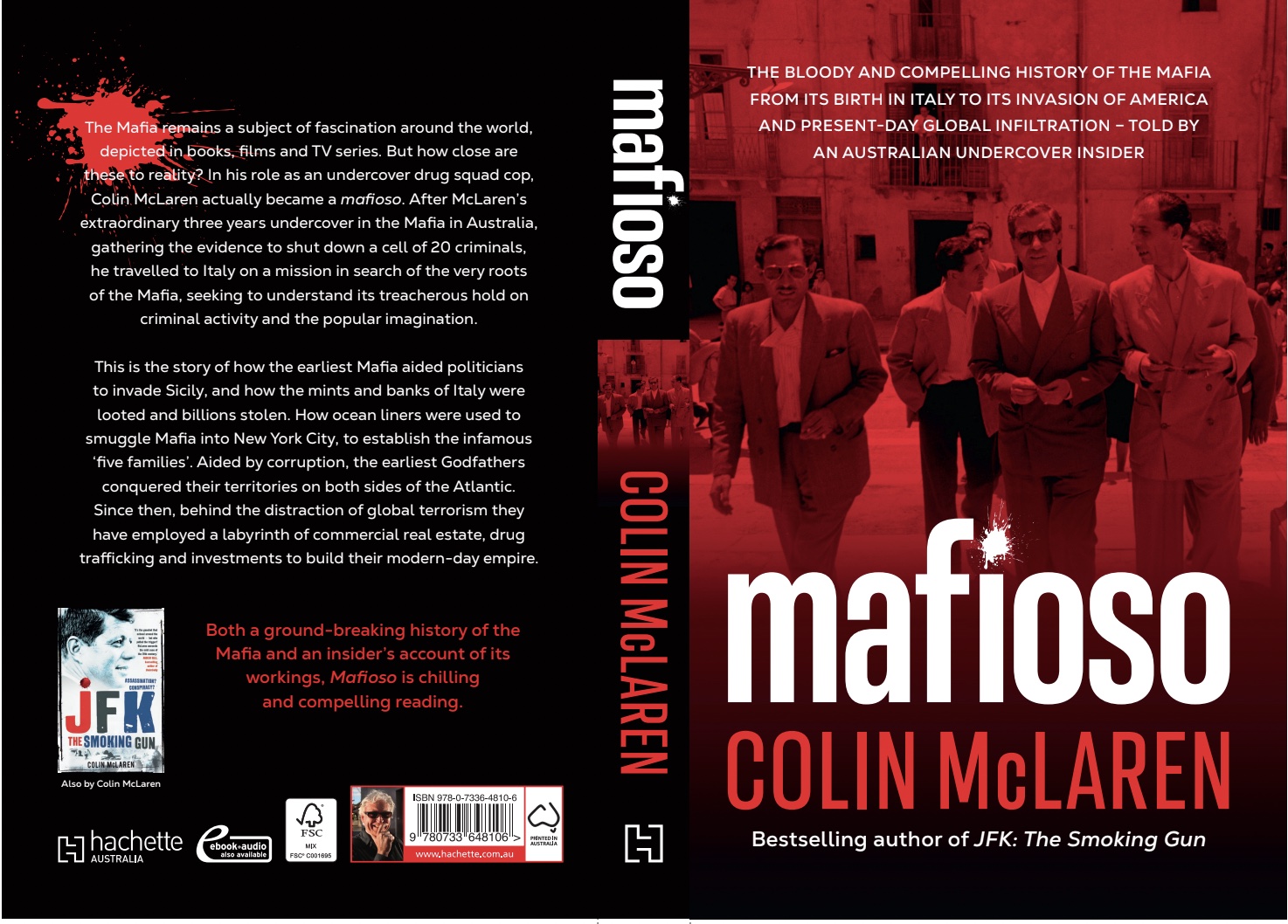 MAFIOSO
Colin McLaren
Hachette Australia
ISBN: 978 0 7336 4810 6 (paperback)