Andrew L. Urban
Fire, police, ambulance … and a packet of assumptions, all turned up together at a suburban Sydney house on a hot December afternoon, in response to a 000 call by a woman in a red jumper. That call on December 2, 2013 never really ended until March 30, 2021. 
Parwinder Kaur was on fire. She was running down the drive of her Rouse Hill home, flames and smoke billowing from her. She let out a scream which attracted her husband, Kulwinder Singh, upstairs at the time, and two of their neighbours. She had already called 000 and in the ensuing 89 seconds, calmly spelled out her name and address details. She told the operator: "My husband nearly killed me." She did not say anything about being on fire. That call set off the wrong alarm for police, leading to her husband Kulwinder Singh being charged with her murder.
It was a hot afternoon in Rouse Hill on December 2, 2013, yet Parwinder had put on a red knitted jumper over her casual top. It was meant to offer some protection from the flames. It killed her. Made of an acrylic fabric, it ignited and continued to burn and melt, giving off a nasty smell and much smoke. If only it had been wool ….
The 32 year old was barely alive when the first responders arrived, finding her on the ground by the side of the drive where it met the road. Her lovely long black hair and her face were unburned – the only parts that escaped the flames, thanks to the blue towel found near her (along with the blanket that Kulwinder had brought down to douse the flames) that she apparently wrapped around her head. She suffered 3rd degree burns to 90% of her body. She died later in hospital.
That wasn't meant to happen. She had poured a small amount of petrol – hardly enough to fill a teacup – onto herself in the laundry where the Victa fuel can was kept, re-closing the cap and returning the can to the cupboard, closing the cupboard doors. Some 5 – 10 minutes later, she flicked on a cigarette lighter and ignited the petrol. It was intended not to kill her but to ignite emotions in Kulwinder and their respective families that would lead to a – perhaps hospital bedside – resolution of simmering conflicts over what she was doing with her wages. That's how the movie Gadar that she had been watching on DVD ended. The disc was still in the DVD player opposite the lounge where she had been sitting.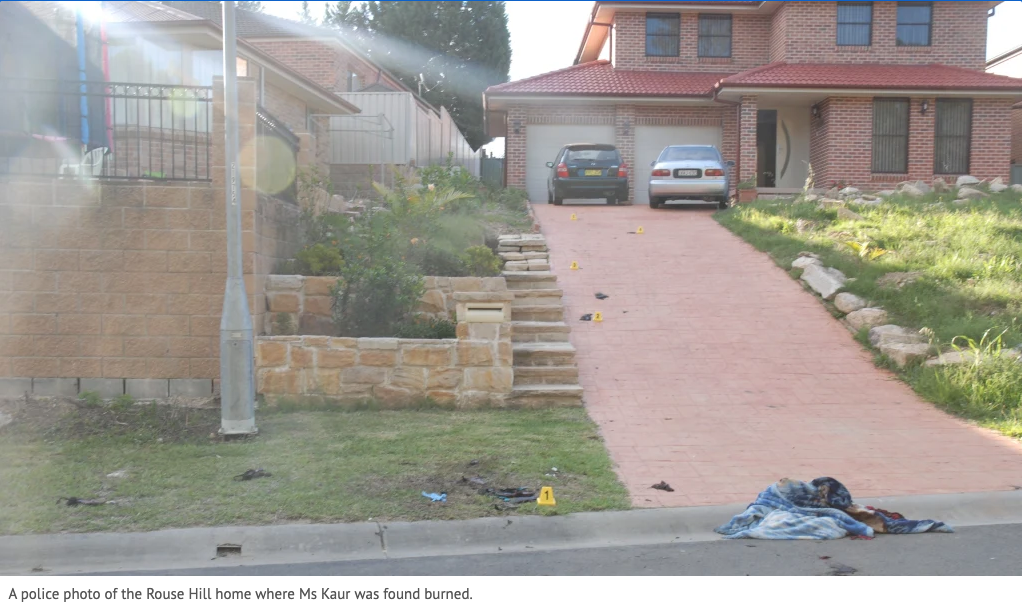 But all this was unknown to the police in the early afternoon of December 2, 2013. The information they had was that a woman had called 000 and when they got to the address, the woman was dying of severe burns. Her husband was nearby, terribly upset and with burns on his hands. You can't blame them for setting off with the wrong assumptions. Not then. But as details and evidence began to emerge, it became more and more obvious that the assumptions were leading them on the road to a wrongful conviction.
on her phone her husband was entered as 'Jaan Jaanu', Punjabi for 'love of my life'.
For instance, just 9 seconds before Parwinder called 000, she had called her brother Sukhvinder, to complain about Kulwinder again pressing her to put some of her wages towards their mortgage. Sukhvinder, had heard this story before. "Oh, this is just the usual everyday problem. I'm at work. I'll call you at 5." Parwinder's voice was calm; no fire. Her phone was found in the laundry with only her DNA on it. On her phone, her husband was entered as 'Jaan Jaanu', Punjabi for 'love of my life'.
For instance, the only fingerprints on the petrol can and the lighter were hers.
For instance, he told police at the time that he had not gone into the laundry, where the petrol was poured. There was no evidence to contradict him.
Kulwinder's hands were burnt when he had rushed downstairs and tried to put out the flaming Parwinder by patting at the flames on her back, as expert witnesses confirmed.
For instance, that 5 – 10 minute gap between pouring and igniting the petrol is inexplicable in the murder scenario. He pours, she stands there? Eventually he ignites the petrol and her?
For instance, while still conscious, Parwinder was asked by police more than once, "Did your husband do this to you?" She did not implicate Kulwinder Singh.
But the implications of a 000 call set off a murder investigation, and nobody was going to divert it off that road. Blacktown Council (encompassing Rouse Hill) even held a candle vigil for Parwinder Kaur as the victim of domestic violence.  It issued a media release to that effect – well before a jury had heard any evidence.
Parwinder had once before called 000, back in January 2013, saying her husband had threatened her – but when police attended, he wasn't there and she didn't want police to take any action.
In a recording of a conversation with the police at the time, Kulwinder said that when he had come home that day – after going to the bank to transfer money – he had said to his wife, "Please contribute," because she wasn't paying for the mortgage, and he said to her, "If you're not going to contribute, I'm going to live at my mother's house and he said that she got upset. He said in the course of that conversation, that he took his clothes, put it in his car, went up to put his bag and organise something and that's when he'd heard the yelling. He said, "I went down, I saw she was running on the driveway."
Kulwinder Singh's lawyers had briefed the former Deputy Senior Crown Prosecutor, now in private practice, the formidably talented barrister Margaret Cunneen SC, to act for him. In her opening address she told the jury: "The defence case is that frustrated, perhaps, about various matters, about being asked to contribute to the payment for a house that to her mind she already had and having also other disagreements with people in the family in the recent past and a few other pressures, that she decided to create a drama and to set a fire to herself that she was confident would soon be put out.
"Now, there is simply no physical or forensic evidence that supports the Crown case. It is not that there is no evidence, it is not that there is no forensic evidence – there is plenty of forensic evidence and it all points to the only other
possibility besides Mr Singh's guilt; that, for her own reasons on this day, she set herself on fire. Having alerted the police by phone and, as you have heard, she had done a trial run on a previous occasion when her husband
wasn't even home and knowing that her neighbour, Ms Valle, was at home."
The Crown (hoping to justify and satisfy the murder investigation) tried hard to suggest that it was Kulwinder who set his wife on fire, and even hoped some of the witnesses would provide testimony to support that, while the Kaur family's natural reticence to believe that she would do this to herself was also in play at the trial. But the jury took less than three hours (including lunch) to return a unanimous verdict of Not Guilty.
***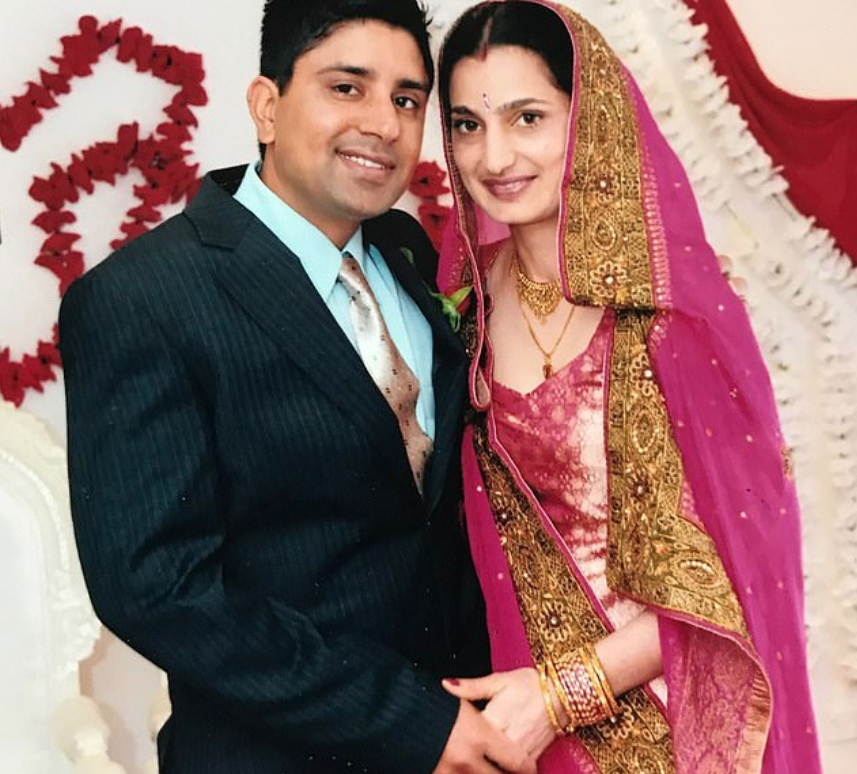 The couple were married in 2005 in India, came to Australia the following year and built their Rouse Hill house in 2010, which Parwinder loved. Kulwinder got a job at City Rail and Parwinder worked at Moonlight Mushrooms in McGraths Hill. In 2009, her brother Sukhvinder, came to Australia with his wife, Amanpreet.
Parwinder was keen to bring the rest of her family to Australia, for which she needed enough money to satisfy visa requirements. Kulwinder was kept in the dark about these plans – all he could see was that her wages were not helping with the mortgage payments. Banking records show that Parwinder made arrangements for variously $100 a week or sometimes $150 a week to go into an account that Amanpreet, her sister-in-law had, and into an account of her own, that Amanpreet had helped her to set up.
This trial ended after 30 sitting days, on March 30, 2021. The first trial, over two months in 2019, ended with a hung jury. Much time and much money has been spent on this case, which, we argue, should never have gone beyond a brief preliminary investigation. As soon as the first facts became known (see For Instances above), senior police should have shut it down. Neither public safety, nor justice were served.
It has taken over seven years – and enormous anguish for many people – to come to a conclusion that was available within weeks, if not days.
Wrongful convictions usually result from wrongful investigations …