In the final interview the day before being imprisoned for nine months on contempt of court charges, British activist Tommy Robinson spoke to Middle East Forum Sentry Radio on July 10, 2019. The charges stem from his livestream reporting in March 2018 outside a courthouse where members of the predominantly Muslim Huddersfield rape gang were on trial.
Under the 1981 Contempt of Court Act, British courts have the power to impose reporting restrictions on the media when "necessary to avoid a substantial risk of prejudice to the case." However, Robinson told MEF radio that this law has been used to cover up what he calls a "massive epidemic" in Britain:
"[I]n this country, 90% of the convictions for child gang rape, [by so-called] "grooming gangs" are Muslim men. 2% of the population is Muslim but they are responsible for 90% of the convictions. … So this is a massive epidemic across our country. What we saw over a 12 month period was 72 investigations in towns and cities that were identical. They are all Muslim gangs. They use taxis, they use pizza shops, they use their businesses as honey-pots to trap the children in. They offer them free food, they give them drugs, they give them alcohol and then they enslave them … Multiple children have been murdered."
For the past decade, he said, there has been a "conspiracy of silence" about the epidemic by government and media elites who "don't want the public being aware of this problem because of their utopian world they are trying to create with open borders and mass immigration. These are the realities that come with some of the cultures that are imported. These are the problems that come, the intolerant views towards women, the intolerant views towards non-Muslims."
the most watched journalist in the UK
Their reaction, he says, has been to "cover it up." The judiciary has been a useful tool for this: "What we now see in our courts is rather than keep 12 members of the jury in the dark over issues, we keep 60 million members of the British public [in the dark], unlike in America. What they now do is for every single one of these trials they put a reporting restriction where no one can even mention that there is a court case on. Now that doesn't make any sense at all … How can you prejudice a jury by simply saying there is a trial?"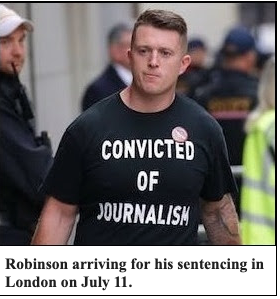 The specific allegations against him don't hold water, insists Robinson, particularly concerning his questioning of defendants as they entered the courtroom for sentencing:
"[The] charge is that I caused anxiety to the convicted Muslim child pedophiles by asking them the question, "how do you feel about your verdict?" I was calm. I was polite. They said that that caused them anxiety that could have impeded the course of justice because they might have felt worried about coming to court. They don't worry about coming to court because they have been raping children. They shouldn't have had bail anyway and been walking the streets. They have all been convicted."
Robinson alleges that this selective prosecution has more to do with his growing influence than the details of his case:
"Now I have become the most watched journalist in the UK very quickly. I had 9 million people watch my videos in a 4 week period. 172 million read my tweets in a 4 week period. So I have become very strong as a journalist and I am the most famous journalist in the UK. And now they are not in control of the narrative anymore or the stories that are going out and now I am going straight to the truth, straight to the facts."
Robinson notes that he took great pains to operate within the letter of the law.
He scoured the Leeds Crown Court website and found no reporting restrictions for the case, then visited the court itself and "was told they don't know."
Finally, he adopted what he assumed to be a fail-safe method of respecting any restrictions that might be in place:
"[I]t states on the judiciary's own website that a judge has no power under section 4.2 of the reporting restriction guidelines to put a reporting restriction on any information that is already in the public domain. … Even though I couldn't find any evidence of reporting restrictions I wanted to err on the side of caution. So I literally stood outside and read a BBC news article. But what they said in court is, "No, that's not right. What it says on the website, that's not right, that's not the law."
"They are lying saying I jeopardized the trial," insists Robinson, emphasizing that in both this case and in a similar grooming gang case for which he was convicted of similar charges in 2017, judges ruled that his broadcasts did not compromise the proceedings.
"It has been proven in two courts that nothing I have done could have prejudiced the jury. I have not been convicted of nearly collapsing the trial. I have not been convicted of prejudicing the jury. I have been convicted of causing anxiety to child rapists by asking them a simple question."
free speech and our rights are disappearing in the UK
The "corporate globalist media" has wilfully ignored all of this, instead spreading the lie that his broadcasts nearly caused both trials to collapse. He finds it curious that this assault comes as major social media have de-platformed him:
"They will lie to everyone now that I have been completely removed from all social media. I had the biggest reach of any political Facebook page in Britain. I have been deleted from all of them – Snapchat, YouTube, Facebook – so my reach to tell people actually to look at the facts is gone. They now completely control the narrative."
Robinson said his freedom of speech shouldn't depend on whether one agrees with his controversial views on Islam and immigration:
"The fight for freedom of speech shouldn't come to politics on who thinks what and who disagrees with whom. This is a fundamental right. And the fight now is the left is celebrating the fact that our free speech and our rights are disappearing in the UK. The media are celebrating, Journalists are celebrating me being in prison for journalism."
Writing in The Spectator, Sun political commentator Trevor Kavanagh says: "Press freedom is under attack on many fronts, from super-injunctions to the sour intolerance of the 'You can't say that' snowflake generation. We cannot rely on MPs' synthetic outrage to guarantee its survival."