Andrew L. Urban.
The key witness in the Sue Neill-Fraser case, Meaghan Vass, has today denied claims attributed to police in today's The Australian that she has recanted her 60 Minutes testimony admitting she was on board Four Winds at the crime scene on Australia Day 2009. She names a Tasmanian detective she believes may be behind the latest move to discredit her, if the story originated from TasPol.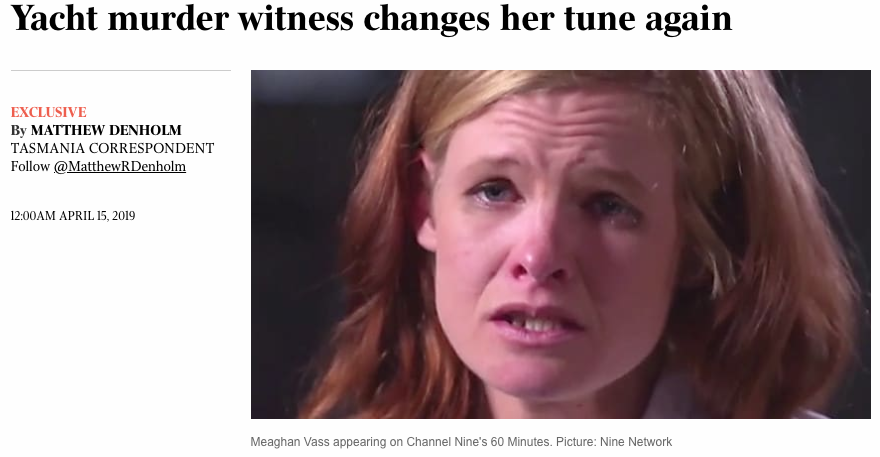 Under the headline Yacht murder witness changes her tune again, The Australian's Tasmania correspondent, Matthew Denholm, writes:
The star witness for Susan Neill-Fraser's murder appeal has again changed her story, in a blow to those hoping to secure the convicted murderer's freedom.
 The phrase "has again changed her story" suggests testimony given very recently. Denholm's story goes on: The Australian understands Ms Vass — contacted by Tasmania Police after promotional material for the 60 Minutes story was aired — told officers her claims in the interview were untrue.
But that claim by police was first reported in the media on March 11, 2019 (and March 12 here) and police did not provide any comment at the time as to what Vass had said, either to this writer or to the court that sat on March 21 to hand down the decision to grant Neill-Fraser a further appeal. Police had issued another brief statement on March 21, and when asked for further comment today, they referred to that statement by Assistant Commissioner Richard Cowling, who had said: "Further evidence associated with that interview will be provided to the Director of Public Prosecutions." That suggests the information will form part of the DPP's response to the upcoming appeal. (Oddly enough, that statement is headed: Bob Chappell case)
But reinforcing the currency of the information, and underlining the likely damage to Vass' credibility, Denholm writes: her latest retraction to police may further reduce the credit that appeal judges attach to her statements made outside of court.
The article doesn't identify or quote a source for the information. Ms Vass, whose DNA was found on the yacht, is understood to have told police she lied to the show (60 Minutes) because she felt it was the only way to make the case go away. (All emphasis added) (Ed: Sounds unlikely; saying she was at the crime scene is guaranteed NOT to make the case go away.)
It is unclear whether police provided new information on which Denholm's story relies. Denholm was not at work and unavailable today for personal reasons. We will publish a further story with his comments as soon as possible.
Legal representatives of Sue Neill-Fraser and Meaghan Vass declined to comment. Vass has been in a rehab facility in recent weeks.