By Andrew L. Urban
In a cruel coincidence, Sue Neill-Fraser will attend the Supreme Court in Hobart for the final hearing seeking leave to appeal her conviction of murdering Bob Chappell, from Tuesday, August 21, 2018; a day after the ninth anniversary of her arrest. Whatever Justice Michael Brett's decision, it will set off a chain of events impossible to foreshadow – and which will echo through legal history.
The timeline of this extended legal case that has caused such controversy shows a worst case scenario – a guilty verdict, a failed appeal, a refused appeal, a delayed second appeal – all taking time, eating away her life.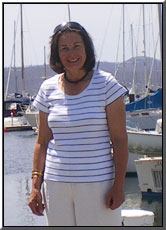 26 January 2009 Bob Chappell last seen alive by his sister Anne Sanchez at breakfast and by his partner, Sue, on board their yacht, Four Winds, moored off Sandy Bay, Hobart, early afternoon. PHOTO: Neill-Fraser on the morning of Australia Day 2009, the day the prosecution claimed she murdered Chappell.
27 January 2009 6am Four Winds sinking on mooring, Bob missing. Four Winds' dinghy found near rowing shed rocks.
20 August 2009 Sue Neill-Fraser arrested for murder, bail is refused.
March 2010 DNA found on Four Winds now identified as that of homeless 15 year old, Meaghan Vass.
21 September 2010 Trial commences in Hobart Supreme Court; Justice Blow, D. Gunson SC for the defence, T. Ellis SC for the prosecution.

15 October 2010 Sue is found guilty.
27 October 2010 Sue is sentenced to 26 years in prison, non parole of 13 years.
11 August 2011 Court of Criminal Appeal hears Sue's appeal.
6 March 2012 Appeal dismissed, but sentence reduced from 26 to 23 years.
7 September 2012 Appeal to Australian High Court on ground of stranger's DNA a risk to conviction; High Court refuses leave to hear appeal when DPP claims that Vass' DNA was transferred on-board, not direct deposit.
17 January 2014 Coroner's findings support trial outcome (it has to, by law).
2 November 2015 New Right to Appeal law passed in Tasmania.
31 January 2016 Sue Neill-Fraser lodges new appeal with barrister Tom Percy QC. DPP Darryl Coates SC argues against appeal leave being granted.
20 June 2017 Sue's lawyer Barbara Etter steps aside from the legal team. Paul Galbally steps in a little later.
20 August 2018 9th anniversary of arrest
21 August 2018 Third and final (?) hearing in seeking leave to appeal before Justice Brett.
For a detailed report on the Sue Neill-Fraser case, see HERE