2/8/2023: The report that was delivered to the ACT government on Monday (31/7/2023) but withheld from public release seems to have fallen into the hands of The Australian's Janet Albrechtsen and Stephen Rice. Their front page story reveals the damning findings by Walter Sofronoff KC. 
"ACT chief prosecutor Shane Drumgold knowingly lied to the Supreme Court, engaged in serious malpractice and grossly unethical conduct, "preyed on a junior lawyer's inexperience", ­betrayed that junior lawyer who trusted him, and treated criminal litigation as "a poker game in which a prosecutor can hide the cards," the Sofronoff Inquiry has found.
"In findings that are certain to end Mr Drumgold's career as ACT Director of Public Prosecutions and may lead to criminal prosecution against him for perverting the course of justice, inquiry head Walter Sofronoff KC ruled that every one of the allegations made by Mr Drumgold that sparked the inquiry was baseless.
"In the report, obtained by The Australian, Mr Sofronoff found that Mr Drumgold had lost objectivity during the prosecution of Bruce Lehrmann for the alleged rape of Brittany Higgins and "did not act with fairness and detachment as was required by his role".
"The ACT government received Mr Sofronoff's report on Monday but has refused to release the findings until the end of the month, as senior officials pore over the 600-page document.
"Mr Sofronoff said he was "deeply disturbed" by Mr Drumgold's ignorance of ethical principles and accused him of a "Pilate-like detachment", invoking the moment Pontius Pilate washed his hands of Jesus's fate, letting the mob decide who should be ­crucified."
"Mr Sofronoff said he had considered whether he should invite Mr Drumgold to make a submission as to whether he was a fit and proper person to remain on the roll of barristers and to hold ­office as the Director of Public Prosecutions.
"He said he accepted the submission of Mr Drumgold's counsel, Mark Tedeschi SC, that it was not within his terms of reference, and that, in any case, "it would not be right for me to do so".
"However, several senior lawyers have told The Australian that if Mr Drumgold was found to have deliberately misled the court to prevent defence lawyers obtaining police documents, he may face an investigation for attempting to pervert the course of justice.
"The Office of the DPP will now also face a multimillion-dollar claim by Mr Lehrmann on the grounds of malfeasance, following Mr Sofronoff's findings of gross misconduct by Mr Drumgold."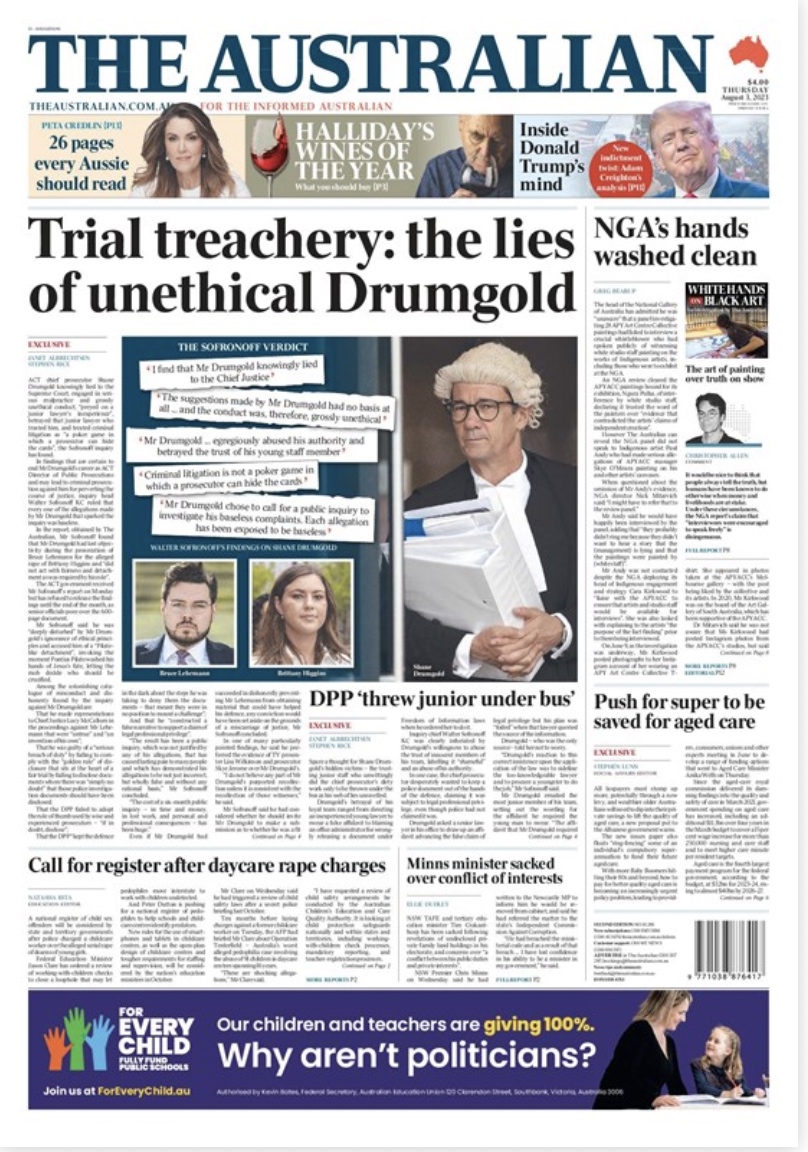 The article doesn't say how the Sofronoff report was obtained. An edited version of the article was also published (without by-lines) in The Daily Telegraph on 2/9/2023.
Disclosure: Andrew L. Urban has been invited to work with Bruce Lehrmann on his book about the scandal.