Retired Hobart police Inspector Peter Powell led the investigation into the disappearance-turned-murder of Bob Chappell on Australia Day 2009, which led to the arrest and 2010 conviction of Sue Neill-Fraser for Chappell's murder. But in interviews between 2012 and 2016, Powell's responses were peppered with 'who knows?'. 
In 2012, before he retired, Inspector Peter Powell was interviewed by documentarian Eve Ash who has included excerpts in her recently produced 12-part podcast, Who Killed Bob? and previously in her TV series Undercurrent and  doco Shadow of Doubt. After his retirement in 2016, he was interviewed by authors Robin Bowles and Colin McLaren.
Judging by many of his answers, speculation and guesswork seem to have been the drivers of the 2009 police investigation (which has been thoroughly discredited in the Etter Selby papers) into the now controversial and contested murder case.  [Comments in italics added] But more recently, Powell has inadvertently revealed that on one thing at least, he knew more than police admitted at the trial.
Snippets from Powell's interviews:
Re: How Sue disposed of Bob – June 27, 2012
PETER POWELL: Ah, look, based on all the circumstances, and this is our belief and obviously the jury accepted this. We believe he was killed on the yacht sometime either late that afternoon or even later that evening. Bear in mind he hadn't been seen by anyone else since, you know, Sue saw him on the yacht just after lunch. Um, and, we believe, probably, his body was then loaded into the dinghy that was attached to the yacht and taken out and dumped in the deep, deep channel of the river. [No evidence] Now, whether it was weighted down, and lots of people thought well, that's why the fire extinguisher has been taken, ah, to weight the body down. Ah, whether he was put in a, and one of the things that was a possibility a sail bag, whether he was put in a sail bag and then weighted down. Who knows? But we're fairly confident that based on all the circumstances, that he was, he was killed on the yacht, because there were some blood spatters which, you know, forensics, um said seemed to be consistent with someone being hit around the head. Um, and of course there was a big stain in the dinghy, which although, because of some issue with the forensic testing couldn't be actually determined to be human blood, it certainly was Bob Chappell's DNA. [Yet the prejudicial photo of the dinghy glowing with luminol was shown to the jury, despite no blood. As for Bob's DNA, fancy that, on his own dinghy!]
Re: The fire extinguisher ? – June 27, 2012
POWELL: Oh look, of course it is, and we're only going on what Sue says, that is it was there, and it's gone missing. So, ah, and I guess even if you're talking about witnesses like mechanics and that, who said it wasn't there, did he really notice it or not? Who knows? I mean it was quite big. It was a fifteen kilo one. Um, so I don't know where it was placed on the yacht, you'd think you might have seen it, if it was there. But if I'd been on that yacht I don't know that I'd remember a week later or two weeks later, whether there was a fire extinguisher in place or not. [The prosecution speculated that Sue used the fire extinguisher to weigh down Bob's body…and then told police it had gone missing…?]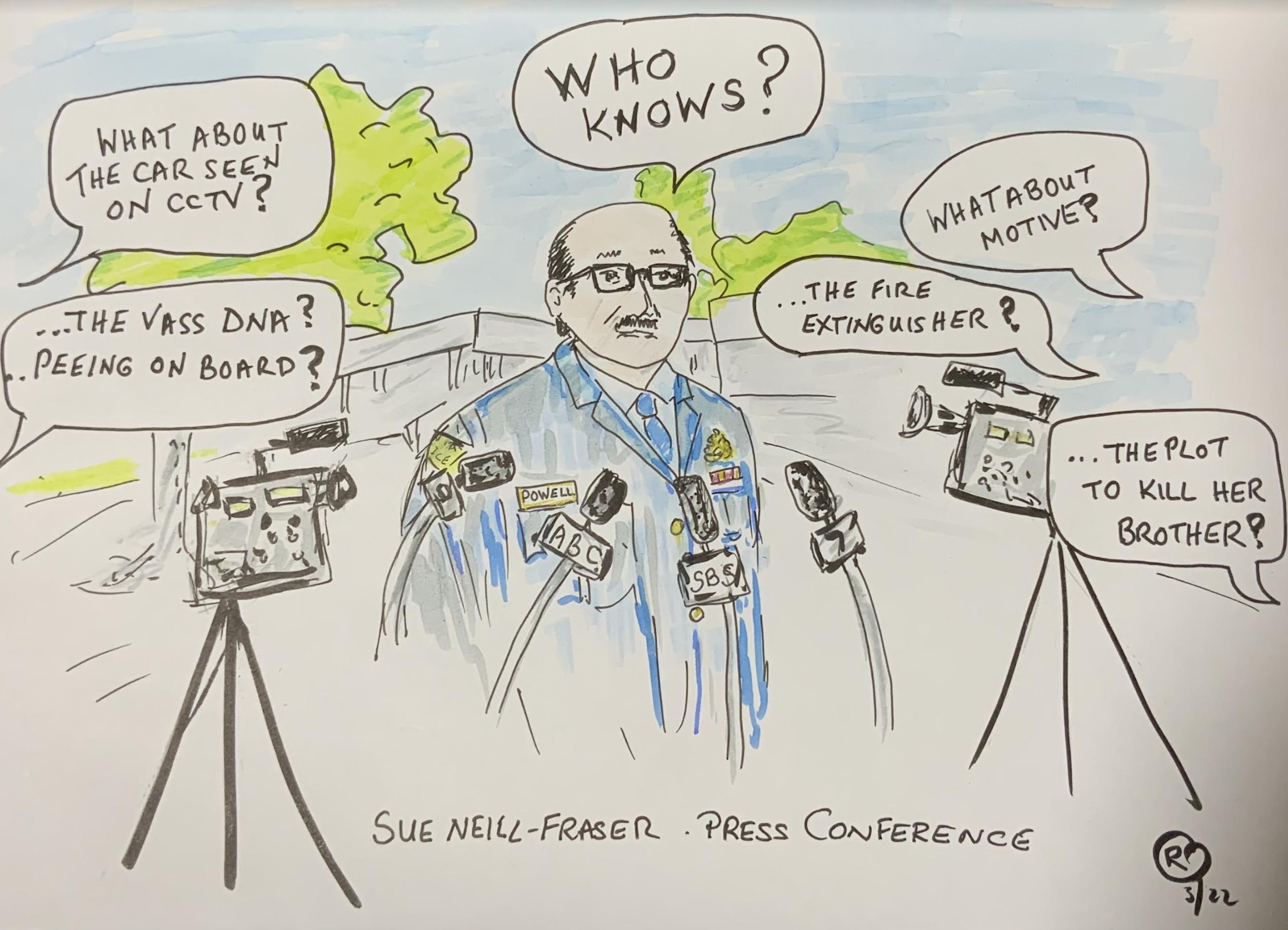 Re: Coincidental phone call from stranger, Richard King, predicting something bad would happen to Bob – June 27, 2012
POWELL: Well I guess, you know, you say he was a stranger but bear in mind she knew he was at Clare's place [this is not true, he was not at Clare's] when he made that phone call so she knew that, um, he's been doing some work with Clare. And when I say work I understand he befriended her and gave her a bit of counselling because of her mental health issues. Um, so yeah, it's a coincidence that he made that phone call that night.  But who knows? And I'm not sure that he said something bad is going to happen that night. It was more about Clare wasn't happy about Bob having the yacht. Maybe that's cause she knew that Bob wasn't really ever going to be capable of sailing that yacht. Um, and she was concerned that if something was going to go wrong with the yacht. Now whether, whether they, whether that was just coincidence, whether she had some psychic sort of you know, feel about it, bear in mind her mental health issues. Who knows? So, I think it was a coincidence.
Re: Sue's motive for killing Bob – June 27, 2012
POWELL:  Look, who knows what the motive really is in these cases. And I guess you, you can usually rely on witnesses or some, some admission from the offender. But Sue's never going to tell us that. Um, and I, I do, I think maybe getting divorced, or they weren't married anyway, but separating after twenty years together is going to cost you some money. So, it's a lot easier to get the whole of the estate that you know, you're entitled to under the terms of the will, than to have to share that and bear in mind, that was Bob's house. He was paying it off. Um, you know, and she'd moved in there. He had, he had all his super he was due to get when he retired. So that could be one motive, the money. Secondly as I said, maybe she was realizing he wasn't capable of you know, sailing this yacht, didn't want to do it. Um, he was, and if you look at the two people, as I said, Sue a fairly smart looking fifty-five year old and fairly active I think, and Bob a frail sixty-five year old. Maybe she was just sick of the relationship and wanted to move on to something more exciting. Who knows? But, there are a whole range of possibilities about what the real motive was.
Re: Could drug dogs detect anything if the yacht had been underwater – June 27, 2012
POWELL: Oh who knows? But certainly if it'd been anywhere around the boat you'd think you'd pick up some trace. It still would have been loaded on the boat at some stage.
Re: If dinghy seen at 11:30 and car seen on ATM 12:30am doesn't fit timeline – June 27, 2012
POWELL: Oh look, who knows whether the vehicle went down there more than once… and um, I'd have to, as I said, I'd have to look at the file because it's a fairly extensive file to see the exact timings, and I'm only going from memory that it was around about that time span.  So we're talking 11.30 – 12.30 time span. [Police tried to claim the blurry image of an unidentifiable car was Neill-Fraser's but prosecution did not include it at trial.]
Re: Why didn't Sue act on a murder plan she supposedly had ten years earlier – June 27, 2012
POWELL: Who knows? I mean, because on Triffett's version of events it was going to be her brother Patrick she was going to kill. And then for whatever reason she's changed that and sometime later she has said well, I'd like to do that to Bob. Um so, who knows what's in her mind? [Triffett's personal history and criminal record makes his preposterous allegation highly unreliable. An anonymous call alerted Sue's defence team to Triffett's own charges that month and his attempt to try and do a deal with police.]
Re: Theory that Vass' DNA got on board at Constitution Dock – Oct 9, 2016
POWELL: There is some footage from the Port Authority where there is two or three young people sitting on the, ah, on the dock there, not far from the yacht, but you can't actually identify who they are. Um, so, we actually thought that one of those could have been this young girl. They could have gone on board the yacht, they'd been drinking, they could have gone on board and squatted and have a pee while they're on the yacht.  Who knows? [Footage shows no one going onto the yacht.]
Re: Powell's other theory of how Vass' DNA got on yacht – June 27, 2012
POWELL: But the, as events turned out, the dry dock wasn't secure. You could get access from the waterside to it. So who knows who may have, you know, gained access to the boat out there. And certainly Meaghan Vass had some associations with some young, ah, male offenders, underage offenders, that have been in the past guilty of breaking into boatyards and stealing things off boats and that. [At the trial, police denied knowledge of Vass associating with young offenders stealing from boats.]
Re: Powell theory of DNA on yacht – Oct 9, 2016
POWELL: I think that deposit, that DNA sample was taken on the 30th so we're talking like three days later. Um, and the dry dock is not secure from the water. So my view is that this young girl was also associated with some young criminals, in the northern suburbs, which is where the dry dock is. And it's possible that she's been with them and they've gone into this boatyard and you know, wandered around yachts, seeing what was worth stealing or whatever – who knows – um  and left her DNA on there by that. [These scenarios require us to believe that Vass later inserted herself into the murder case by claiming to have witnessed the fight on board Four Winds on Australia Day.]
Re: Gleeson naming Paul Wroe as a suspect – Oct 19, 2016
POWELL: Oh, maybe a bit…Who knows, who knows? But my attitude was that they're both drunks. Um I wouldn't rely too much on anything Gleeson told me, to be honest. [Gleeson and Wroe have extensive criminal records, were near the crime scene on the night but were not investigated by police at the time.]
Re: Why not a simpler way to murder Bob? – Oct 9, 2016
POWELL: But, who knows how the minds of, you know, murderers work? And we all know there's been lots of cases where, when people get caught for a murder, you think, "Gee, there were easier ways to do this… and certainly easier ways to probably get away with it." [The easiest way for the perpetrator/s to get away with this particular murder was for police to charge Sue Neill-Fraser…]