This is an edited version of the full article in the CLA news, by Bill Rowlings, CEO of Civil Liberties Australia. 
Things are hotting up in the topsy-turvy legal circles of South Australia. The state is continuing to be riven over a half-century old monumental government mistake of appointing an unqualified person to a key medical/legal role. For 50 years, the State of SA has failed to address or correct its error.
Some major issues are about to hit the TV screens of Australia, which may at last focus some action and decision-making: a one-hour, national crime special is to air on 14 October, 2020 on Channel 9. The TV show threatens to rip the lid off a ripe old can of law worms, dating back half a century to the appointment of the state's director of forensic pathology, Dr Colin Manock, in 1968.
As well, the wrongful conviction of a man 37 years in jail, unable to be released because he won't admit guilt, is being highlighted in parliament. The prisoner can't be freed under SA rules* unless he admits guilt, which he has denied constantly for four decades.
An Upper House SA parliamentarian, Frank Pangallo, in late-September 2020 has called for a royal commission into the 50-year "justice" failings in the state.
Pangallo highlighted in particular the case of Derek Bromley, an Aboriginal man, who was convicted of murder in 1985. He is still in jail, Australia's longest-serving Indigenous prisoner. He is 13 years past his non-parole period. The man co-convicted with him was released in 2004.
Manock, whose evidence helped to convict Bromley, was unqualified and untrained for the position, and also incompetent, according to medical tribunal, Supreme and High Court statements which came long after Bromley's trial. Manock retired in 1998, after about 30 years as the state's top forensic "expert".
But no government, the current Liberal or previous Labor, has been prepared to face up to what Pangallo has recently described as 'The shocking scandal nobody wants to touch'.
Barristers Stephen Keim of Queensland and Greg Barns of Tasmania are preparing an appeal to the High Court on Bromley's behalf.
But first they have asked the newish SA Director of Public Prosecutions whether his formal position is that Manock was properly qualified, and whether he believes Manock's "evidence" given in historic cases can be relied on. If the DPP can't rely on that evidence, then any High Court appeal is 99.9% sure to succeed, because the Crown cannot stand behind Manock's evidence previously led in court.
completely unreliable … or not
The current Deputy Premier and Attorney-General, former barrister and law firm proprietor Vickie Chapman, has strongly indicated she has no faith in Manock's historical "evidence". Chapman said on an ABC Adelaide radio interview in July 2018 over the Keogh case: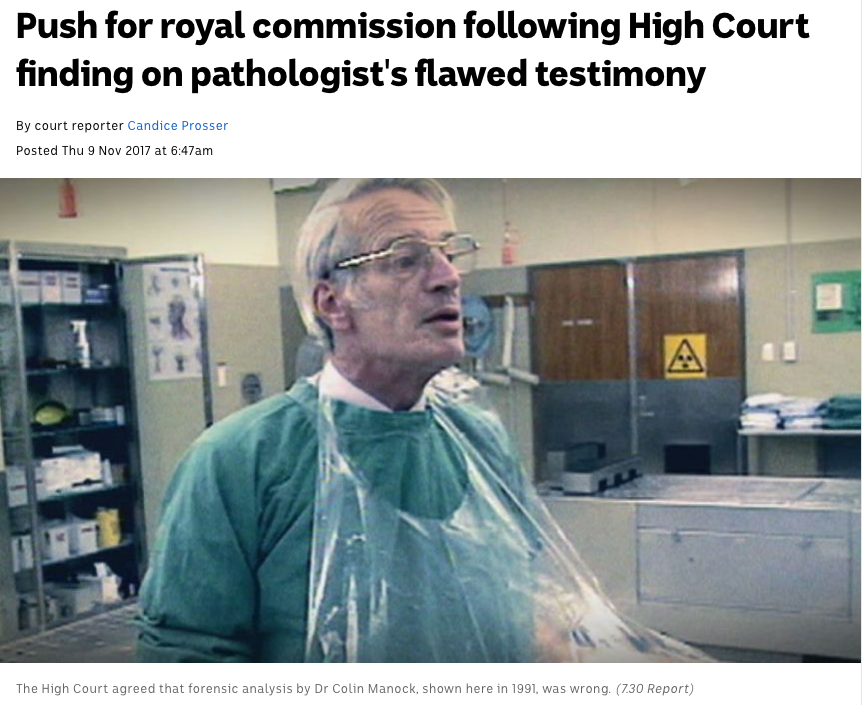 "Dr Manock's evidence as an expert was relied upon. It was completely unreliable, in fact manifestly so, for the purposes of making it simply unsustainable to have a conviction be maintained. Clearly, this was a person who for whatever reason had been appointed, you know, decades before who was discredited and dismissed and his evidence wholly, you know, rejected in that way. The real question then is, well look, how many other cases in which he's given an expert opinion as to a cause of death or circumstances surrounding it, that might come to the surface?"
But in February 2019, she wrote to Wrongful Convictions Report blog author Andrew Urban, saying:
"While Dr Manock's conduct has been subject to criticism, I do not consider that those criticisms go so far as to render his work wholly unreliable…"
With that conflicted guidance from his Attorney-General, the SA DPP must decide, formally, how he considers the status of Dr Manock's historical "evidence" before he replies to the Keim-Barns letter, which was sent in early September.
The DPP, Martin Hinton, is in a unique situation as being a most integral part of the SA legal establishment for decades. He was a prosecutor in the SA Office of the DPP in 1993, during the Manock years. He is not only now DPP, but was also a former Solicitor-General of SA for nearly a decade.
He is also a "recycled" Supreme Court judge. He handed back his judicial commission in 2019 to be appointed DPP. The government changed the law to accommodate the move, ensuring he could retain his judgeship benefits.
As well, he has long been a supporter of Aboriginal justice, serving as chair of Adelaide Uni's Indigenous Law Students Mentoring Program, and as a member of the Australian Institute of Judicial Administration's Indigenous Justice Committee.
So the man with the varied background has quite a decision on his hands.
If he decides Manock's evidence is "completely and manifestly unreliable", as his AG has described it, he should act to free Bromley with days.
(In Victoria, in a similar situation, authorities moved to free Farah Jama at a court sitting on a Monday after finding out on the previous Friday that evidence used to convict him was unreliable. https://tinyurl.com/y6bsydgt So a strong precedent for instant action exists.)
It would be "completely and manifestly" ironic if Bromley was silently released from jail in days, after asserting his innocence loudly for 37 years.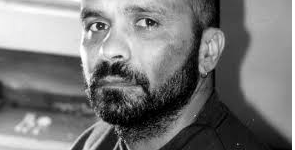 * Why Bromley is stuck in prison:
Before a person can be released from prison in SA, especially after serving a lengthy sentence, the person has to complete a "re-socialisation" course. Part of the course requires the person to explain how they have come to terms with their wrongdoing. Usually, an explanation along the lines of 'I'm a changed person and realise that what I did was wrong and I would never do such a thing again', is expected. However, because Bromley has maintained that he was wrongly convicted he is not in a position to apologise or state that he won't do it again. The prison authorities take the view that he is in denial, because he has been convicted. – explanation courtesy of Networked Knowledge  https://tinyurl.com/y2tqunag