It was around 11 am on Wednesday, February 6, 2019, the second day of the cross examination of author Colin McLaren, that Daryl Coates SC, Tasmania's DPP, made a theatrical gesture with papers in his right hand, almost smacking his junior in the head, angrily accusing McLaren of having made it all up about Meaghan Vass and her affidavit and never having met her. A pack of lies! He threw his words across the bar table.
It smacked more of desperation than considered allegation, drawing a wide eyed look of disbelief from McLaren (pictured, with Eve Ash), larger than life on a giant screen, his presence delivered to the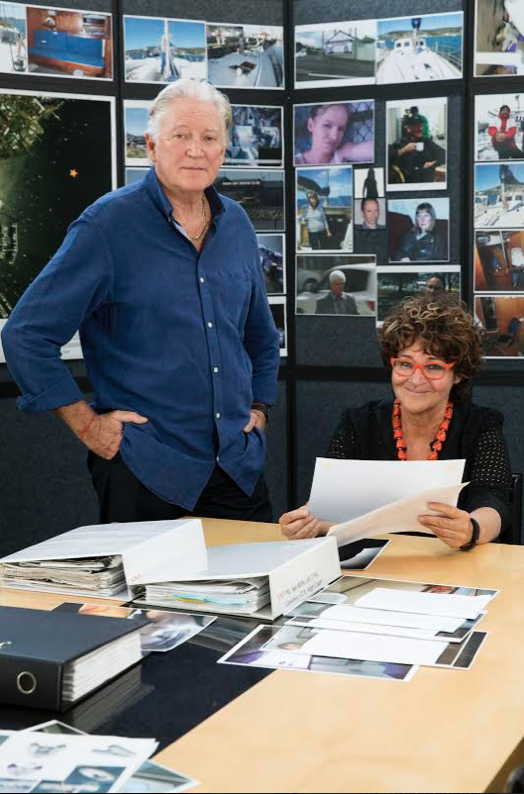 Supreme Court via videolink from Melbourne. 'That is just so wrong,' he said with restraint.
It did seem a strange overreach from the DPP, considering he had previously questioned McLaren on details of his interactions with and about Vass.
Coates was in the middle of massaging transcripts of McLaren's research for his book Southern Justice (Hachette) and which had been filmed for the doco series Undercurrent (Seven Network). It was from 500 hours of seized, unedited footage for that series that transcripts had been made by police for use by the DPP, who then continued his rather laborious barrage of sometimes intemperate questioning. Justice Brett stopped him interrupting McLaren's answers a couple of times.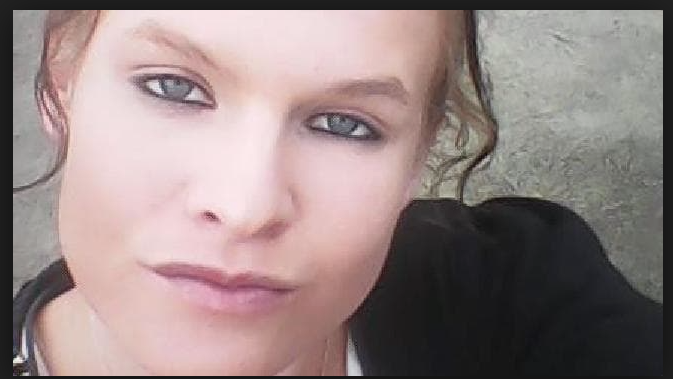 It was clear that the extensive cross examination (at two days the longest of any witness) was intended to discredit McLaren, and his research, which turned up information from witnesses who had never been interviewed by police, or inadequately, and which focused on Meaghan Vass (pictured), whose DNA was found on the yacht from which Bob Chappell disappeared on Australia Day, 2009.
Coates no doubt intended to show Justice Brett that the affidavit stating Vass had been on board had been signed under threat and that she kept denying she had been on board. McLaren stuck to his guns that she was not threatened and was always free to make her own decisions. And he repeatedly explained that Vass was deeply conflicted, vulnerable and torn between wanting to 'get the monkey off her back' about that event but she was scared of the consequences – primarily from the tough crowd that was the bikie gang with whom she mixed.
Vass had been inadequately questioned (and was later found to have lied about her whereabouts that night) at the trial, and was not called for this hearing. Neither was her boyfriend 'Sharkie' president of the Devil's Henchmen. The failure of police to seek and interview many persons of interest regarding the Chappell death – as McLaren has done – remains a live question in this saga.
But back to the latest chapter: on Tuesday, the first day of this last set of hearings seeking leave to appeal, the DPP's decision to show a 15 minute clip from Undercurrent, was remarkable. It was a clip that could well have been chosen by McLaren himself to demonstrate how his research was getting crime-solving information. In the clip, he reveals what he had just learned, that Vass had been on the yacht with two men, looking to steal things, when Chappell confronted them. They didn't realise he was on board and a fight broke out. Vass had told a friend that it was the older man, Paul Wroe from the nearest yacht to Chappell's Four Winds, who killed Chappell and she, Vass, took off in fear. This was what her friend in jail, Karen Keefe, had told McLaren she had seen recorded at the time in Vass' diary – which has not been found. The diary record, however, apparently named the other man, the younger 'Sam' as the one who killed Chappell. (Vass had said she was on the deck, not below decks where the fight took place.)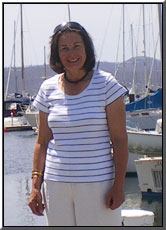 Sitting in a wheel chair in the witness box (for lack of suitable space elsewhere in Court 8), Sue Neill-Fraser buried her head in her hands. For different reasons, her barrister Tom Percy QC, allowed himself a modest smile. The tension in the court was palpable. The DPP's rationale for playing that clip is hard to fathom. (Left: Sue Neill-Fraser on Australia Day 2009, the day that according to the prosecution, she murdered Bob Chappell.)
As was inevitable from the moment in mid 2009 when the DNA sample was identified as that of then 15 year old homeless Meaghan Vass, it was going to be the undismissable evidence that would haunt this case. Now, the DPP is fighting to dismiss its importance, as had his predecessor, Tim Ellis SC, who had called it a red herring. A stranger's DNA at the crime scene is never a red herring in a murder trial, surely. The Crown is thus arguing against Vass' DNA being probative of her presence on the yacht, but by contrast, has provided no evidence that puts Neill-Fraser on the yacht at the relevant time – yet charged her with murder.
One of the issues Coates raised a couple of times was the matter of threats against Vass to make her sign her affidavit. Her friend Keefe had said to her she'd 'put you in the boot'. McLaren explained a couple of times that was an expression Keefe used; he had heard her say that to her kids when frustrated. McLaren also referred several times to the language and way of talking in the underworld, which is very different to how law abiding folk talk. He calls it 'underworld noise' not to be taken too literally.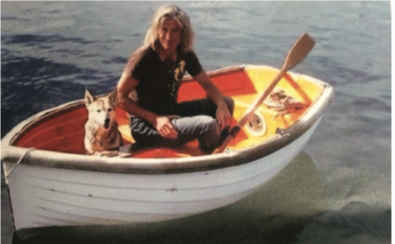 What does Justice Brett make of two key pieces of evidence that can be put forward as fresh and deserving of the appeal to go ahead? One is – notwithstanding the DPP's best efforts to discredit it – the evidence that Vass was on the yacht and witnessed the murder. The other is that the female figure in a dinghy reported by John Hughes late on the night of Australia Day, heading in the general direction of the Four Winds, was in fact the slightly built and long haired Grant Maddock (pictured in 2009).When tBoth are worth proper testing in a court of appeal with three judges – preferably from the mainland, to avoid any perception of bias, as is the case with South Australia this month, inviting three supreme court judges from Victoria to assess a matter that has been 'touched' by the local judiciary.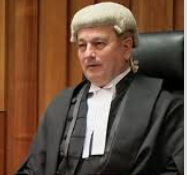 Justice Brett (at right) has reserved his decision for 'a couple of weeks'; we will know then.
Sue Neill-Fraser was convicted of murder in 2010, after her partner of 18 years, Bob Chappell, disappeared from their jointly owned yacht, Four Winds, anchored off Sandy Bay in Hobart on Australia Day 2009. In the afternoon, Neill-Fraser had taken the dinghy ashore, Chappell stayed on board doing maintenance work. At dawn the next morning the yacht was reported sinking slowly, with no sign of Chappell. What appeared to be a clumsy attempt at sabotage had caused the Four Winds to take on water. It was a mystery.