A month after its publication, the book chronicling the career to date of Margaret Cunneen SC, The Boxing Butterfly, is in its second print-run, after a rush of demand, according to publisher Michael Wilkinson of Wilkinson Publishing. The book was launched at two functions in late June, the first at the Wyllie martial arts gym where Cunneen does her boxing, the second at her chambers in the heart of Sydney's legal-land.
Margaret had written the foreword to Andrew L. Urban's Murder by the Prosecution (Wilkinson Publishing, 2018). She is now a busy defence barrister. In the final months before retiring as Deputy Senior Crown Prosecutor in January 2019, Andrew invited her to lunch and proposed that they collaborate on a book of her high profile, successful and at times controversial career to date. (The Boxing Butterfly is introduced and edited by Andrew. Also available digitally from AmazonKindle and Apple Books)
"The first indication I had of Margaret's innate integrity was over our seminal lunch at Mazzaro's Italian restaurant in Elizabeth St, a short walk from the offices of the DPP," he told the guests at the launch in chambers. "At one stage in that conversation, triggered by my observation that some prosecutors I had come across in my research seemed more concerned with chasing convictions than finding the truth, she was incredulous: "Why would a prosecutor do that?"  To her, as she reveals later in this book, a wrongful conviction is a prosecutor's worst nightmare. She is no doubt right … in most cases.
"Margaret – a committed hoarder – was nevertheless about to dispose of many boxes of transcripts and other documents that she had accumulated.
"I took them into my lawful custody   … the first of several batches. My home office was soon filled to overflowing with Margaret's career. In these boxes, among the piles of transcripts, I found dozens of magazine articles by or about her, speeches she had given, letters and cards.  Selecting what to include in the book was a task of filtering an abundance of riches. There was also the editorial question of what to include of material that was critical of her. Especially from fellow lawyers….and I don't think they can complain of being ignored. Perhaps they'll wish they had been … We included it all and provided context.
"In the chapter titled The ICAC Bout, the book delves into one of the worst experiences of Margaret's professional life. I'm sure you'll recall how she was seen as another ICAC butterfly by then commissioner Megan Latham, who famously told emerging lawyers that working at ICAC was like pulling wings off butterflies. The book reveals exactly how and why the ICAC investigation was really triggered… and how it was spectacularly shut down. It wasn't Margaret who hit the canvas.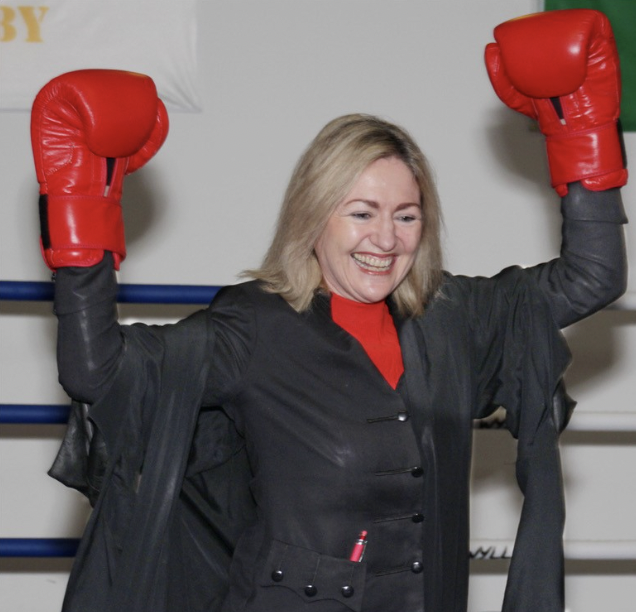 "On a lighter note, I should mention how many laughs I had putting the book together, both from the material Margaret provided in her personal takes on some milestone cases and from the words of some participants in her cases.
"I will share just one item with you, from a cross examination of a woman by Margaret while  defending her male client. Margaret suggested at one point in the trial that the woman had never previously mentioned that the accused "touched your labia or any part of your body," and she was making up evidence on the spot. To which the woman replied, "I know my vagina like the back of my hand."
Organised with the efficient help of Fiona Hayden, Clerk of Chambers, the launch was attended by around 100 guests, mostly from the legal profession.
Jeffrey Phillips SC warmed up the crowd with good humour and Judge Paul Conlon officially launched the book  with a speech that referred to several sections in the book and at the Wyllie gym, Margaret's three sons, Steve, Chris and Matt, each spoke (from the boxing ring) in admiration of their mother, and also of how, through the book, they learnt what she had been doing – and what she went through – all those years.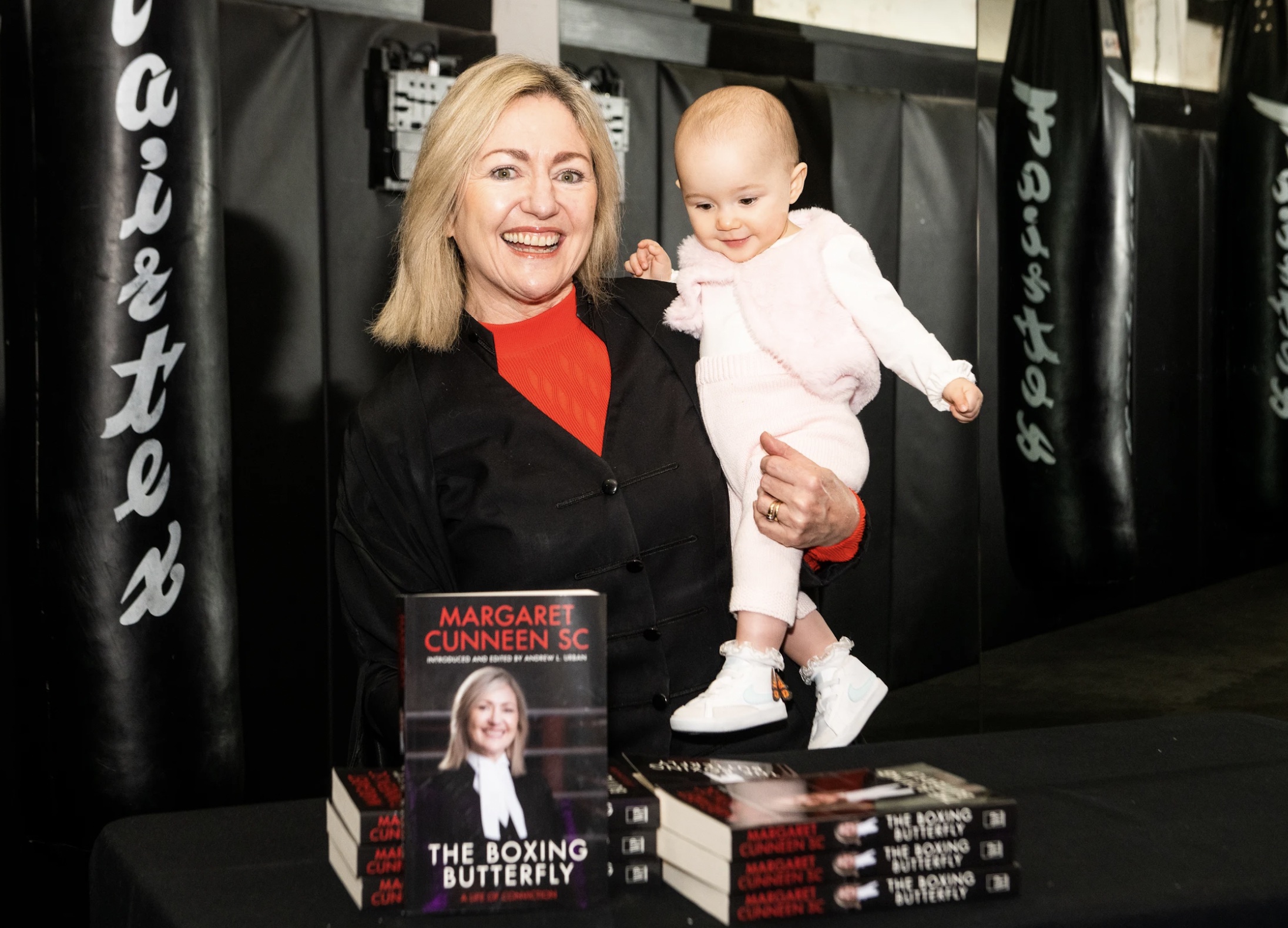 Special guest at both functions was Blaise, Margaret's 8-month old granddaughter, to whom she dedicated The Boxing Butterfly. (Photo by Nicola Bailey. All other photos by David Miller)