Andrew L. Urban.
The mass media played a crucial role in shaping public opinion against Robert Xie, convicted of viciously murdering five members of his wife's family in 2009 – wrongfully, we maintain. As with wrongful convictions of the past (from Lindy Chamberlain to Gordon Wood), those opinions are based on assumptions, misrepresentations and emotion, not evidence. The mass media failed to cast a critical eye over the case; it still does. 
In April this year, after over four years of exploring the case of Robert Xie and consulting with lawyers and a barrister, I offered a story to a major newspaper, titled Never mind the alibi; we'll work around it – the Lin family murders. The editor of the newspaper, with whom I have a long and fruitful professional relationship as a freelance journalist, rejected the story, saying: I have considered the piece carefully and have decided against it. You have done a lot of work but I am afraid I am not convinced of the merits of the case. There are many damning pieces of evidence led at trial which you have not referred to at all. The three issues you raise were considered by the jury. So…. i will have to say no to this one.
I did ask what were thought to be the 'many damning pieces of evidence led at trial' but there was no reply. That is a pity, because I was keen to examine what this powerful media player considered damning evidence – especially in the face of what I presented about Robert Xie's alibi (see below).
The case: Brutally murdered overnight – executed would be a more accurate description – on July 17 & 18, 2009 were Epping (Sydney) newsagent Min Lin, 45, Mr Lin's wife Yun Li 'Lily' Lin, 44, their sons Henry, 12, and Terry, 9, and Mrs Lin's sister, Yun Bin 'Irene' Lin, 39. The murders were so brutal, post mortem images have not been published or aired. At least two of the bodies were repositioned …
April 5, 2012: Justice Derek Price denies bail, but acknowledges a jury may find there is not enough evidence to convict Xie.
"At committal, Magistrate John Andrews had noted the Crown prosecutor, Mark Tedeschi, conceded that there was no evidence of motive….(and) the prosecution case may not be an overwhelming one". Andrews pointed to "…weaknesses in the DNA evidence…"; Xie's lawyer Lester Fernandez called the case 'fanciful'" – (Sydney Morning Herald, December 19, 2012).
December 20, 2012: Xie is granted bail by local court magistrate John Andrews, who says the Crown case is not strong. Andrews had noted that the prosecution had described the murder of Xie's brother-in-law, Min "Norman" Lin and four members of his family, bludgeoned and strangled in their beds, as a crime of extreme violence and personal hatred but was unable to establish a clear motive for the crimes.
"It was effectively conceded by the prosecutor that there was no evidence of motive. "On the contrary, the evidence indicates a very close relationship between the families."
After the fourth and final trial (ending in 2017, before Fullerton J), the case eventually moved to the NSW Court of Criminal Appeal (June 22 – July 1, 2020), before NSW Chief Justice Bathurst, Justice R A Hulme and Justice Beech-Jones. Xie's appeal was dismissed on 15 February, 2021; 11 years and 7 months after the murders.
It has to be noted that the case of Robert Xie, a former ear, nose and throat specialist in his native China, is not of much public interest. No media outlets have been howling for justice for him. He is a tainted figure …  His character has been smeared with the allegations (unproven and denied) of sexual abuse of a teenage family member following the murders, and the brutality of the massacre that destroyed almost an entire family. Perhaps the mass media thinks 'Xie deserved what he got'?
news.com.au – January 17, 2017 When visitors walked through the front door of the Lin home in Epping, north of Sydney, they were greeted by a wedding photograph of Min and Lily Lin hanging near the entrance. It was likely that it was here the killer — trusted family member Robert Xie — slipped inside quietly, past the picture of the lives he was about to end, heading straight towards his targets asleep upstairs.
MamaMia – February 17, 2017 By speaking to Channel Seven's Sunday Night program, the identity of Min and Lily's daughter, Brenda Lin, can be revealed, along with a motive for the killings that was previously unreported. Fairfax reports that prosecutors argued there was a sexual motive to Xie's attack. The court heard that Xie inappropriately touched Ms Lin, now aged in her 20s but a teen at the time, before the murders. After her family was killed she was then regularly sexually assaulted until Xie was arrested in May 2011, the Sydney Morning Herald reports.
The Daily Telegraph – February 19, 2017 One notable moment during the investigation was when Xie was seen on camera putting a hand on Ms Lin's shoulder. She was seated at a desk studying at the time. The incident was one of several instances described by one law enforcement official as "uncomfortable touching", though none of it was enough to convince investigators that any abuse was occurring.
Daily Mail – November 17, 2021 Xie was found to have left their bed in the early hours of July 18, 2009, hours after attending a 'normal' Friday night dinner with his extended family. His wife confirmed his alibi, that he didn't leave their bed that night, but the Crown suggested Xie sedated her before creeping into the Lin residence around the corner.
The Sunday Telegraph June 3, 2019 Robert Xie had the perfect plan — in jail suspected of the Lin family slayings, he would plant the fingerprints of a dead person on the murder weapon. All he needed was a body. Now, that story can be told in full, courtesy of Josh Harris, the operative who sat down with Xie in the visiting room of Parklea Correctional Centre. "He was a very calm man, very softly-spoken, but quite smart and cunning," Josh said. "I could see him taking it all in. I mean, I always thought he did it, but why would he meet me if he hadn't?" (Then came the most preposterous lie, demonstrating how stupid this deliberate misinformation was.) But the informant also provided some stunning new information. Xie, he said, had a plan to exonerate himself: if he was made to stand trial, he was going to arrange for a dead person's fingerprints to be planted on the murder weapon, which hadn't been located. (No murder weapon was ever located.)
A wholly circumstantial case, yet no questioning the absurdity of the accusation, no investigation as to how the Crown could convict a man of five brutal murders without producing any durable and probative evidence … no exploration as to why police tried to establish that Xie sedated his wife, when no evidence  could be found.
Never mind the alibi, the police say Xie is guilty. The court found him guilty. The NSW court of appeal dismissed his (poorly framed) appeal. He has no public champion, no network of supporters, no funds, no voice. His resources long ago exhausted, he relied on legal aid to mount his appeal.
Yet …. his conviction – going against his alibi and absent a credible motive – rests on just a couple of elements that the prosecution urged the jury to accept as reliable evidence, to negate Xie's alibi.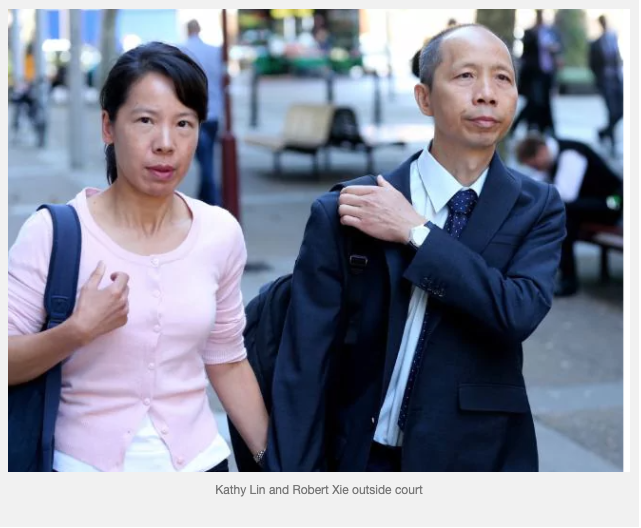 Robert Xie always maintained and his wife Kathy Lin (whose family had been murdered) swore on oath that after they turned off their computers they went to bed in their Beck Street, Epping, home at around 2am on July 18, 2009. Computer records confirm the timing. The prosecution was unable to establish the time of the murders after 2am, which was essential for the prosecution's narrative if Xie was to be found guilty.
"The Crown does not know exactly what time it was that the murders occurred," said the prosecution in the opening address, "but our case is that it must have occurred after 2 o'clock in the morning, because you will hear that it is accepted that the accused had been at home with his wife using the internet until around this time. So it is at some point after 2 o'clock and before 5.30am." In other words, the Crown case had been built AROUND Robert Xie's alibi until 2am. Without evidence about time of death of the victims, the Crown cannot place Xie at the crime. There is no forensic evidence to link him to the crime.
As we have reported here in various posts, to counter the alibi for the time after 2am, police formulated a plan to get around it. A known criminal, designated Witness A, awaiting trial in the same facility where Xie was held on remand, was recruited to try and trap Xie in covert recordings (hoping for some benefit for himself) that would counter the alibi by supporting the police speculation that Robert must have sedated Kathy. The result of the recordings by Witness A, scratchy audio that only a profoundly biased ear would accept as evidence beyond reasonable doubt, was the basis of the proposition put to the jury. Her Honour's directions to the jury on Witness A's evidence included 13 points on which to doubt that evidence.
The media has a vital role in a democracy; a vital role in keeping an eye on the criminal justice system, the proper functioning of which is crucial to democracy. Considering that the legal system is self policing, the mass media must be more alert, more questioning and less ready to run with the police line or the prosecution's narratives.
Footnote:
We have previously published 19 articles on the Robert Xie case; they can be found in the dedicated section available from the menu on the right, as Case 11.