Incarcerated in the women's section of Hobart's Risdon prison since August 20, 2009, Sue Neill-Fraser is awaiting the outcome of her second appeal against the conviction for a murder she vehemently denies (and many others regard as wrongful). Security regulations prohibit the revelation of specifics about the day to day running of the prison, but her variously moving and entertaining 'diary' below, gives us a glimpse into a typical day in her life. 
We wake each morning to the dulcet tones of a PA announcement, "This is your 6:45 wake up call" usually followed by the edifying news that we will be locked down for part or all of that day. Lockdowns are far more prevalent than they used to be, mostly due to lack of staff and during these phases, inmates can expect to be confined to their cells, buildings, or unit boundaries. I'm in a minimum rated area, so I have the good fortune to be able to get out in the fresh air and also have access to a computer most of the time.
We have gatherings, musters at different times each day to ensure no one has burrowed under or parachuted over the perimeter fence or heaven forbid, died in the night. Mind you, the fence is so high, one would need to build a trebuchet to sail over it.
Following the wake up call, I hop on an exercise machine for 20 minutes after which a posse of officers arrive to count us and our metal cutlery (in case it has been put to forbidden unspecified use), then showers and medication where the queue often stretches to Timbuktu. I take vitamins, so I also have to line up under the beady eye of a custodial officer who asks to look in your mouth to make sure the tablets have disappeared. Think fledglings in a nest begging for food. There is a good reason for this. Some inmates are quite clever at concealing the tablets, then reminiscent of cormorants regurgitating and trafficking them to others. The first time I observed this process, I saw what appeared to be convulsive choking, and assuming it was the real thing, slapped the inmate's back, causing the tablets to fly forth across the room. The intended recipient pounced and thanking me explained what was going on.
Naturally, these antics swiftly led to increasingly bizarre behaviour, a dead giveaway, ensuring the issue is picked up quickly. We have another muster at nine euphemistically entitled, 'labor parade' where all inmates line up to be recounted in a common area. The real purpose of this is to make sure no one simply goes back to bed after medication to 'sleep their sentence away'. Assuming no lockdown, inmates then disperse to their jobs, if they have one or attend courses. My official 'job title' is peer mentor, which entails assisting new inmates' inductions into the prison, explaining the rules and showing them the ropes. Unofficially, I help out with a range of issues. Tutoring, interpreting legal mail, correcting documents, writing inmates mitigation pleas, the list goes on. Having no legal training whatsoever, I was initially reluctant to become involved in this area. However, I changed my mind after it became clear that some inmates were illiterate and unable to read, let alone interpret or reply to letters from their lawyers.
Others were not eligible for legal aid, a dire situation often effecting those already serving sentences, and then arraigned on fresh charges which didn't meet funding guidelines. Almost every morning, I'm approached usually in the medication line where there is no escape, with a request from someone who hasn't mastered the art of writing, or if they have, can't bring themselves to compose a document to anyone in authority without a liberal sprinkling of expletives. I'm handed a note along the lines of, "if yer honour had effing well let me out the last two effing times, I wouldn't have belted the c***" together with a muttered request, "Can you fix it up Sue?"
These diversions can take time to sort out. Recently, a sheaf of papers was thrust under my nose with an outrage, "Yer gotta elp me. Me lawyer's no good, it just hung up on me." Well, no surprises there. Once I unearthed the facts for the prosecutor, it turned out the aggrieved, a well-known thief, had been charged with absconding from the supermarket with 42 tins of powdered sports' drink concealed into her jacket and there was CCTV footage. "Did you take them?" "Nah, I only steal meat and makeup." "Stop. I don't want to hear it." Having read hundreds of these missives destined for prosecutors, I'd long since reached the inescapable conclusion that significant flights of fancy could afflict the authors. In this case, I really didn't see how the small being in front of me could hide one tin, let alone 42 on her person. We wrote back, politely requesting a copy of the CCTV footage to verify this astonishing accusation. As predicted, the tape went missing and the charge dropped.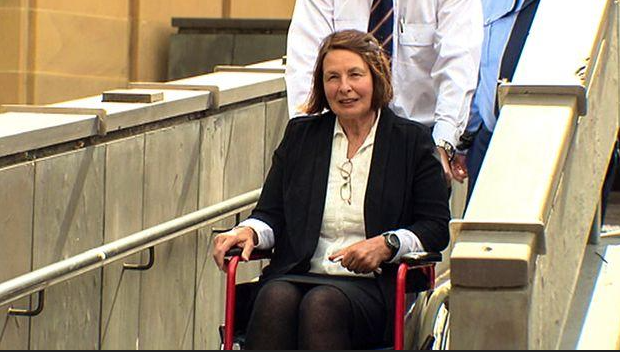 When arrested 12 years ago, I refused to believe such things occurred. Wiser now. As the morning wears away, there are frequent interruptions to relieve the monotony. People with a serious drug habit often come in looking skeletal, having omitted to eat much real food in the pursuit of 'ice', the most likely curse of their lives. Once clean, they then become ravenous, eating everything insight. We in the minimum units are able to save some of our unused meals, cereals, et cetera, for cooking, a resource, which becomes very attractive to those who don't have access to it. With breakfast a distant memory, various hungry souls arrive from medium to lurk at our front gate and reminiscent of a flock of predatory seagulls, screech appeals for leftovers. "Ya got any biscuits? Meals? Eaten yer dessert yet? Do you want it or can I have it? What about an egg then?" Anyone stepping outside with any sort of bowl or container immediately attracts the attention of a dozen pairs of eyes, which with shark like focus zoom in to determine whether something edible might be had.
At lunchtime, we are locked down for an hour, a time I use to rummage through legal precedents in the hope of finding useful information applicable to my case. I also make phone calls. I have two beautiful daughters and four grandchildren, and it really brightens my day if I can catch up with them. I find that I can no longer afford the self pitiful luxury of allowing myself to dwell on all that is lost. Long-held plans to introduce them to farm life, skiing, sailing, horse riding, all the good things we'd planned to do together. However, I can ask them about their day's activities; tadpole catching, model building, bike riding, maths homework (horrors!), and so on. Short, miserable, cold days and grey skies, dismal features of Tasmanian winters are once again upon us. So much of my time is currently spent out of the icy chill undercover.
Ridiculous as it sounds, I never seem to have any spare hours in the day. By the time I finish one document and begin the next, it's time for the five o'clock evening lockdown. In summer, any spare time was spent in the vegetable garden, weeding planting, watering, pruning. It's restful for the soul away from the noise and drama that is part and parcel of prison life. Years ago, I began a seed saving program, a resource which continues to provide a good supply of greens, which we then harvest then cook to compliment the dreaded 'chill meals' supplied by the prison. We no longer get any fresh fish, only the Besser block grey, heavily battered variety of, I suspect, dubious provenance (scurrilous offerings from Northern neighbours). So, I take fish oil instead, much safer and dream of sushi.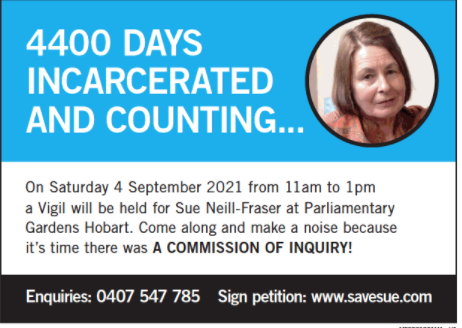 One of the saddest things I see in prison is the incarceration of people due to mental health issues. It occurs with monotonous regularity and although the custodial officers of the prison are supportive and do their best to engage, timely professional intervention remains far from our shores. Our time is pretty much circumscribed and there isn't a great deal of intellectual stimulation.
Due to COVID, visits have been kept one a week instead of the usual three and I really miss the interaction at times feeling as if I'm caught up in a kind of existential Groundhog Day existence. Connection to the outside world is vital to combating this malaise. However, it's tempered by the realisation that visiting the Risdon Riviera, as I call it, is not everyone's cup of tea. In fact, for some it's nervous breakdown territory. Just navigating security can be an ordeal. Sniffed by dogs, lined up in queues with other visitors, some of whose only use for a bar of soap has been to grease lock mechanisms to ease the way of picking them. All a bit grim, and I will remain very grateful to all those who continued to make the effort, some for over a decade. So, for now, life plods on; more 'stolen' years ticking away.