Andrew L. Urban.
The full title of Malcolm Gladwell's book is Talking to Strangers: what we should know about the people we don't know. For someone who did in fact talk to many, many strangers on the streets of Australia with a TV camera for my prime time SBS program, Front Up in the 90s, the subject matter is irresistible. And the book proved to be unputdownable … plus highly relevant to the subject of wrongful convictions. 
Malcolm Gladwell is quoted as saying "I've never been a writer who's looked to persuade his readers; I'm more interested in capturing their interest and curiosity."
He succeeds at that. Reading this book from my unique perspective (as an interviewer of strangers and an investigative journalist in the field of wrongful convictions) my interest is aroused on every page, with every example, with each observation. I can relate to the notion of trying to 'assess' strangers on the flimsiest grounds.
In my case, assessing strangers was limited to guesswork as to how they would react to me fronting up to them out of the blue in the street with a microphone and TV camera, asking questions about their lives. Rejection was the expectation…how much rejection could I take in a single day?
Gladwell's book uses real life examples from the 'real life' files (eg Sandra Bland, Amanda Knox), where the stakes are so much higher than personal rejection of a journalist/interviewer. But the currency of inter-stranger communication is much the same; just for different ends.
What strikes me is how accurate Gladwell's observations are (in the context of my own experience) about the traps we fall into when trying to assess strangers. By 'assess' I mean understand, deconstruct, uncover … even analyse.
As one of his readers puts it, "It's very difficult to tell when people are lying. According to Timothy Levine, the academic psychologist on whom Gladwell relies for his basic argument, the presumption that people tell the truth is almost universal…" And that's where our reading journey starts.
In the tragic case of Sandra Bland, a police officer completely misread the behaviour of the driver and the situation escalated from 0 to 100. He had been behind her on the road in a peaceful village, not a crime hot spot. She changed lanes to let him pass… he stopped her for failing to signal. Then when she lit a cigarette, the officer told her to put it out. He ended up dragging her out of her car and charging her, down at the police station. Three days later she committed suicide in the cell. No, not because of the traffic stop; that was just the last straw, on the first day of a new hopeful chapter in a depressed life. Gladwell details this story with transcripts of the interaction and also of the investigation into the officer. Both are illuminating – and sad.
In the amazing Amanda Knox case, the police make similar mistakes in grand order. Knox was convicted but later acquitted of the murder of Meredith Kercher, a fellow exchange student who shared her apartment in Perugia, Italy.
As for judges, you'd think they'd be better than average at recognising who is telling the truth. Gladwell refers to a study in which judges scored just 54% – a tad over what a flip of the coin might give you.
In another study, Harvard economist Sendhil Mullaianathan, along with three elite computer scientists and a bail expert, built an artificial intelligence system and put 554,689 cases through it with the command to make a list of 400,000 who could be released on bail (with the same information that the courts had). "The people on the computer's list were 25% less likely to commit a crime while awaiting trial than the 400,000 people released by the judges of New York City. "In the bake off, machine destroyed man," writes Gladwell.
Gladwell also feeds our interest and curiosity with relevant 'stranger' stories about meetings between Hitler & Chamberlain, and Cortes & Montezuma.
EXCERPT
A trained interrogator ought to be adept at getting beneath the confusing signals of demeanor, at understanding that when Nervous Nelly overexplains and gets defensive, that's who she is—someone who overexplains and gets defensive. The police officer ought to be the person who sees the quirky, inappropriate girl in a culture far different from her own say "Ta-dah" and realize that she's just a quirky girl in a culture far different from her own.
But that's not what we get. Instead, the people charged with making determinations of innocence and guilt seem to be as bad as or even worse than the rest of us when it comes to the hardest cases. Is this part of the reason for wrongful convictions? Is the legal system constitutionally incapable of delivering justice to the mismatched? When a judge makes a bail decision and badly underperforms a computer, is this why?
Are we sending perfectly harmless people to prison while they await trial simply because they don't look right? We all accept the flaws and inaccuracies of institutional judgment when we believe that those mistakes are random. But Tim Levine's research suggests that they aren't random—that we have built a world that systematically discriminates against a class of people who, through no fault of their own, violate our ridiculous ideas about transparency.
The Amanda Knox story deserves to be retold not because it was a once-in-a-lifetime crime saga—a beautiful woman, a picturesque Italian hilltop town, a gruesome murder. It deserves retelling because it happens all the time. "Her eyes didn't seem to show any sadness, and I remember wondering if she could have been involved," one of Meredith Kercher's friends said.
Amanda Knox heard years of this—perfect strangers pretending to know who she was based on the expression on her face. "There is no trace of me in the room where Meredith was murdered," Knox says, at the end of the Amanda Knox documentary. "But you're trying to find the answer in my eyes …. You're looking at me. Why? These are my eyes. They're not objective evidence."
QUOTE
The first set of mistakes we make with strangers—the default to truth and the illusion of transparency—has to do with our inability to make sense of the stranger as an individual. But on top of those errors we add another, which pushes our problem with strangers into crisis. We do not understand the importance of the context in which the stranger is operating.
QUOTE
"You believe someone not because you have no doubts about them. Belief is not the absence of doubt. You believe someone because you don't have enough doubts about them."
QUOTE
"To assume the best about another is the trait that has created modern society. Those occasions when our trusting nature gets violated are tragic. But the alternative – to abandon trust as a defense against predation and deception – is worse."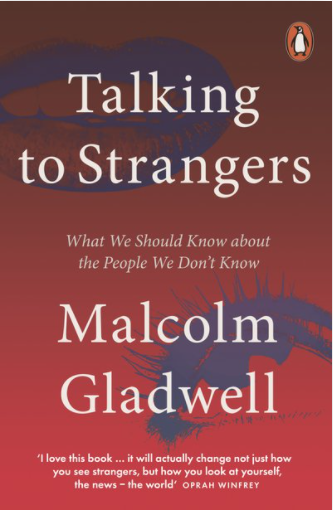 #Talking to Strangers: what we should know about the people we don't know
Published September 10th 2019 by Little, Brown and Company