In view of recent interest in Sue Neill-Fraser's former lawyer Barbara Etter APM, as expressed by readers in various comments, we publish the relevant facts about Etter's withdrawal from her legal practice in mid 2018, and her statement at the time.
The following is an extract from an article by Bill Rowlings, CEO, Civil Liberties Australia (July 10, 2018).
The law defeats justice – again – in Australia's deep south
The Full Court of the Supreme Court of Tasmania has effectively denied noted pro bono lawyer, Barbara Etter, her ability to be a member of the legal profession…on a technicality of legislation.
She will no longer practise law. She has "quit the profession". She made the announcement (see below) after the Supreme Court dismissed her appeal against a ruling of the Legal Profession Board (LPB) of Tasmania. The ruling effectively ordered her to hand over the complete contents, gathered over many years, of her privileged communications with a client in a coroner's court matter – the Greer case.
The LPB had already decided – after remarks by coroner Olivia McTaggart – that the LPB would not (repeat, not) proceed against Etter over the coroner's disparaging comments.
But then one angry half of an inter-sibling dispute that was at the heart of the bitter coronial case made a personal complaint against Etter, who had represented the complainant's sister. So the LPB effectively re-activated a complaint it had dismissed, and sooled its in-house investigator on to the case. The LPB investigator demanded the entire case file, that is all documents relating to the case.
So, the LPB dispute recently decided by the Supreme Court ended up being over whether or not Etter would hand over all the documents, hard and electronic, both legal and 'isn't it a lovely day' emails, in her case file. The LPB would not step back, and ask for just the relevant files, probably because it had not closely assessed the new, personal complaint and decided what precise evidence was required from Etter. Anglers might comment that the LPB and its investigator had appeared to go fishing, using a drag net rather than a rod.
The LPB appears to have not equally demanded any proof of allegations, or files evidence, from the complainant.
In other words, this idiosyncratic Tasmania legal fiasco is finally finished…with nobody "winning".  Certainly Etter has not been found guilty of any 'professional misconduct' as is normally in question in such lawyerly cases.
The LPB is a 'kangaroo court'. The LPB's own barrister, Chris Gunson, described its powers as 'extreme'. It can stop a lawyer practising her or his profession instantly, without giving the person any chance to put their case before members of the board at a hearing of the LPB.
Etter was hauled before the board originally, some years ago, because someone from the local legal profession complained about her commenting in a TV interview that there was no relevant blood discovered by Tasmania Police forensic scientists in a dinghy. The blood, and whether there had been a body in it, was a key question in the alleged murder case involving Sue Neill-Fraser (SNF), for whom Etter was pro bono lawyer at the time, and for more than five years.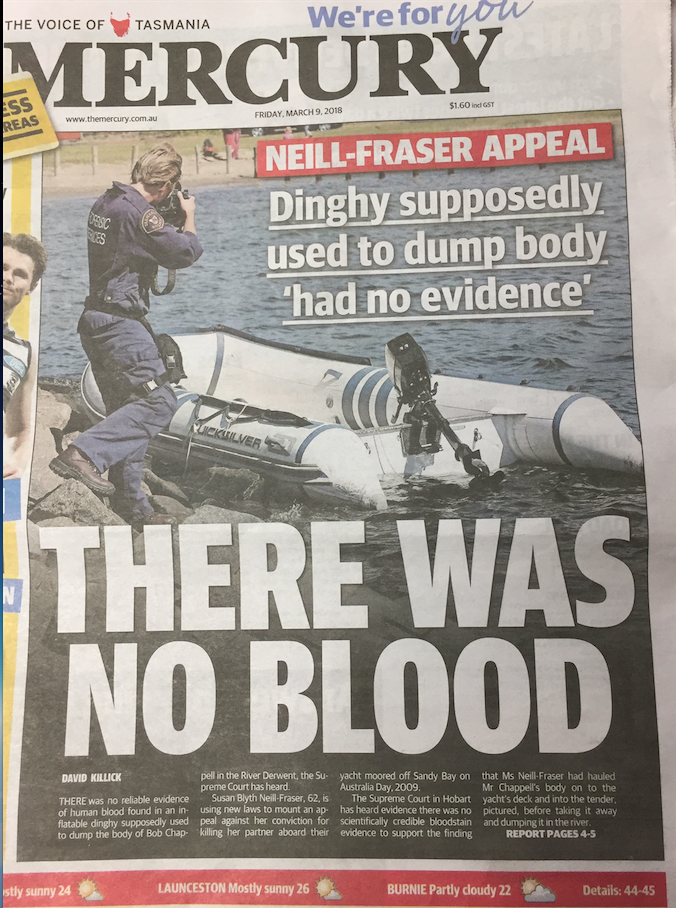 In a 2018 Supreme Court hearing on the SNF matter, Etter's comments were backed up by a renowned forensic scientist, resulting in front page confirmation of her TV statement in The Mercury, Hobart's daily newspaper.
Barbara Etter's statement following the rejection of her appeal on July 9, 2018:
"I have at all times acted in the best interests of my client, in accordance with my understanding of administrative law, and what I considered to be the public interest.
 However, here in Tasmania it appears that there are too few checks and balances on the powers of the Legal Profession Board. I agree with the Board's counsel that their powers may be viewed as "extreme".
 I urge Parliament to take steps now to ensure that the proper checks and balances are imposed by amendments to the Legal Profession Act.  Should the Law Society wish to contribute to that debate then, of course, I am happy to share my experiences with them.
 If that does not happen then other lawyers of integrity will be subject to the harrowing and stressful experience that I have had since 2014, including the taking of actions which prevented me earning an income (despite no findings of misconduct), and involving expensive litigation.
 The result of this experience is that I have quit the profession. Fortunately I have my integrity, my wonderful partner and family, a network of good and supportive friends, and many other challenging, interesting, and rewarding tasks to keep me busy here in Tasmania."​ July 9, 2018
NOTE 1: Her licence to practice had been suspended, not withdrawn. Ms Etter chose not to renew it.
NOTE 2: Sue Neill-Fraser was convicted of murdering her partner Bob Chappell on Australia Day 2009, on board their yacht, Four Winds. She has maintained her innocence. She has been granted leave to appeal (in March 2019) after a three year process in which then homeless 15 year old Meaghan Vass admitted she was a witness to the murder and Neill-Fraser was not involved. Vass' DNA was found on the deck. Etter represented Neill-Fraser from 2012 to 2017.