Andrew L. Urban.
Why have prosecutors in the Office of the Tasmanian DPP insisted on referring to Colin McLaren, investigative author / documentary filmmaker working on the Sue Neill-Fraser case, as 'an unlicenced private investigator' – a criminal offence? Is he being intimidated to silence him?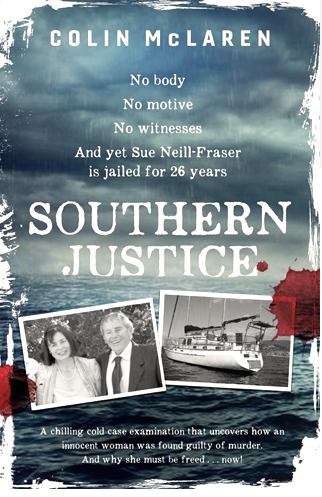 McLaren's sensational new book Southern Justice* (Hachette), investigating the Sue Neill-Fraser case (in the vein of his remarkable investigation into the Kennedy assassination,JFK: The Smoking Gun, [Hachette]), is published on January 29, 2019, just days before the February 5, 2019 Supreme Court hearing at which McLaren is giving evidence. And at 9pm on Wednesday (Jan. 30) the Seven Network will begin showing the Missing Man & CJZ Production, Undercurrent, the 6-part documentary exploring the Sue Neill-Fraser case in great depth and detail, from filmmaker Eve Ash and to which McLaren contributed as investigating author. (Not broadcast in Tasmania.)
On March 9, 2018 at a related hearing involving Stephen Gleeson, prosecutor Jack Shapiro (the DPP's junior but seemingly sharper and more eloquent than his boss) first referred to McLaren as 'an unregistered private detective' while prosecuting Gleeson who was charged with perverting justice. McLaren had visited Gleeson in jail, introducing himself to prison authorities as a writer (by letter) and in court, Gleeson referred to McLaren as having identified himself as an "investigative reporter".
The Australian's investigative journalist and author Hedley Thomas has just won a Walkely Award for his research (The Teacher's Petpodcasts) that led to the arrest of Chris Dawson for murdering his wife. No policeman charged him with being an unlicenced private investigator; it would be ridiculous and would prompt public outrage. At least on the mainland – and of course among journalists everywhere. Thomas published in The Australian, McLaren published in his book and in Undercurrent. But even Tasmania's law enforcement machinery would find it difficult to get a conviction against McLaren on such a trumped up charge.
protecting the conviction
Still, the threat is the process, because such a charge would likely wind its grinding way through the system and perhaps distract from Neill-Fraser's appeal process – as have charges of perverting justice against Stephen Gleeson and solicitor Jeff Thompson (who denies it). This, together with manufacturing the appearance of coordinated attempts at perverting justice, is likely to be the real objective of accusing McLaren – and a touch of intimidation. In short, the Crown's objective seems to be to protect the conviction against Neill-Fraser at all costs and silence dissenting arguments.
Perhaps Tasmania's DPP planned to lay charges against McLaren (under the Security and Investigations Act 2002, max. penalty $31,800) maybe arresting him when McLaren turned up in Hobart to give evidence on February 5, at the latest hearing into Sue Neill-Fraser seeking leave to appeal her 2010 murder conviction? Is that why the DPP objected so strenuously – but unsuccessfully – against McLaren giving his evidence via video link from Melbourne? Why would the DPP want to start a case (however flimsy) against McLaren?
Add this question to the other questions about the legal establishment's constant (camouflaged) frustration of Neill-Fraser's appeal process. This new appeal has now stretched to three years (since Jan. 2016). But at least Justice Brett was anxious to get on with it: "The reality of this is the case has been ongoing for a considerable amount of time and the court's eager to have this matter resolved."
investigative journalism holds authorities to account
But taking the DPP's accusation about McLaren being an unlicenced investigator at face value …. at the December 11, 2018 directions hearing, Remy van de Weil QC, appearing on behalf of McLaren, advised Justice Brett of McLaren's serious heart condition and that while McLaren was keen to assist, the undue stress of travelling to and appearing in the Hobart court might be too stressful. McLaren could provide his evidence by video link. Van de Weil QC went on to advise the judge that the Prosecutor and junior, Jack Shapiro, were wrongly referring to McLaren as an unlicenced private investigator, explaining to the court that he worked as an author (6 books, now on 7th) and documentary filmmaker (20 projects) and was hired by film producer Eve Ash, in the role of writer/author and consultant to her production.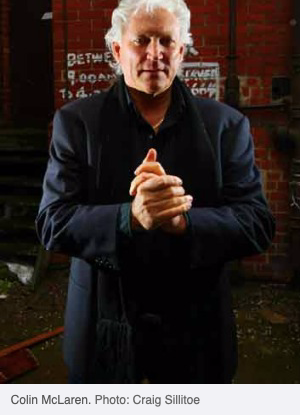 "I hired Colin McLaren to work on my series, Undercurrent," says Ash, "because he has a rare and brilliant, open, detective mind, something very sadly lacking in Tasmania. If strong investigative journalism holds authorities to account it should be applauded not twisted into an illegal activity. We were not employed by Neill-Fraser's legal team."
McLaren's solicitor Tony Hargreaves complained to the Tasmanian DPP of the persistent characterisation of his client as an "unlicenced private investigator" and stated McLaren had never in his life worked as an unlicenced private investigator. At the Directions hearing Van de Weil QC made the judge aware of this unwelcome undercurrent, and read out the response by the DPP who stated McLaren was required to hold a licence pursuant to the provisions of the Security and Investigations Act 2002, and that McLaren had never been licenced.
Correct: McLaren is not a licenced private investigator because he is a writer. "Investigative journalists hold authorities to account," McLaren likes to point out.
Since leaving the police he has, like Joseph Wambaugh the famed author, ex detective in USA, applied his skill to his writing. McLaren's first book, Infiltration, is the true story of his efforts as a suit and tie detective and the undercover agent who infiltrated the Mafia. McLaren followed this up with On the Run, a novel that details the exploits of Cole Goodwin, McLaren's real-life Mafia alias, which has been adapted to a screenplay.
McLaren's third book, Sunflower, is a historical work graphically depicting the real life experiences of his own grandfather, one of Australia's longest-serving foot soldiers from the First World War. McLaren co-wrote the fourth Underbelly book with Andrew Rule and John Silvester. And then in 2013, he published JFK: The Smoking Gun, unravelling all the evidence. ALL the evidence.
Neill-Fraser was convicted in 2010 of murdering her partner Bob Chappell and has been incarcerated since her arrest on August 20, 2009. Her conviction remains hotly disputed.
* NOTE: our review of McLaren's new book, Southern Justice, will be published on January 29, 2019.