Andrew L. Urban.
In the wake of the Victorian State election on November 24, 2018, Derryn Hinch's Justice Party (probably with four shiny Upper House seats) will seek to make public on a website the register of sexual offenders currently kept by police, including the photo and address of each offender. What is the objective of this policy? Is it wise?
There is no public sympathy for sexual offenders and unlike other criminals, they can not expect forgiveness, nor even consideration for having served their sentence. Once accused, never mind convicted, a man forever loses all his rights, both legal and moral, especially so if the allegation is of a crime against a child under 18.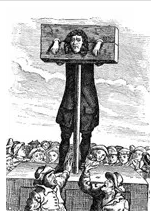 We might, even in an enlightened democracy, reluctantly accept this eternal damnation in the majority of cases in which the convicted man is guilty. But allegations of sexual offences have become powerful weapons, and can be used indiscriminately and for motives other than justice. The process by the Senate Judicial Committee to confirm Brett Kavanaugh as a Supreme Court Justice in the US in September 2018 is the most horrendous example of that, in which unfounded allegations of high school groping some 36 years previously, became political weapons. Despite the lack of evidence – indeed, witnesses for the accuser denied knowledge of it – Kavanaugh remains a sexual predator in the eyes of the inflamed and irrational left. He and his family have been symbolically burnt at the stake.
It doesn't take politics to create such a witch hunting environment, which fuels accusations and can result in a bonfire of the innocent. Allegations of sexual abuse are the most potent weapons against men in our society and they can be fired as easily as pushing a button on the phone. One such case serves as an example to warn against making public the addresses and photos of convicted sexual offenders.
Inflamed by jealous resentment of her half siblings, and to spite her mother after being refused yet another round of financial help, a woman accused her mother's husband – a loving and respected stepfather – of historic sexual abuse 25 years earlier, when she was 8. She declared her intention in advance during a chilling phone call: "I will ruin your lovely happy family…" Here is just one of the many inconsistencies and flaws in the case: based on the dated plans, the room she described did not exist until four years after the events she claimed.
Protesting his innocence and supported by his accuser's mother, the stepfather was dragged through a flawed police investigation and a trial that deviated from all norms of justice, convicted, jailed, publicly shamed, his business ruined, his savings depleted, abandoned by so called friends (but not by his real friends).
Despite the trial judge remarking that this incident seemed uncharacteristic and the accused had led an otherwise exemplary life, the justice system not only rebuffed his appeals but the NSW Attorney General – without giving any reasons – remains inactive for over three years on a comprehensive, detailed petition for a review of the case, prepared pro bono by an outraged lawyer friend.
"would be outrageous"
The same lawyer said: "It is a distressing but indisputable fact that because the justice system relies on human beings and because all human beings are fallible, some innocent people will be convicted and some guilty people will be acquitted and I strongly believe that the stepfather in question is a prime example of the former.  It is bad enough for an innocent person to be convicted but it would be outrageous for that person to be subjected to further injustice by being included on a register of the nature sought by Senator Hinch."
Listed as a convicted child sex offender, the wrongfully convicted man and his wife fear being identified and further vilified in their day to day affairs (renting is tricky) – and relive their years of trauma every waking minute.
He and his wife dread the possibility of having angry strangers bang on their door (the police do that already, unannounced) after their address is published and fear possibly violent consequences.
The Justice Party wants "The register being made public in the form of a website and an app which shows: the offender's photo, name and aliases, crime (as in sexual assault of an adult, sexual assault of a child under 18yrs/ under 10), offender's address, year in which they committed the crime. Note: It would not include the relationship between the victim and the offender, or, any details that could identify a victim, or, any facts of the case.
"We want a public register because sexual predators rely on anonymity. It is one of their most powerful weapons — especially against children. In many child abuse cases, the child victim is told 'this is a secret'. Anyone could be a sexual predator, which makes it extremely hard to protect yourself and your family."
So to better "protect yourself and your family" you look up the register of names, addresses and photos – and do what?
Andrew L. Urban is the author of Murder by the Prosecution (Wilkinson Publishing) about wrongful convictions.