By Andrew L. Urban
By the evening of Australia Day 2009 in Hobart, the blustery wind was calming down and the fine day was turning into a balmy summer night. Helen set out for an 80th birthday party at a friend's house. Her daughter's splendid new yacht, Four Winds, was moored some 500 metres offshore in full view from the front windows of her house on Marieville Esplanade. By early next morning, Four Winds would be taking on water and her daughter's partner was missing from the yacht.
Marieville Esplanade runs along the Sandy Bay foreshore towards Battery Point at the northern end and takes in the Sandy Bay Yacht Club and Rowing Club.
The Sandy Bay Regatta had been the big event of the day and post Regatta celebrations mixed and mingled with Year of the Ox Chinese New Year excitement. Thousands of people were milling around or attending functions all along the Derwent.
With Daylight Saving, it was still quite light shortly after 9, when Helen got home; the Esplanade was still lined with cars, but there was no sign of anyone on the yacht. By the early hours of January 27, the revelry was turning into drunken brawls in the pubs and clubs and the police were out in force. Helen went to sleep blissfully unaware that her daughter Sue, who had gone ashore and left her partner Bob on the yacht earlier in the day – would never see him again.
Sue and Bob, both with grown up children, had been together for over 18 years. Their yacht was the culmination of a dream; they had sailed it down from Queensland just before Christmas, merely weeks before fate sunk their dream.
The missing Bob Chappell was presumed murdered and Sue Neill-Fraser became the prime suspect in the police investigation, although police had found no direct evidence to connect her to any murder. At the trial, the prosecution put forward that Sue, after going ashore earlier, had returned to the yacht to murder Bob, possibly with a wrench, and disposed of his body by putting it into their dinghy and dumping it (weighed down by a fire extinguisher) somewhere in the Derwent. Without a body and without a wrench, the jury had to rely on the prosecutor to flesh out what was unknown and unproven.

In such a circumstantial case, a person cannot be convicted unless the fact of their guilt is the only rational explanation of the circumstances. The law says that if there is a single rational explanation of the facts, other than the guilt of the accused, the accused cannot be convicted.
The judge stated that this was no accident. In support of this he mentioned the sabotage [cut pipes on the yacht].  As legal academic Dr Bob Moles has pointed out, proof of deliberate damage to the boat is not proof of damage – deliberate or otherwise – to the person of Bob Chappell. The two events could be entirely unconnected. There is nothing to exclude the possibility that Chappell went off somewhere (or slipped and hit his head and fell overboard) and later on some people came across the yacht unattended and caused damage to it. The judge also referred to the blood in the boat "which tends to suggest that this was no accident". Don't people who have accidents bleed?
As Dr Moles has said: "The judge said that Mr Chappell had not committed suicide because he had no reason to do so – he enjoyed his work and had projects to work on. His family thought he had no reason to do so." Dr Moles had made the obvious point that "regrettably, there are many recorded cases where people do commit suicide unexpectedly, and to the complete surprise of their families. The judge also said that it is unlikely that Mr Chappell would have tied the extinguisher to himself and thrown himself overboard. But this assumes that there is evidence to show that this is in fact how his body was disposed of. There is no evidence to support it.
There is another rational explanation of the fact that Bob Chappell was missing, which the jury didn't hear: perhaps he was enticed or forced to leave the yacht by parties unknown, who boarded the yacht while Chappell was unaware, (working below decks) and kidnapped, murdered or held prisoner – in a yet to be discovered criminal act.
Perhaps Sue and Bob had acted unwittingly as drug couriers when they brought Four Winds from Scarborough to Hobart just weeks earlier. Perhaps something had remained hidden on board. With its dinghy absent, it may have suggested to anyone watching the yacht closely that it was unattended – an ideal opportunity to board and search for the hidden item/s. Surprised to find Bob on board, the stranger/s may have felt threatened and panicked.
(On October 14, 2010, the day before the jury was to hand down its verdict, the AFP announced it had conducted a major drug bust worth $160 million involving a similar yacht at the Queensland marina where Four Winds had been purchased.)
And an unidentified grey dinghy which was seen tied up to Four Winds at 3.55pm on Australia Day, remains unaccounted for.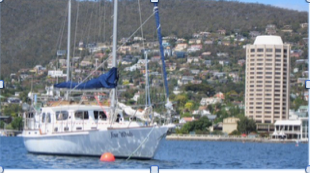 It is also possible that partying youths celebrating Australia Day and the Regatta on a nearby yacht boarded Four Winds (see photo), with or without malice, and a scuffle broke out, an accident turned nasty and people panicked. The DNA of a then 15 year old homeless girl found on the deck proves that at least one youth had been on the yacht.
With no direct evidence (physical or forensic), Sue Neill-Fraser murdering Bob Chappell seems the least rational explanation of the facts. Neill-Fraser was convicted and sentenced to 26 years (reduced to 23 on appeal.) It is clearly arguable that the conviction is inconsistent with the rules of criminal procedure.
NOTE: Sue Neill-Fraser is seeking leave to appeal her conviction under recently introduced legislation; the hearing continues on August 20, 2018
Additional reporting by Jennie Herrera
Andrew L. Urban is the author of Murder by the Prosecution, exploring wrongful convictions. (Wilkinson Publishing, August 2018, RRP $29.99).