Andrew L. Urban
It is disturbing when a crime reporter gets crime reporting wrong, as did Rochelle Jackson on ABC Radio's Nightlife with Suzanna Hill on June 28, 2018, talking about one of the most important and controversial legal cases currently before the courts: the Sue Neil-Fraser case.
In flagrant disregard of the facts, Jackson misled listeners on a number of issues.
Sue Neill-Fraser was convicted of murder in 2010, after her partner of 18 years, Bob Chappell, disappeared from their jointly owned yacht, Four Winds, anchored off Sandy Bay in Hobart on Australia Day 2009. In the afternoon, Neill-Fraser had taken the dinghy ashore, Chappell stayed on board doing maintenance work. At dawn the next morning the yacht was reported sinking slowly, with no sign of Chappell. What appeared to be a clumsy attempt at sabotage had caused the Four Winds to take on water. It was a mystery.
The police soon tagged Neil-Fraser (now 64 not 62 as Jackson said) as the sole suspect. She was arrested and charged with murder on August 20, 2009 – and was denied bail.
After summarising the case with host Suzanna Hill, Jackson confirmed that the current appeal under recent legislation is Neill-Fraser's last chance at reversing her conviction. So far so good. But The 17 minute Nightlife report was peppered with Jackson's factual errors, including:
WRONG
that blood specks in the yacht's cabin 'implied a blunt weapon' had been used. Not to first respondent police, who did not even suspect foul play when Bob Chappell was missing from the yacht, after boarding the yacht and examining the cabin. It was later revealed that the blood spatter could have been caused by Chappell's chronic nose bleeds.
WRONG
Five carpet tiles (speculated to have been disposed of to hide blood stains) and a fire extinguisher were missing (speculated to have been used to weigh down the body) but there was no evidence to suggest the fire extinguisher had been on board. Missing carpet tiles were not tested for blood stains … as they were missing.
WRONG
Jackson said ' forensic investigators found some blood in the dinghy.' This is perhaps the most egregious error in her report, and comes more than three months after the March 9, 2018 front page splash story in the Mercury 'THERE WAS NO BLOOD" which explained: Dinghy supposedly used to dump body 'had no evidence' (The paper was reporting on the appeal hearing continuing in the Supreme Court.)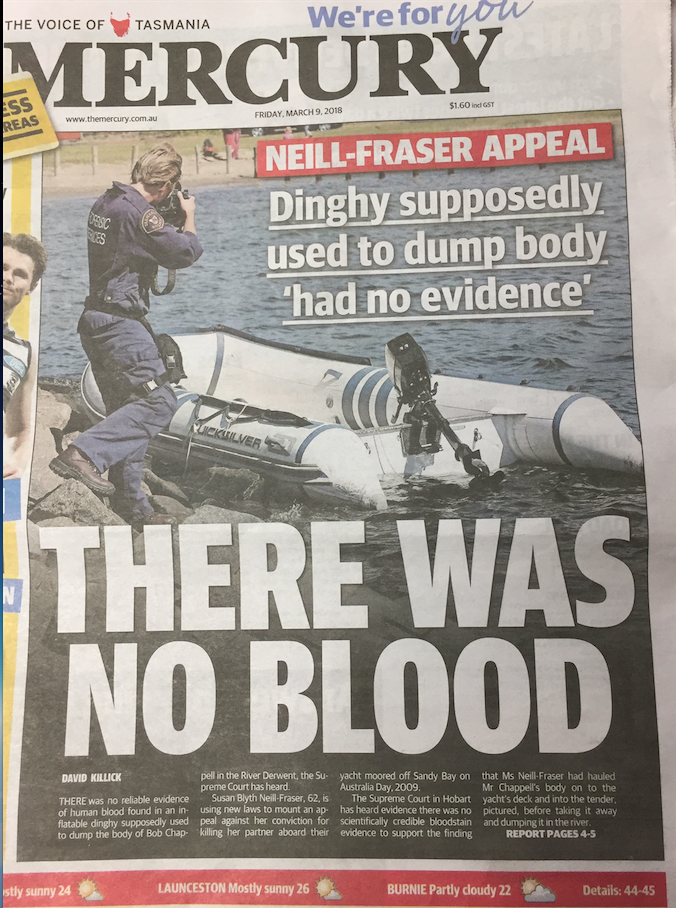 The luminol test performed on the dinghy to test for various substances was never followed up with a confirmatory test for blood, and the DPP himself told the trial judge (jury absent) he never believed there was blood in the dinghy. He had speculated that Neill-Fraser had killed Chappell below decks, winched the body to the deck and dumped it into the dinghy before disposing of it in the Derwent somewhere.  This scenario was not supported by any evidence.
WRONG
Repeating a discredited claim from the investigation, Jackson said that Neill-Fraser "apparently searched the internet to know how long before a missing person could be legally declared dead."
WRONG
Jackson said "the police had security footage of a car identical to hers passing a local bank after midnight, which of course was when she claimed she was in bed." This was clearly meant to suggest that it was Neill-Fraser's car. Why else refer to it? The security footage was never shown to the jury. In the footage, according to Jennie Herrera, President of the Sue Neill-Fraser Support Group who has seen it, the number plate is not visible; the driver is not visible; the car's make and model is difficult to identify. "it requires a leap of faith to determine that the vehicle was a Ford Falcon of which there are hundreds, probably thousands, in Hobart," says Herrera.
WRONG
The Nightlife report was broadcast at 11.30 pm on Thursday, June 28, yet Jackson told listeners that the next hearing in the case was set for some time "later this month." It is in fact scheduled for August 20, 2018, the 9th anniversary of her arrest.