Andrew L. Urban.
June 29, 2023: Investigating a third NSW Premier, the Independent Commission Against Corruption has found former Premier Gladys Berejiklian engaged in 'serious corrupt conduct'. But not corrupt enough to recommend the matter to the Director of Public Prosecutions. It's the corruption finding you have when you don't have a corruption finding – a bit like Clayton's, the non alcoholic drink you have when you are not having a drink, perhaps.
After a much criticised delay of 18 months since the hearings into Wagga Wagga MP Daryl Maguire and his then secret girlfriend Berejiklian, the ICAC released its report amidst excuses that it took so long because it was very complicated. Berejiklian hadn't broken the law, and it took two years or so to discover that, said some.
"The Commission finds that Ms Berejiklian engaged in serious corrupt conduct by breaching public trust in 2016 and 2017 through exercising her official functions in relation to funding promised and/or awarded to ACTA, without disclosing her close personal relationship with Mr Maguire, when she was in a position of a conflict of interest between her public duty and her private interest, which could objectively have the potential to influence the performance of her public duty. The Commission also finds that in the same period, Ms Berejiklian partially exercised her official functions, in connection with funding promised to ACTA, influenced by the existence of her close personal relationship with Mr Maguire."
To Chris Merritt of the Rule of Law Institute and legal affairs correspondent at The Australian, the report was "over the top… it's something like 600 pages …  to describe Gladys Berejiklian as seriously corrupt amounts to debasement of the term. And there is no accusation that she received a pecuniary benefit. The matter of substance, the clear finding against her, is that she failed to inform ICAC of what ICAC says was her suspicion that her former boyfriend was up to no good," he told Sky News.
"The other aspect worth looking at is that the source of this inquiry was ICAC's jurisdiction over the ministerial code of conduct." Merritt questions the nature of the finding, which goes to the heart of how politicians make funding decisions, essentially to help their political fortunes. And he wouldn't be surprised if "there was some consideration, at least, of an appeal challenging that finding."
Among several to do so, Margaret Cunneen SC sympathised with Berejiklian, who'd be feeling "dreadful" being in limbo, unable to clear her name in court. She scolded the ICAC for the torture it inflicted by leaving an investigation subject in limbo for so long. Cunneen had her own run-in with the ICAC in 2014-15, which ended with Cunneen winning in the High Court, where the ICAC was criticised for exceeding its authority. That has always been its tendency. Two previous NSW Premiers targeted by the ICAC, Nick Greiner and Barry O'Farrell, were both cleared of corrupt conduct – after the usual ICAC torture routine.
NSW current Premier Chris Minns, one of those voicing criticism of the delay in finalising its report, also made noises that he would be open to ways of reforming the way ICAC operates.
Labor legend Graham 'Richo' Richardson, said he felt "no glee" at the report and wished ICAC would be closed down.
It should be noted that under section 74B of the ICAC act, "the Commission is not authorised to make any findings that the person has committed a criminal offence or has engaged in conduct which constitutes or could constitute corrupt conduct". The ICAC can, however, make findings or express an opinion someone has committed "serious corrupt conduct".
Both Premier Chris Minns and Liberal leader Mark Speakman called for more scrutiny on the corruption watchdog. Minns said he wanted the report into Berejiklian and Maguire to state the reason for its delay. Speakman backed time limits on investigations, saying the delays in Operation Keppel were "quite … extraordinary".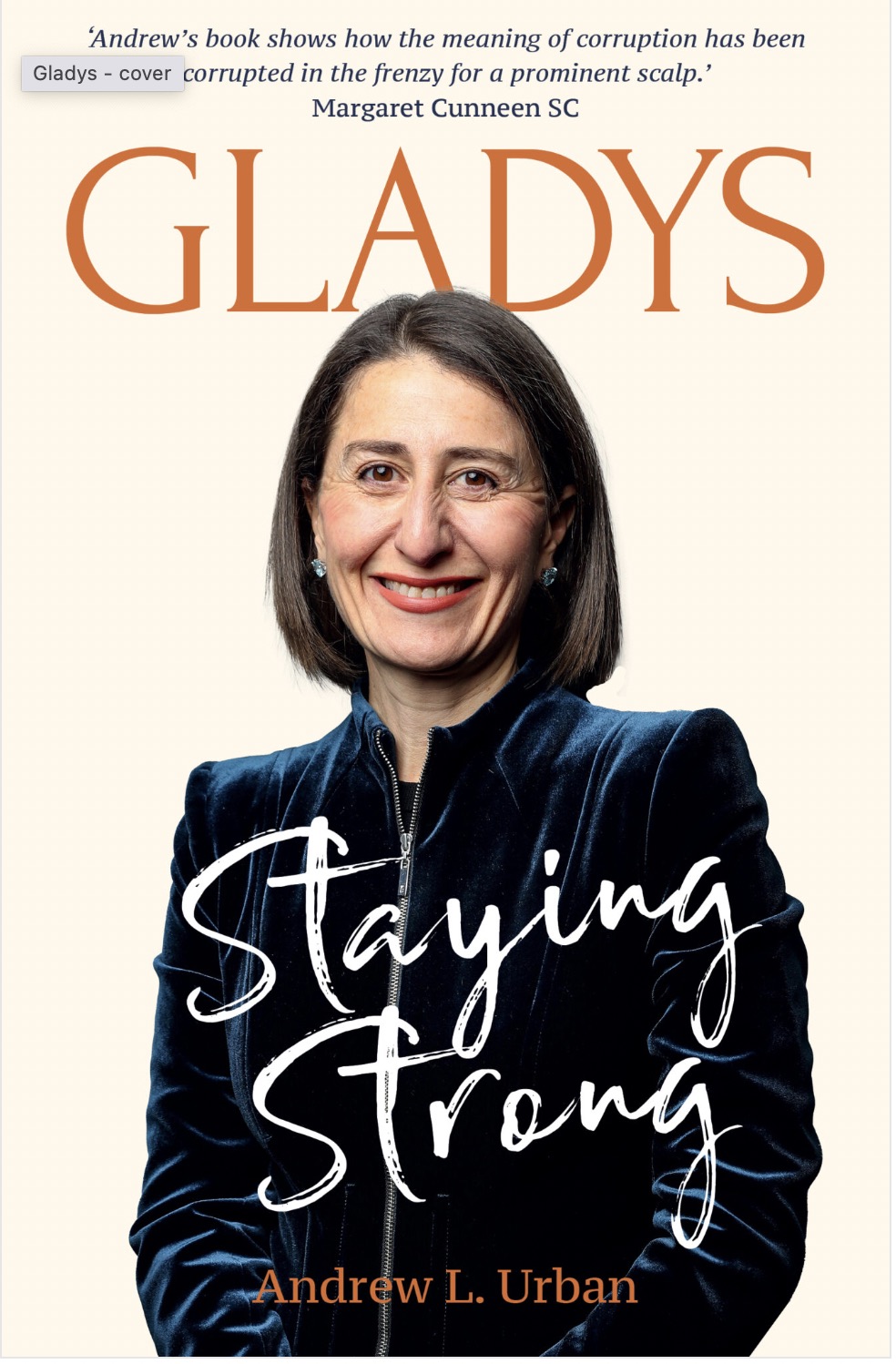 Full disclosure: Andrew L. Urban authored the books, 'Gladys – staying strong', and 'The Boxing Butterfly – Margaret Cunneen SC' (Wilkinson Publishing).