Channel 7's Spotlight (June 4, 2023) interview with Bruce Lehrmann not only gave him a chance to firmly and publicly deny the rape allegations against him by Brittany Higgins, but revealed the plot in which he was the ammunition for the Higgins weapon against Morrison. "We've got him," she boasts. 
The unravelling of the Higgins/Sharaz campaign to "get" then Prime Minister Scott Morrison continues, with this morning's front page. Wrapped inside the the rape allegation was the ultimate objective: political sabotage.
The front page story by Janet Albrechtsen and Stephen Rice in today's The Australian tells it like this: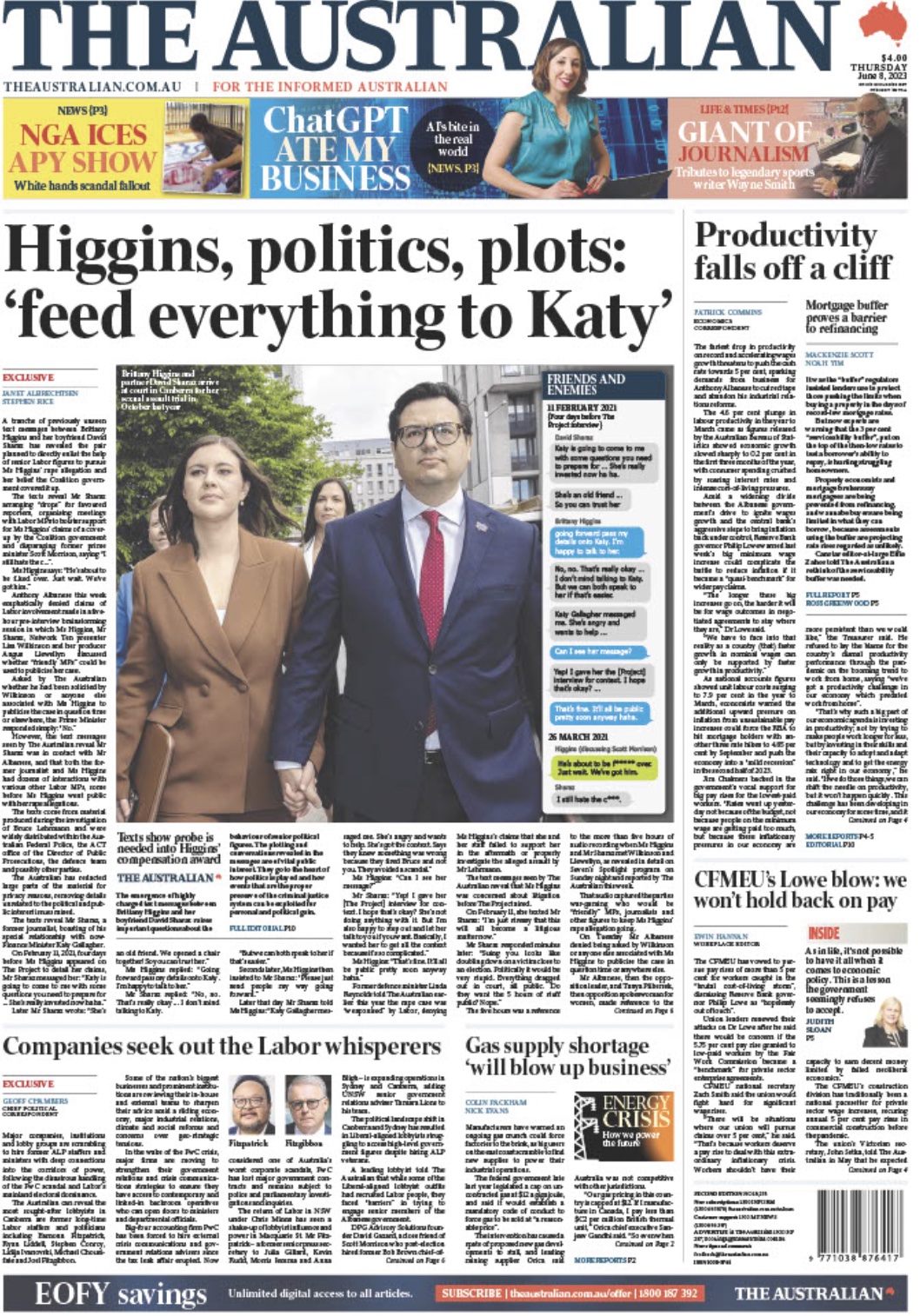 A tranche of previously unseen text messages between Brittany Higgins and her boyfriend David Sharaz has revealed the pair planned to directly enlist the help of senior Labor figures to pursue Ms Higgins' rape allegation and her claim the Coalition government covered it up.
The texts reveal Mr Sharaz arranging "drops" for favoured reporters, organising meetings with Labor MPs to bolster support for Ms Higgins' claims of a cover-up by the Coalition government and disparaging former prime minister Scott Morrison, saying "I still hate the c…".
Ms Higgins says: "He's about to be f..ked over. Just wait. We've got him". 
The texts reveal Mr Sharaz, a former journalist, boasting of his special relationship with now-Finance Minister Katy Gallagher. On February 11, 2021, four days before Ms Higgins appeared on The Project to detail her claims, Mr Sharaz messaged her: "Katy is going to come to me with some questions you need to prepare for … She's really invested now ha ha."
Mr Sharaz: "Yep! I gave her [The Project] interview for context. I hope that's okay? She's not doing anything with it. But I'm also happy to step out and let her talk to you if you want. Basically, I wanted her to get all the context because it's so complicated." Ms Higgins: "That's fine. It'll all be public pretty soon anyway haha."
Disclosure: Andrew L. Urban has been invited to assist Bruce Lehrmann with writing a book about his experiences in this affair.