Andrew L. Urban. 
Three Tasmanian judges will hear Sue Neill-Fraser's new appeal later this year against her conviction for the 2009 murder of her partner Bob Chappell, amid concerns that the appeal should be heard not by local but by interstate judges. One reason is that the trial judge, Alan Blow, is now Chief Justice of Tasmania – their boss. But no doubt Justices Helen Wood, Stephen Estcourt and Robert Pearce will exercise objectivity and learned good judgement, as we suggest in this HYPOTHETICAL.
Sue Neill-Fraser's family is seated in the front row of the Supreme Court's public gallery, immediately behind the bar table, where the black robed teams from the DPP led by Daryl Coates SC and Tom Percy SC for the defence take their places like so many crows on an overhead wire.
The pews are filled with the media and general public, including a large presence from the loyal and ever-active Supporters of Sue group. Everyone stands as the three judges enter.
Sue Neill-Fraser is brought in, seated in her wheelchair and parked in the area usually populated by the jury, facing the witness stand. Anticipation, tension, apprehension and dread are swirling invisibly but palpably around the court.
The primary ground of appeal – the most critical element in the case from the start – is the central question surrounding the DNA that was found on the deck of Four Winds, later matched to then 15 year old homeless girl, Meaghan Vass. At trial, under perfunctory questioning, a terrified and vulnerable Vass denied having been on board. When it was discovered she had lied about her real whereabouts that night, then DPP Tim Ellis SC objected to her being recalled, and was supported by Justice Blow. This was a crucial decision …
But things eventually changed – when Vass changed her testimony, as recorded in an affidavit and broadcast on 60 Minutes on March 10, 2019, Her testimony now correlates with the DNA evidence, the only real evidence in the case.
Neill-Fraser has come to this appeal court with a nagging concern, ever since the December 19, 2019 directions hearing at which Justice Estcourt made an unexpected remark in an exchange with Coates: I imagine your position would be the same before this Court, that is that Ms Vass' evidence might be highly probative and it might be substantial but it's not reliable, therefore it's not compelling.
Sure enough, Tom Percy now goes straight to this issue, arguing that Vass lying about being on the yacht at the time of the crime does not correlate with the DNA evidence, whereas her latest testimony does. And he repeats Estcourt's words back at the bench, that Vass' evidence is therefore 'highly probative and substantial'. Percy argues that her testimony is probative and substantial, so it cannot be dismissed on the grounds that she has been an unreliable witness. It would be absurd to suggest that she is now lying, effectively to put herself in even more trouble. So it is indeed compelling. With the DNA evidence and her sworn testimony, Vass could be said to have been unreliable in her previous two court appearances where she denied being at the crime scene. But her admission now would make no sense unless it was true. The court must not ignore that reality.
In conclusion, Percy flirts with contempt of court by referring to Estcourt's remarks at the earlier directions hearing, suggesting that those remarks demonstrate a view formed before the case was properly presented to the bench – a perception of bias might be inferred… with all due respect, of course.
The DPP's team is agitated, the public murmurs and the judges pause. Estcourt calls for a short adjournment while the three judges confer privately.
On their return, Justice Pearce reprimands Percy for his suggestion of bias in Estcourt's comments and says it is the court's duty to have prepared for the appeal in every sense. However, he says, Vass has committed perjury – her conflicting statements cannot both be true – and her testimony is tainted by that.
Justice Pearce then announces that the judges will consider the matter subject to sworn testimony from Meaghan Vass.
Vass is called to the stand and sworn in. Unlike at her previous court appearance, Vass is calm, if nervous. It is put to her that she had made conflicting statements about being at the crime scene on the night of Australia Day 2009. She accepts that. She says she now wants to tell the truth because she wants to see Neill-Fraser returned to her family – an echo of what she said on 60 Minutes. (It might be thought she had grown up and had developed a guilty conscience about Neill-Fraser…)
Asked about the DNA, Vass says she had vomited. Asked if she had seen Sue Neill-Fraser on board that night, she said she had not.
In cross examination, DPP Coates asks why she has changed her version of events. Vass lowers her head and says quietly: "I was scared of what might happen to me if I told the truth at the trial…"
Justice Pearce interrupts to ask if Vass would have told the truth had she been recalled at the trial. Vass shrugs; "I don't know…"
"And we will never know, either," says Justice Pearce, in what could be interpreted as a mild rebuke to the then DPP and trial judge.
Justice Pearce adjourns the court, reserving judgement to a later date.
THE OFFICIAL CVs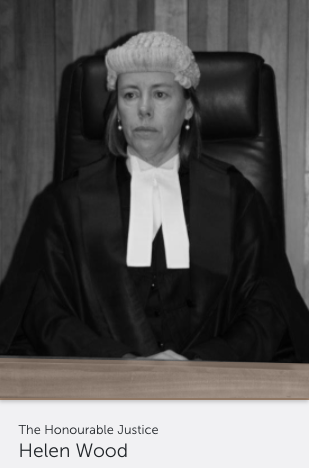 The Hon Justice Helen Marie Wood was appointed as a judge of the Supreme Court of Tasmania in 2009. Her Honour is the senior puisne judge.
Her Honour graduated from the University of Tasmania with a Bachelor of Arts and a Bachelor of Laws in 1985. She practised exclusively in the criminal jurisdiction as Crown Counsel with the Office of the Director of Public Prosecutions for seven years. She later practised in civil litigation in private practice. In 1994 she was the first woman appointed to the role of magistrate in Tasmania and served as a magistrate until 2009. She has a longstanding interest in human rights and access to justice. In conjunction with her role as magistrate, she served as Chairperson of the Sex Discrimination Tribunal (1996-1999) and the Anti-Discrimination Tribunal (1999-2009). She is a presently a member of the Judicial Council on Cultural Diversity and of the board of the Tasmania Law Reform Institute.
 Stephen Peter Estcourt was appointed to the Supreme Court of Tasmania in April 2013.
From 1974 until 1989 he worked with the firm of Archer Bushby in Launceston.
In 1989 he was appointed as a magistrate before establishing the Resource Management and Planning Appeals Tribunal in 1994 and becoming a Deputy President of the Commonwealth Appeals Tribunal in 2001.
Justice Estcourt joined the Tasmanian Bar in 1995 and was appointed Queens Counsel in 1998 practicing extensively in the civil and criminal jurisdictions of the Supreme Court of Tasmania and in the Federal and High Courts of Australia. During his time as a barrister his commitment to multiculturalism and pro-bono work saw him attract national acknowledgment in the areas of human rights and immigration law and in 2012 he was an Australian of the Year Tasmanian  Finalist in recognition of his organisation of World Party Tasmania in 2010 and 2012, an event celebrating Tasmania's multicultural community.
From 2006 until 2008 he was President of the Tasmanian Bar Association and in 2007 he was elected President of the Australian Bar Association. He was a Fellow of the Australian Academy of Law from 2007 until 2015. In 2017 he was sworn as an Administrator of the Government of Tasmania.
Justice Estcourt was  appointed as a Member of the Order of Australia in 2018  for significant service to the judiciary as a Judge of the Supreme Court of Tasmania, to legal education, and to professional law societies.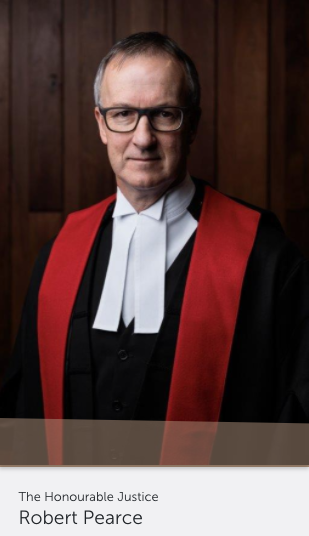 Robert William Pearce was appointed to the Supreme Court of Tasmania in June 2013, having previously been appointed a magistrate in 2009.
He was admitted to the legal profession in 1983, and from 1988 was a member of the Launceston firm, Douglas and Collins. He practised as a barrister and solicitor in a broad range of commercial, civil and criminal litigation matters, appearing as counsel in the Supreme Court of Tasmania, the Federal Court, and many statutory tribunals and commissions.
From 1997 he was a member of the Disciplinary Tribunal of the legal profession, serving as Chair for three years until 2009. Between 1994 and 2009 he was Chair of the Tasmanian Racing Appeals Tribunal.
Away from the law, from 2001 until 2016, Justice Pearce was a board member of the St Giles Society, a community charitable organisation for persons with disabilities, serving as Chair between 2006 and 2009.
His Honour is the only member of the Supreme Court of Tasmania based in Launceston. He is presently Chair of the Costs and Fees Sub-Committee of the Supreme Court Rules Committee.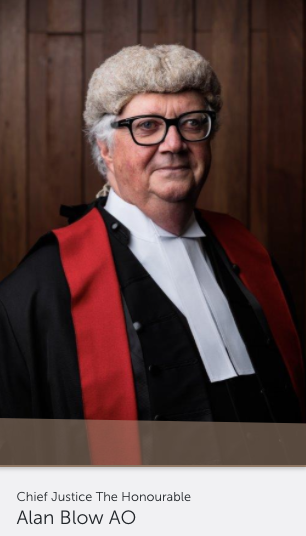 The Hon Justice Alan Michael Blow was appointed as a judge of the Supreme Court of Tasmania in 2000, and as the Chief Justice in 2013. Since 2013 he has also been the Lieutenant Governor of Tasmania.
He is a graduate of the University of Sydney. He practised in the areas of conveyancing and probate in Sydney before moving to Devonport in 1976. There he practised in family law, civil litigation, and crime.
He practised as a barrister in Hobart from 1987 until 2000, mainly in civil litigation. He was appointed as Queen's Counsel in 1995. He sat part-time on the Administrative Appeals Tribunal (Commonwealth), first as a senior member (1989-1993) and then as a Deputy President (1993-2000).
He has been the President of the Law Society of Tasmania (1989-1990), the Chairman of Trustees of the Tasmanian Museum and Art Gallery (1991-1997), and a member of the boards of the Salamanca Arts Centre (1988-2013, President 1988-1992) and the Narryna Heritage Museum (1998-2011).
He received the medal of the Order of Australia in 1996 for services to the arts.
He has been a member of the Governing Council and Executive Committee of the Judicial Conference of Australia since 2000, and has been actively involved with the Tasmanian Legal Practice Course as an instructor for over 10 years.
The Honourable Chief Justice Alan Blow AO has been appointed as an Officer of the Order of Australia for his distinguished service to the judiciary and to the law, particularly as Chief Justice of the Supreme Court of Tasmania, and his contribution to legal education and professional standards, and to the community. Among his many contributions, Chief Justice Blow was a board member for the Centre for Legal Studies at the University of Tasmania from 2008 until 2013.