By Andrew L. Urban
Sue Neill-Fraser will celebrate – if that's the word – her 60th birthday on March 3, 2014 inside Hobart's Risdon prison, shut away from her daughters and grandchildren, serving a 23 year sentence for the murder of her partner Bob Chappell, which she vehemently denies. The case is destined to be a cause célèbre because, in the absence of hard evidence, the prosecutor literally manufactured a murder scenario by speculation, unsupported by any physical evidence.
The DPP, Mr Tim Ellis, speculated that Neill-Fraser had murdered Chappell with a wrench (no wrench was produced in evidence yet it was mentioned 27 times, and there is no body to check for injuries). He went on to speculate that afterwards, she used a latex glove to 'cover up' what she had done. But the DNA that was found in the glove, on which Mr Ellis relied to convince the jury of this speculation, actually belonged to Tim Chappell, Bob's son. It was well after the trial – well after the jury had delivered their verdict – that Mr Ellis admitted this mistake.
He also speculated that after killing Chappell with a wrench, Neill-Fraser winched his body up two decks, over the side, into the dinghy, and dumped the body somewhere in the river, weighed down by a fire extinguisher. There was no physical evidence offered to the jury about this chain of speculative events.
The jury were encouraged to believe (with the help of graphic imagery) that a large blue, luminol-induced stain in the Four Winds' dinghy suggested a large amount of blood; but conclusive testing showed there was no blood in the dinghy and this was played down.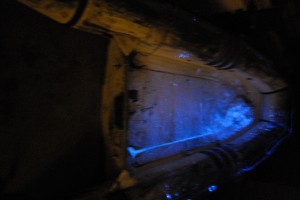 In what Bill Rowlings, CEO, Civil Liberties Australia, describes as disturbingly flawed, prejudicial and inadequate findings, The Court of Criminal Appeal in 2012 rejected her original appeal (except to reduce her sentence from 26 to 23 years, and the non-parole period from 18 to 13 years). "Just one example, at Clause 39, the report says: 'The inflatable dinghy [of the Four Winds yacht from which Chappell disappeared] had many areas that were positive to luminol, a screening test for blood but not a conclusive one.' The Court of Criminal Appeal should have noted that there was no evidence from any forensic testing that Mr Chappell's blood was in the dinghy – where, according to the Crown, his bleeding body was placed and then dumped into the water."
The court got it wrong, says legal commentator Dr Bob Moles; "The appeal court judge … referred to the fact that there was a substantial body of evidence that was probative of guilt. That was simply incorrect. There was in fact no credible evidence which was probative of the guilt of Ms Neill-Fraser." (4/12/13 Tasmaniantimes.com)
The High Court refused leave to appeal in a decision that also disappointed Dr Moles: "There are so many procedural and substantive errors in this case, that I'm confident the High Court would have overturned the conviction if it had accepted it for review. In Australia, without a body such as Britain's Criminal Cases Review Commission, A Petition of Mercy is Neill-Fraser's one last avenue to have her case re-examined. Britain's CCRC has referred hundreds of cases back to the Court of Appeal which has resulted in more than 350 convictions being overturned. Mistakes happen, as many lawyers and judges agree; the criminal justice system should be eager to correct them when they do."
Neill-Fraser's legal team is now preparing a Petition of Mercy – her last avenue to take her conviction back to the Court of Criminal Appeal – and hope for a better result than last time.
Neill-Fraser was convicted in 2010, after her partner of 18 years, Bob Chappell, disappeared from their jointly owned yacht, Four Winds, anchored off Sandy Bay in Hobart on Australia Day 2009. Neill-Fraser had taken the dinghy ashore, Chappell stayed on board doing maintenance. At dawn the next morning the yacht was reported sinking slowly, with no sign of Chappell. What appeared to be a clumsy attempt at sabotage had caused the Four Winds to take on water. It was a mystery.
Within 24 hours, a local man, Phillip Triffett went to the police claiming that Neill-Fraser had wanted him to kill her own brother Patrick as well as Chappell, more than a decade earlier. (Not that he reported these claims to police at the time.)
In court, Judge Alan Blow found Triffett "did not always tell the truth". However, this one piece of 'information' of dubious value propelled police to focus on Neill-Fraser only.  In court, Triffett's evidence was referred to by the DPP, Mr Tim Ellis, as possibly the 'sealer' of the case.
There was a history of animosity between Triffett and Neill-Fraser; she had reported to Bellerive police in 2001 her concerns for her own and Chappell's safety after a serious falling out with Triffett. That was prompted by an earlier event. She related in court that Maria Hanson, then Triffett's partner, told her "that Phillip had burnt down her house for the insurance and also that he'd shot a young man when he was very young at the Lakes and hidden the body and followed this up saying, 'If you go to the police you've got a very overgrown back garden and Phillip's revengeful and he could hide there with a gun, and you've got to think of Emma and Sarah'." (Neill-Fraser's daughters.)
The police did not disclose before the trial that Triffett had made an approach to them asking if his evidence against Neill-Fraser would be helpful in his own matters due to go to court. It only became known during the trial through an anonymous caller who alerted defence counsel.
Police investigators and subsequently the prosecution made much of the fact that Neill-Fraser told a lie concerning her whereabouts on the night of January 26, 2009, when Chappell disappeared. Hobart resident Lynn Giddings (a long time former employee of the Justice Department) who has known Neill-Fraser and her mother Helen, attended the trial and made detailed observations about several matters that concerned her, including this one.
As Giddings sees it, Sue Neill-Fraser's explanation to the court as to why she lied about her movements that night are in fact evidence of her innocence:
"At 10 o'clock that night, the phone rang and a person whom Sue had never met and did not know, asked to speak to Bob. As Bob was not at home, Mr Richard King spoke with Sue, saying he was concerned about Bob's daughter, Claire. He told Sue that Claire was fearful of the boat and of her father being on it. He was concerned that Claire might go down to the beach and he advised Sue to deny Claire access to the yacht if she asked. He stated in court, in relation to Claire Chappell, that: "Basically I've become the person she calls when she needs someone to talk to."
"He agreed in examination by the prosecutor that Claire suffers from a mental illness that displays itself as paranoia, whereby she experiences delusions that cause her to fear hurt for herself or the people around her. He stated that Claire had been concerned for the past month that her father might suddenly die so he asked Sue about the state of Bob's health and if there were grounds for Claire's fears.
"On that Australia Day, according to Mr King, Claire was "so terrified she couldn't put one word together and get it out in one piece. It took several minutes before she could be calmed down to the point where she could take a Valium tablet.
"She [Sue Neill-Fraser] had not admitted that she had gone down [to the Esplanade] because she felt it was irrelevant to Bob's disappearance, that Claire would not hurt her father. In fact, she had wanted to protect Claire. She believed that the Chappell family tried not to expose Claire's mental health status and she did not wish to embarrass Claire or her family."
Neill-Fraser confided in a telephone conversation with Chappell's sister Ann Sanchez on 10 March that she had not told the police she went down to the beach looking for Claire. On 13 March, during an interview with ABC reporter Felicity Ogilvie, Neill-Fraser confided – "off the record" – that she had lied. Ogilvie reported this information to Detective Inspector Peter Powell. In court, Ogilvie remarked that Neill-Fraser seemed really concerned about Claire and didn't want to talk about her because she didn't want people to think badly of Claire.
"What person who has murdered someone tells the victim's sister, let alone a journalist, that they were actually in the area of the scene of the crime at that time?" says Giddings.
Without a body, a murder weapon and without any witnesses, the Crown case was built on such circumstantial evidence, but "guesswork" is how Chester Porter QC, has described much of it; Porter was Counsel Assisting the Morling Royal Commission into the Lindy Chamberlain miscarriage of justice and who – after studying the Neill-Fraser case – believes "an enquiry is essential."
See Chester Porter QC and Stuart Tipple (Chamberlains' lawyer) speak out (2 mins)
It was back in October 2010 that Neill-Fraser was tried and convicted; why has it taken this long for public outrage to erupt? The trigger seems to have been the galvanising force of the investigative documentary about the case, Shadow of Doubt, (2014 AFI|AACTA Best Feature Documentary Award nominee), by Melbourne psychologist and filmmaker, Eve Ash, which had its premiere screening at Hobart's State Cinema simultaneously with its broadcast on FOXTEL on July 31, 2013 (and repeated subsequently around the Australia Day anniversary.).
At a protest rally on the 2014 Australia Day weekend, the 5th anniversary of Chappell's disappearance, independent MP Andrew Wilkie (for Denison, Neill-Fraser's electorate) became the first politician to publicly raise concerns about the case, saying that "You cannot convict someone in this country when there is ANY doubt. It's a simple as that."
see Sky News report on YouTube – 2:30 mins)
and Andrew Wilkie speech – 8 mins
(The then Director of Public Prosecutions, Mr Tim Ellis, was given an opportunity to comment on the key elements of this article that relate to his prosecution of the case; he did not do so. Mr Ellis is currently suspended from his role as DPP on full entitlements. He is facing a charge of causing death by negligent driving: he denies the charge. A magistrate's hearing is set for March 2014. The case involves the death of a woman in a collision in March 2013. It is alleged Mr Ellis was the driver of a car which allegedly crossed to the wrong side of the Midland Highway and crashed head on into a car driven by Natalia Pearn, 27.)